Airbus closed the first half of 2019 by adding 145 orders to its order book in June. As expected the slew of orders from the Paris Air Show pushed the European manufacturers net orders for the year into the black, with a net positive of 88 aircraft.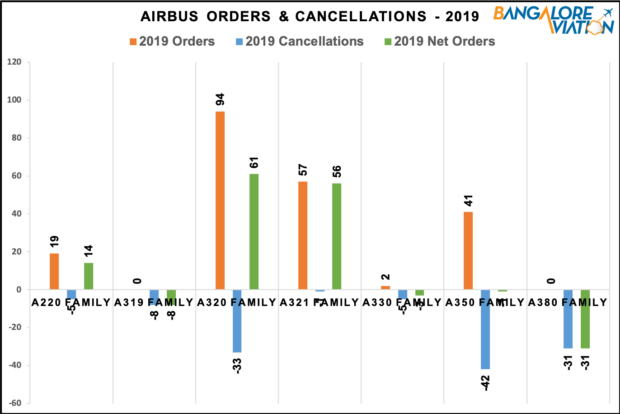 The Paris Air Show saw Airbus launch the A321XLR for which the manufacturer recorded 44 firm orders including:
Further Airbus recorded bookings for 86 other aircraft from the A320neo family, including 23 A320neo and 13 A321neo for an unidentified customer, 30 A320neo for Saudi Arabian Airlines, 18 A320neo for All Nippon Airways, and two A320neo jetliners for Atlantic Airways (a new A320neo customer).
Airbus also recorded two orders for the A220-300 with five aircraft for Delta and 10 for JetBlue.
Deliveries
Deliveries have remained constant with Airbus delivering 76 aircraft from all it's aircraft families, compared to 81 the previous month.
Family-wise Deliveries
A220 family
Six A220-200s were delivered in June, with five aircraft to Delta and one to Swiss.
A320 family
Airbus delivered 54 A320 family aircraft in June including the first A321neo to JetBlue.
Indigo took deliveries of two A320neos and GoAir took delivery of one A320neo.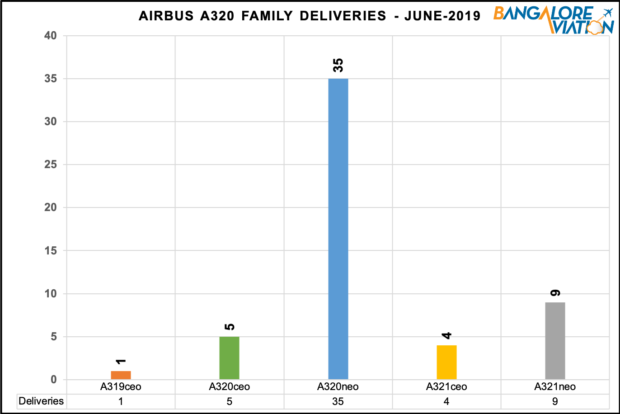 A330 family
Five A330-900neos were delivered in June with one to Air Mauritius, one to Delta and three to TAP Air Portugal.
A350 family
10 A350s were delivered in June with nine being A350-900s which included the first A350 delivery to Japan Airlines and China Southern. The lone A350-1000 delivery was to Qatar Airways.
A380 family
A single A380 was delivered in June to Emirates.
Total Airbus Deliveries – June 2019
The above data reflect figures reported by the manufacturer in their orders and deliveries reports, it does not reflect orders that have been announced but not finalized.