European airframer Airbus logged only a single order for an ACJ320neo for an undisclosed customer. The order barely made a dent in the companies order deficit for the year which stands at negative 57 aircraft.
However expect to see Airbus announce orders at the Paris airshow which starts in 10 days time. The company usually makes some large announcements during the show and with this show coinciding with Airbus' 50th anniversary – the company will want to put on a good show.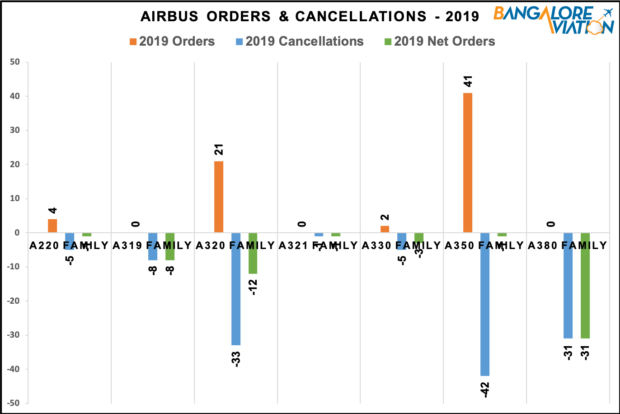 Deliveries
Keeping the momentum from last month, Airbus delivered a total of 81 aircraft in May 2019 to 49 customers from all of their aircraft families.
Family-wise Deliveries
A220 family
Airbus delivered four A220's with two A220-200s to Delta and two A220-300s to Air Baltic. The company also made a milestone delivery of its's 12,000th aircraft by delivering an A220 to Delta.
A320 family
Airbus delivered 57 A320 family aircraft in May with 47 of those being neos. The deliveries included the first A321neos for Air Transat (via AerCap), Lufthansa and La Compagnie (via GECAS).
Indigo took delivery of eight aircraft – five A320neos and three A321neos. GoAir took delivery of two A320neos.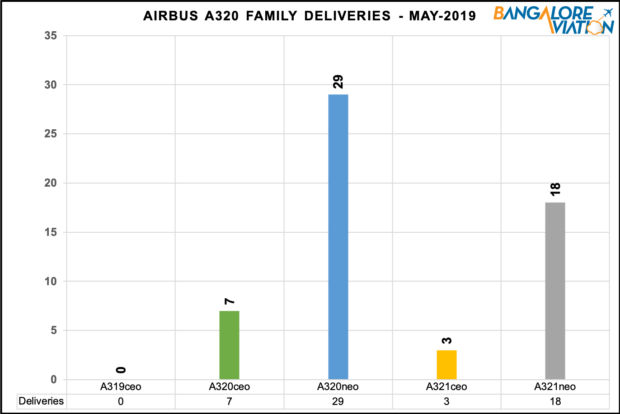 A330 family
Five A330s were delivered in May with three being the A330-900neo. One neo each was delivered to Delta, Azul and TAP Portugal. One A330-200 was delivered to Airbus defense for tanker conversion and one A330-300 was delivered to Sichuan airlines.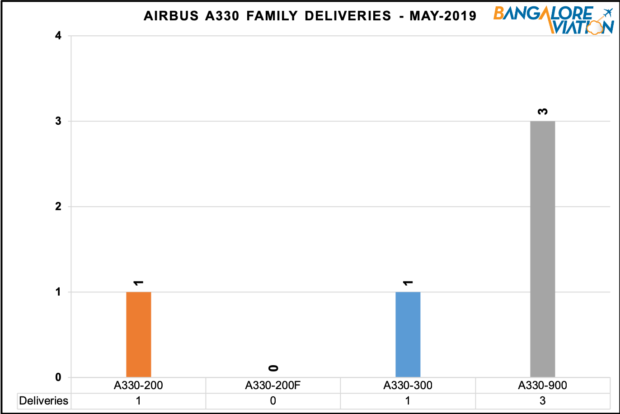 A350 family
13 A350s were delivered in May – 10 A350-900s and three A350-1000s. Airbus is reporting that Etihad has taken delivery of its first A350-1000.
A380 family
Airbus delivered two super-jumbos in May both to Emirates. One of the two is owned by All Nippon Airlines and leased to Emirates.
Total Airbus Deliveries – May 2019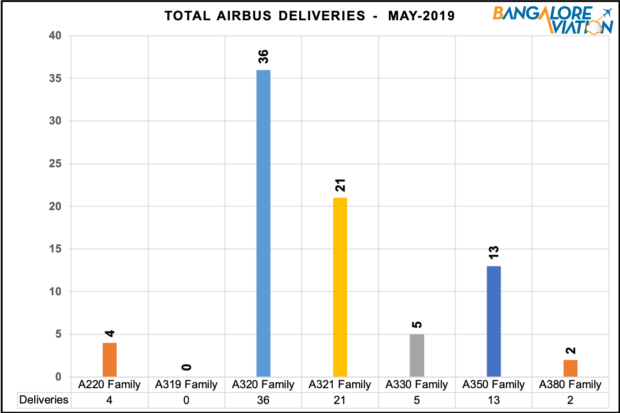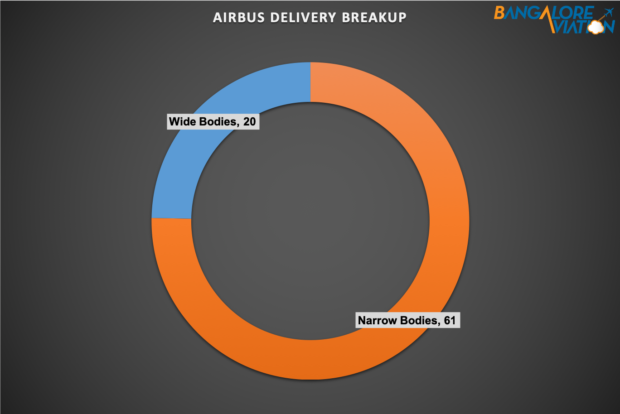 The above data reflect figures reported by the manufacturer in their orders and deliveries reports, it does not reflect orders that have been announced but not finalized.