European airframer has opened its 2019 Paris Air Show by launching the A321XLR. The A321XLR is the newest entry to the A321 lineup and will deliver a range of 4,700nm as compared to the currently longest range A321 – the A321LR which has a specified range of 4,000nm.
The aircraft will be able to serve transcontinental routes in the US as well as allow airlines to operate a host of trans-Atlantic routes. The XLR would also be able to serve non-stop routes from India to Europe and from South America to the US.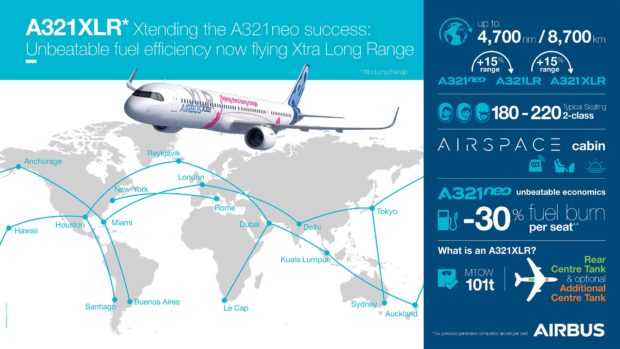 Airbus will use the XLR to fill the demand for mid-market medium haul aircraft, that was left vacant by the Boeing 757 and will attempt to capitalize on the market while Boeing finalizes its own clean sheet New Mid-Market Aircraft (NMA).
It is expected that Airbus will shortly begin announcing orders for the A321XLR. Many existing A321 operators including Air Asia, IAG, Lufthansa, American and United have reportedly shown interest in the aircraft.
Airbus has also stated that it has tried to maximise commonality with the existing A320 family aircraft:
:The A321XLR has been designed to maximize overall commonality with the A321LR and the rest of the A320neo Family, while introducing minimal changes needed to give the aircraft an Xtra Long Range with increased revenue payload. The changes include: the new permanent Rear Centre Tank (RCT) for more fuel volume; a modified landing gear for an increased maximum take-off weight (MTOW) of 101 metric tonnes; and an optimised wing trailing-edge flap configuration to preserve the same take-off performance and engine thrust requirements as today's A321neo. In particular, the new optimised RCT holds more fuel than several optional Additional Centre Tanks (ACTs) did previously, while taking up less space in the cargo hold – thus freeing-up underfloor volume for additional cargo and baggage on long range routes."