Inflight review: British Airways Boeing 787-8: Club World: Chennai to London
Inflight review: American Airlines Boeing 777-300ER: Business: London to Dallas
Lounge Review: American Airlines Flagship Lounge Chicago O'Hare
Inflight review: American Airlines Boeing 787-8: Business: Chicago to London
Inflight review: British Airways Boeing 777-200: Club World: London to Bangalore
——————————————————————————————————————————–
After our short stopover in London (or technically our really long connection), we were flying out of London on American Airlines (AA) Flagship 777-300ER.
American's premium check-in is on one end of Terminal 3 without any signage to direct passengers to it. We reached the desk and there was no line and our physical boarding passes were quickly printed.
Before handing them and our passports back though, the desk agent casually asked us some questions which began with the usual 'Have you packed your own bags?' to some rather strange questions as to what my job was and why I was going to the US? I was a bit taken back by the questions before I realised that they were part of the new enhanced security screening implemented by the US Transportation Security Administration late last year.
After a short stop in the AA lounge, we headed to our gate. At the gate there was a long line to go past the desk and go into the gate holding area – when we got towards the front of the line I realised why. As with other US flag carriers, AA randomly marks the boarding cards of some passengers with the dreaded SSSS. These passengers are then subjected to further questioning and baggage swab and check, and sometimes, a secondary pat down. Since the same gate agent checking documents was also doing the questioning – the line was backing up.
Boarding had begun by time we entered the gate area and seemed to have been called by priority for the priority gate and by zone for the economy gate.
London Heathrow (LHR) to Dallas-Fort Worth (DFW).
AA 51. STD 09.15 STA 13.25. All times local. 30-Apr-2018.
Boeing 777-300ER. N736AT. Seat 7J.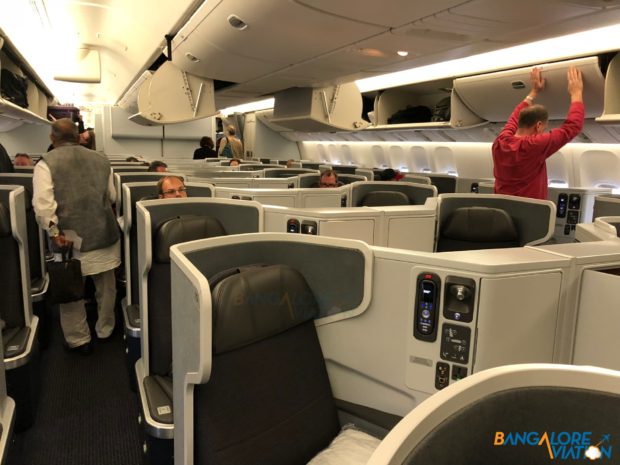 When we boarded the aircraft an attendant looked at our boarding passes and pointed us in the direction of our seats.
After we took our seats, an attendant brought over a tray with a choice between water, orange juice and champagne. An amenity kit, a water bottle, and a pair of Bose QuietComfort noise-reduction headphones were already at the seat. The headphones are definitely superior to the offerings of most airlines.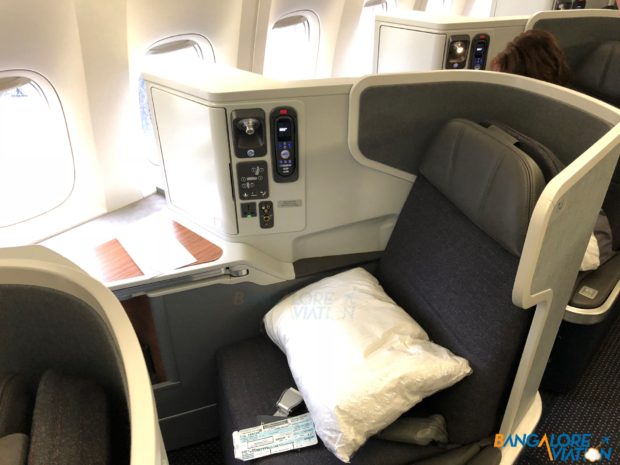 American Airlines business class seat
American uses Rockwell's B/E Aerospace super diamond seats on it's 777-300's. I've flown this seat before with Qatar Airways who use it on the 787's, A350's and A380's.
The cabin is set in a 1-2-1 reverse herring bone configuration with all seats having direct aisle access. The seat has a table and cupboard towards one side and a small cubby beneath the table. It reclines into a full flat bed and had enough space in the foot cubby for me to rotate my feet.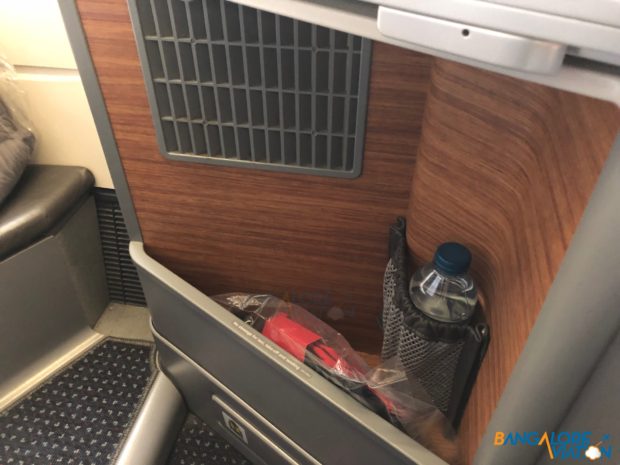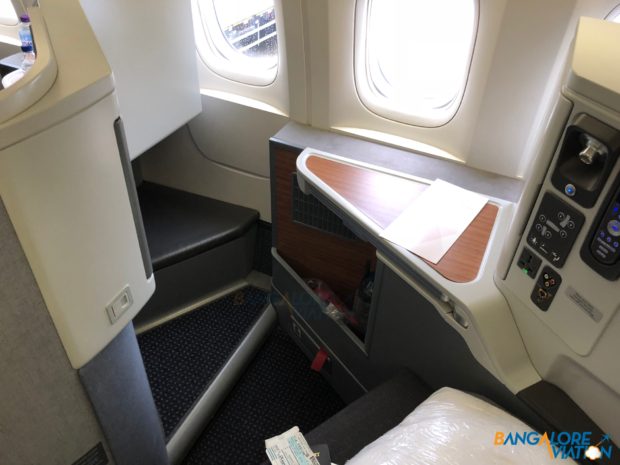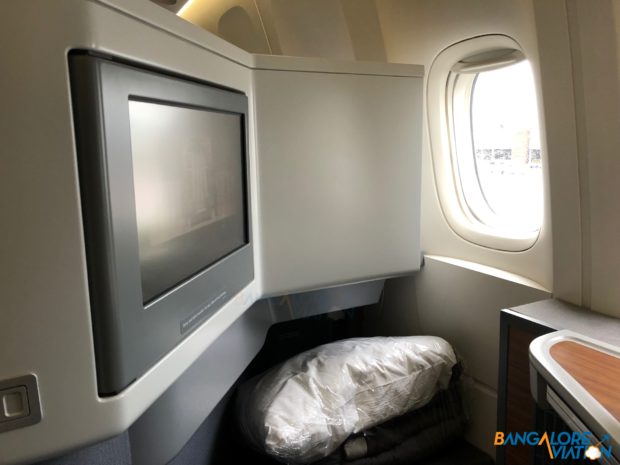 IFE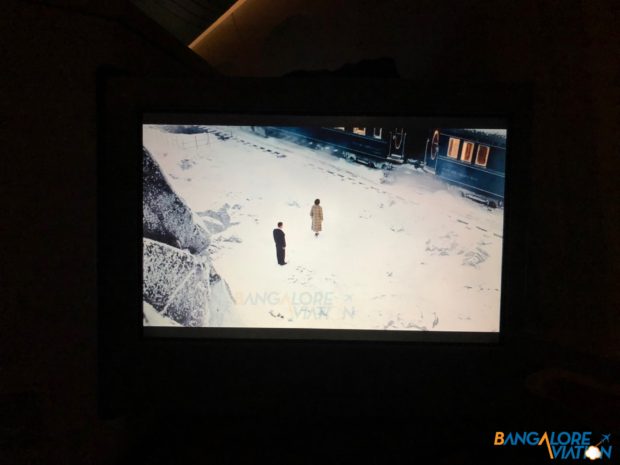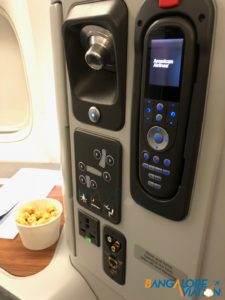 The IFE had a reasonably large selection of holly wood movies, TV shows, etc. The screen on AA's 777's is a flip out type which cannot be pivoted which makes it difficult to view if your seat is laid flat. The screen must be stowed before takeoff and landing.
All in all, while I have written how much I love the super diamond seat in general and especially Qatar's version of it. I'm not nearly as impressed with how American has set up the seat. It feels more claustrophobic because of the cupboard by the side of the seat which I didn't find very useful. The manually operable arm rest is a bit of a pain and the screen is not useable while lying down.
While the seat is very comfortable over a long haul – I feel that American dropped the ball on finishing touches.
After takeoff a drinks cart came around and I asked for a glass of champagne which was served along with a bowl of warm nuts.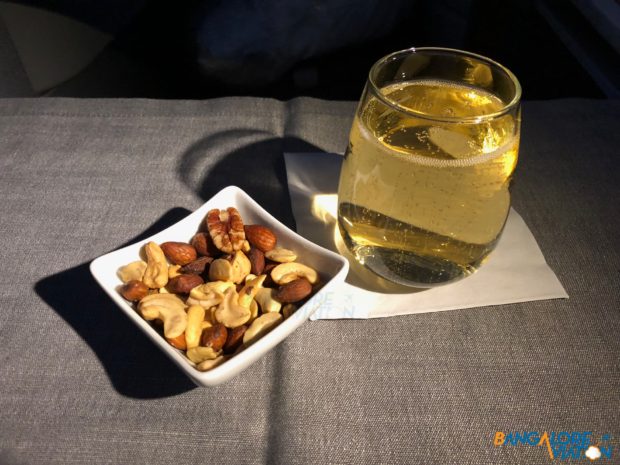 About an hour after departure we were served a meal. I found the appetizer and main to be about average. The dessert was very good – you can never go wrong with ice cream.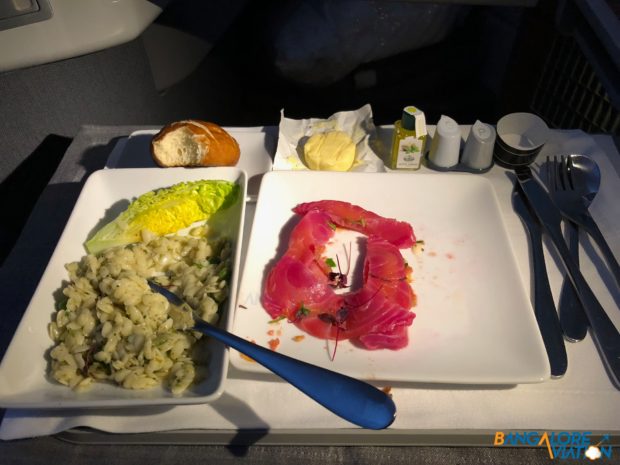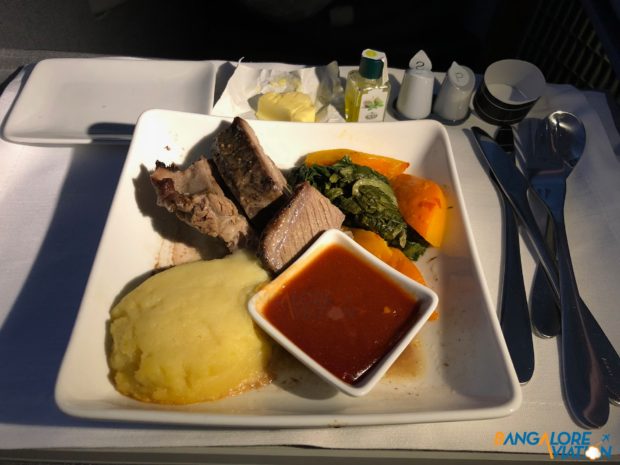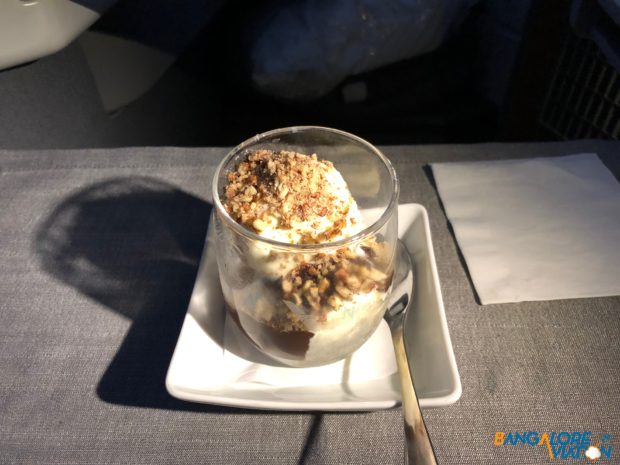 Service through the flight was efficient but it lacked the warmth of Asian and Middle-East carriers.
After the meal, I slept for a while and woke up pretty hungry. The crew stocks snacks like some open sandwiches, cheese cubes, chips, etc near the galley.
The rest of flight continued without incident with a sandwich being served a couple of hours before landing which was good.
The crew came around 55 minutes before we landed to collect all the headphones which could be particularly disturbing, especially if you are in the middle of a movie. Since I carry my own headphones, this didn't matter to me however I think an hour before landing is way to early to collect headphones.
The rest of the flight proceeded without incident and we landed on time.
Is an AA 777 flying around with Dad's iPhone?
The trip took a bit of a turn right when we landed. Dad had his phone in his hand when the plane landed and dropped it into the seat behind a panel.
After the aircraft came to stop, he tried to get it out but was unable to. A crew member then tried to retrieve the phone with a safety card but accidentally ended up pushing it further inside the panel.
We were then told that they would call maintenance and that we needed to disembark and clear customs. The phone would be removed and brought to us at the AA desk at baggage claim. Following their instructions we got off the plane and waited at baggage claim.
After waiting for three hours and following up with a bunch of people at different desks, we were told to file a lost and found claim and "if" the phone was found it would be returned. The lost and found counter is in the departure area of another terminal at the airport.
Now after three months with us following up the phone has still not been found. Which leaves only one explanation if we believe AA's claim that they have not yet retrieved the phone – the phone is still stuck in the seat of that 777 flying around the world with it's battery repeatedly getting crushed by the seat mechanism. That doesn't really sound safe to me.
While I don't blame the crew at all for the instructions they gave us, I feel like we got punished for following them. If we had just stood our ground and insisted on waiting for the maintenance guys to come and give us the phone, we probably wouldn't be out one $1000 phone. I just ended up feeling with both me and Dad holding elite status on the airline that our faith in the airline was abused. Anyway at the end we ended up getting Dad a new Red iPhone that looks crazy cool.
Update: American Airlines and dad shared the responsibility jointly, and the airline has kindly agreed to reimburse dad 50% the cost of the phone.