On my trip back from the US, I was originally booked to fly with Etihad. However the lack luster experience I had with them on my last flight and the horrible response from the customer care, I changed my booking onto Qatar airways. The middle east ban seems to have had an positive (for passengers) effect on Qatar's award availability – when I had originally booked my flight on Etihad there was no availability on Qatar for the entire month.
I was originally supposed to fly both legs on the 777-300ER but Qatar changed their equipment to Dallas to an Airbus A350-900 just four days before my flight. I was both excited and upset by this change – flying the A350 commercially meant that I would again have completed every family of Airbus aircraft, however I am a fan (one of the few) of the old business class on Qatar's 777's.
On the day of the flight, I got to the airport a couple of hours before the flight. On this flight I checked in the lightest piece of baggage, I have ever checked in till date. A box weighing in at 1.65 kgs.
The check in at Dallas was quick and I was given the boarding cards for both legs. I got into the priority lane at security which I found to be longer than the regular lane – I'm finding this to be a common occurrence at US airports now.
After getting through security I headed to the club lounges. (Read the review here.)
I got to the gate just about five minutes after the printed boarding time and nothing was happening at the gate. There was a whole bunch of staff dressed in Qatar uniforms just walking around and watching the show.
About 10 minutes after the printed boarding time, the staff made an announcement saying boarding was going to begin which caused everyone to get in line. Seven minutes after that they made another announcement that boarding was going to begin – I don't know why they did that since everyone was already in line. About another five minutes later boarding began very haphazardly with one lane observing priority boarding and another just letting everyone through.
Dallas-Fort worth (DFW) to Doha (DOH).
QR 730. STD 18.30 STA 17.10. All times local.5-Oct-2017.
Airbus A350-900 XWB. A7-ALG. Seat 3K.
Upon boarding, I was directed to my seat and quickly stowed my luggage. Qatar's A350 business class product is the same super diamond seats found on the airlines 787s and A380s.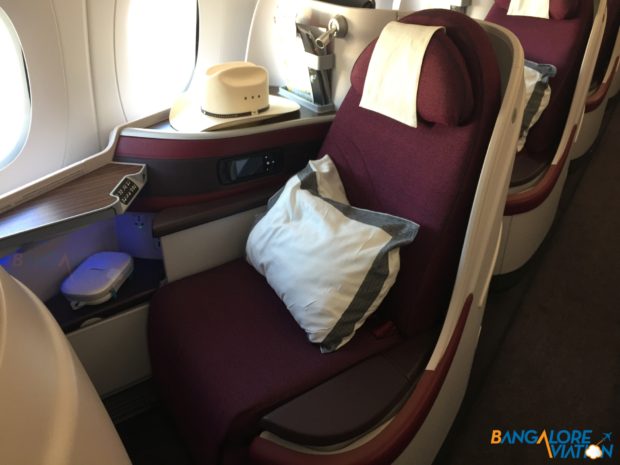 The seats are arranged in a 1-2-1 herringbone setup, with the center seats facing inwards and the window seats inclined towards the window. The seat has a very useful side table and plenty of storage spaces. It reclines into a full flat bed which I found to be very comfortable and had more than enough leg room. I also tend to flip over while sleeping and the foot cubby is big enough to let my feet rotate.
Unfortunately the seat does not provide any privacy due to it's open nature and ease of access.
Just a few minutes after taking my seat, one of the attendants Achmed came and introduced himself. He asked for my drink order – I took the Lanson Rose brut. Unfortunately Qatar has stopped carrying the Drappier Rose which was one of my favorites. He returned shortly with my drink, pajamas and an amenity kit. Qatar has also swapped their long standing Armani amenity kits from Bric's. The kit for October was in a limited edition pink to promote breast cancer awareness. Personally I liked the older amenity kit a lot more.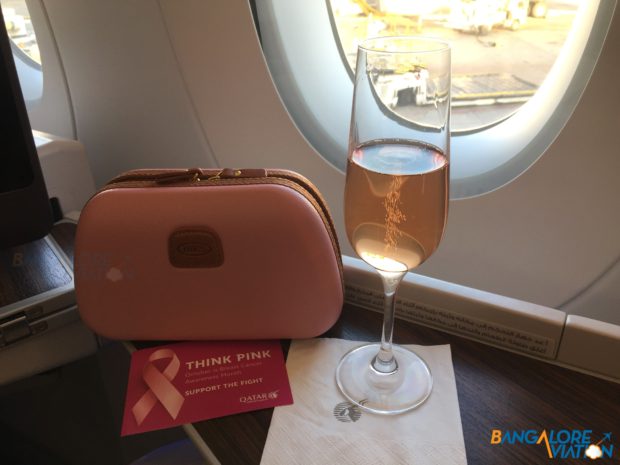 While I was waiting for pushback I started playing with the IFE. The seat has a large display with good resolution and a large collection of content. It also had the tail camera of the A380 which I love – only the A350's camera seems to have a much better resolution than the one found on it's big brother.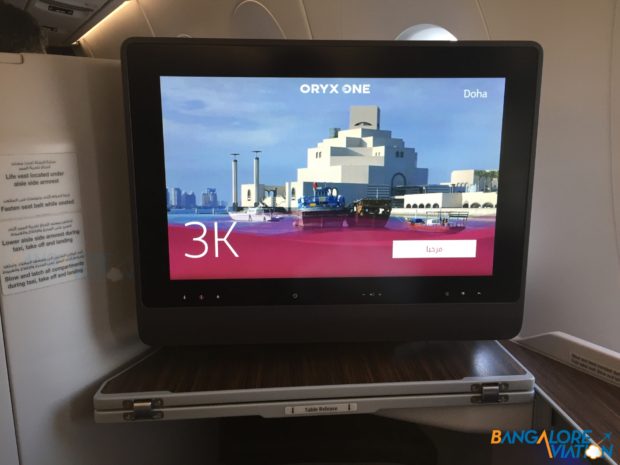 After pushback, we had a reasonably long taxi and took off.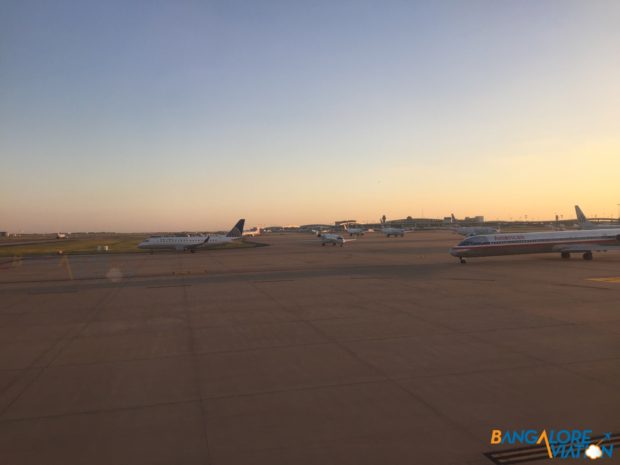 Shortly after take off Achmed came back to take my dinner order and asked me when I would like to eat. Strangely enough they ran out of the chicken entree even though I was the third person whose order was taken on the aircraft. Not being able to eat seafood, I had to settle for the cheese filled pasta. I asked him to bring my dinner after an hour. In the meantime he brought me a glass of champagne and a bowl of warmed nuts.

I also took the opportunity to change into my pajamas which were pretty comfortable but not the best airlines pajamas I've come across.
Exactly one hour by the clock (I checked) after taking the order Achmed came back to ask if I would like my meal now. Upon conforming, he laid out the table.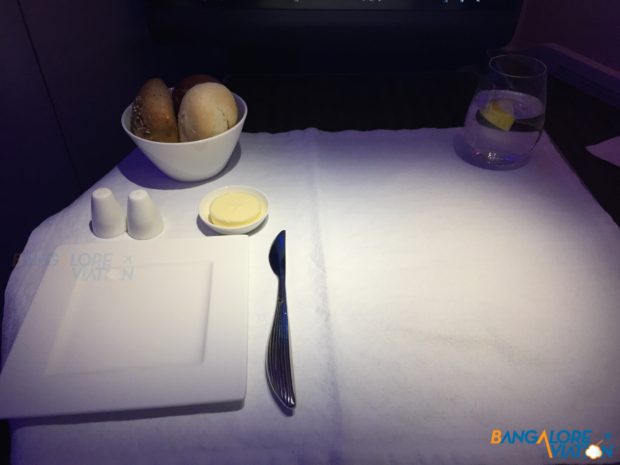 The first round was an amuse bouche which was nice.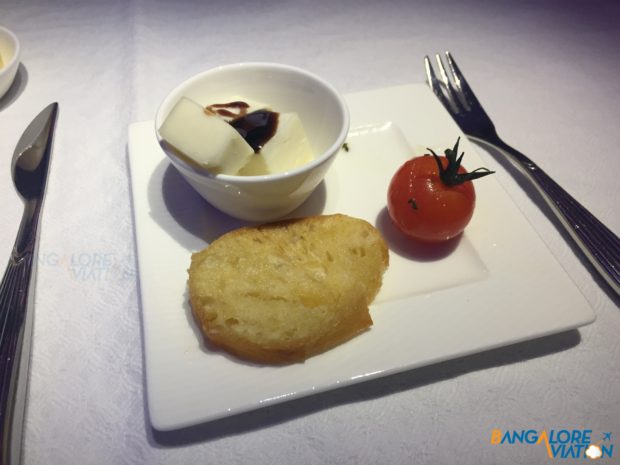 The pea soup was absolutely fantastic, the soup had an amazing consistency of flavor and texture. I would say that this dish was even better than restaurant quality.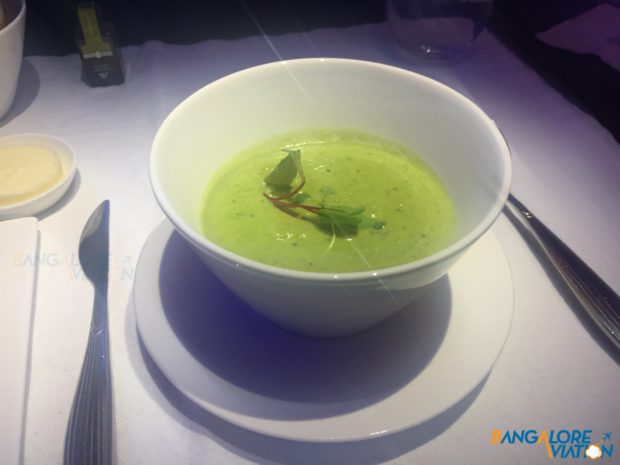 The antipasti salad was good.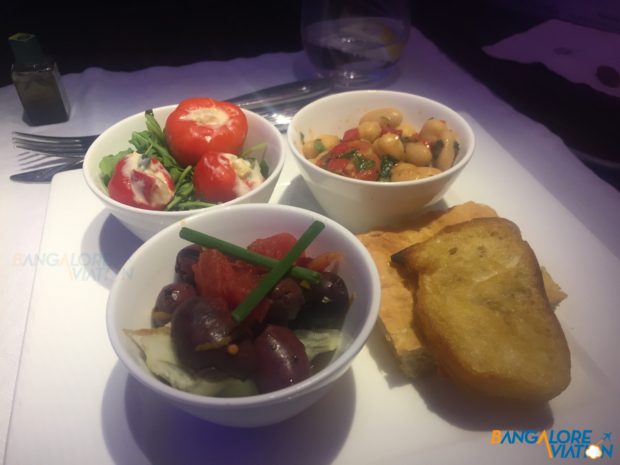 The pasta was ok, while it had good texture – it lacked flavor.

The dessert was very good, the chocolate tort was rich and went well with the ice-cream. In the past the meal has always been the weak link in my Qatar flights, but there seems to have been an improvement recently.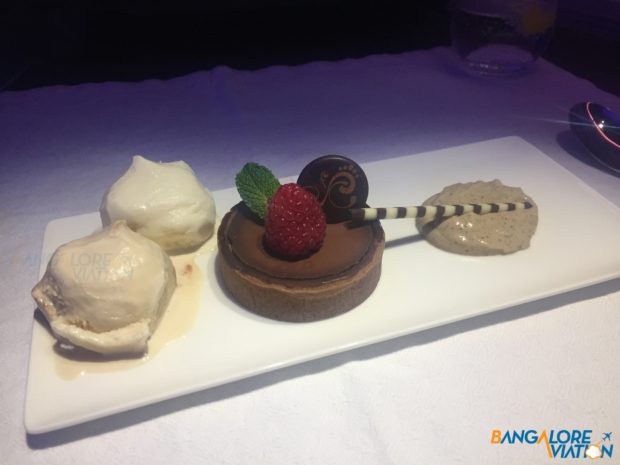 After dinner, I took a quick walk around the cabin, in the center of the cabin by the boarding doors there is a table where the crew leave out a center piece filled with roses, a tray of chocolates and a bottle of champagne for anyone who would like to serve themselves.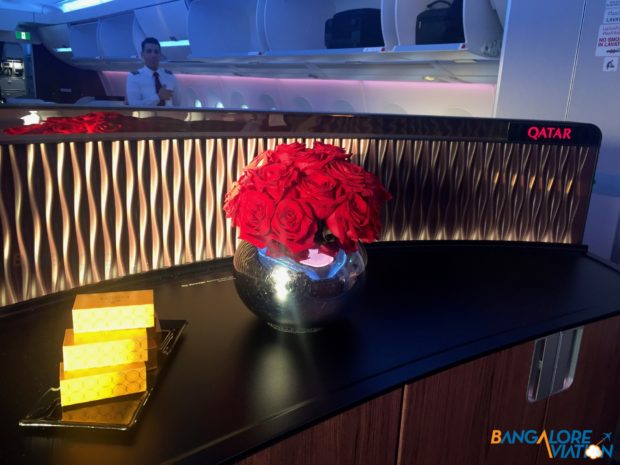 As I was getting up from the seat, Achmed had asked me if I would like the bed prepared. When I returned to my seat the bed had been made – they put down a mattress pad and sheet over the seat and leave a fluffy blanket by the side. After reclining the seat, I slept a full nine hours on the flight.

After waking up, I watched a movie on the IFE. About two hours before landing, I was asked if I would like breakfast. I asked for a greek yogurt which was good and eggs which were decent.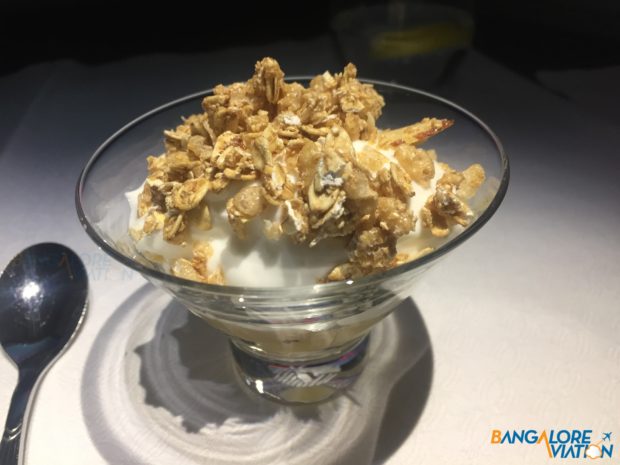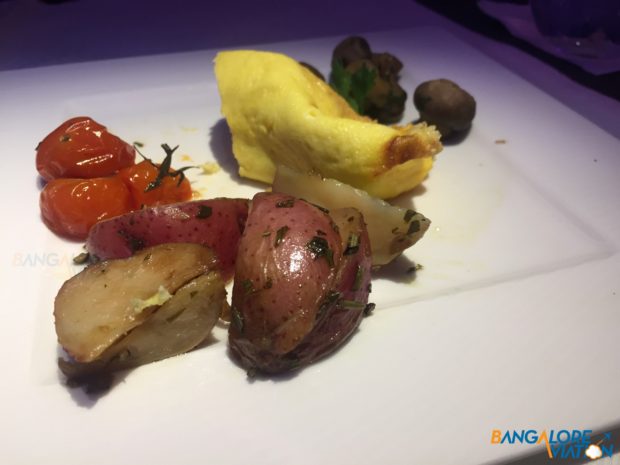 A little before landing, the lead cabin attendant came over and thanked me for being a OneWorld frequent flyer and for flying Qatar again. She also checked if everything had gone ok during the flight and if I had any suggestions.
The rest of the flight proceeded uneventfully and we landed in Doha on time despite our late departure. Unfortunately somehow almost every time I fly through Doha, one of the flights end up at a bus gate and this trip was no different. Deboarding was done by a single staircase and a separate bus was used for business class.
Overall
I've said in the past that Qatar may have one of the best business class products today. The airline puts a lot of effort into every aspect of the experience from the hard product to service and it shows. Qatar needs to take a look at the activity by it's contracted ground team at DFW – it was the only sub-par aspect of what was a very good flight.