Dad and me reached the Chennai airport at around 0430 for our scheduled 0530 flight. This was because British Airways (BA) had 24 hours in advance updated the status of their flight on their app as delayed to 6.40 due to technical problems with the incoming aircraft. (I just found that hilarious that BA could predict that their was going to be a problem with the plane a day in advance. Why not use another plane?). The revised departure time according to an email sent out at 0200 was 0640.
When we reached the check in desks they were empty, presumably most people had reached the airport as per the scheduled flight time. We were checked in quickly and issued with our boarding passes to London and then onwards to Dallas despite our long stop. What I found particularly impressive was that BA even gave us the customs form for the US in Chennai – all packaged in a neat little cover.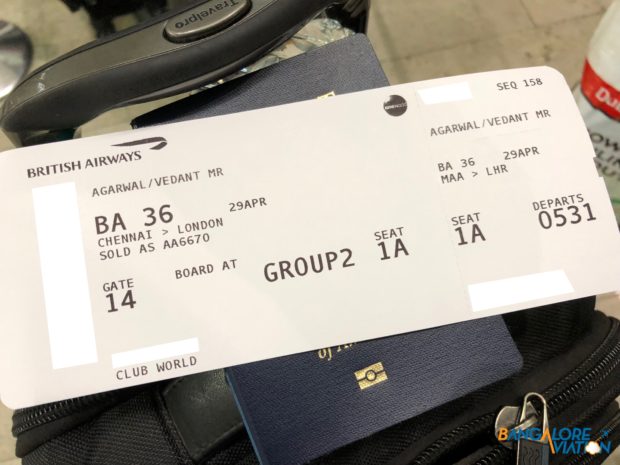 We then headed to immigration which was a zoo – a massive line stretching past the check in desks. It took us 28 minutes to cross immigration and then get into the chaos that was security. There seemed to be three flights going to Sri Lanka with a whole bunch of first time travelers who were carrying just about everything that is not allowed in carry on luggage.
Finally after about 45 minutes, we were through security and heading to the lounge.
After around 20 minutes in the lounge, people seemed to be heading to the gate so we followed them out. The BA gate staff seemed to be calling everyone to board but at the same time not boarding which was causing a huge pileup in front of the gate. Finally boarding began at around 0555 with priority boarding for wheel chairs and families, followed by club world.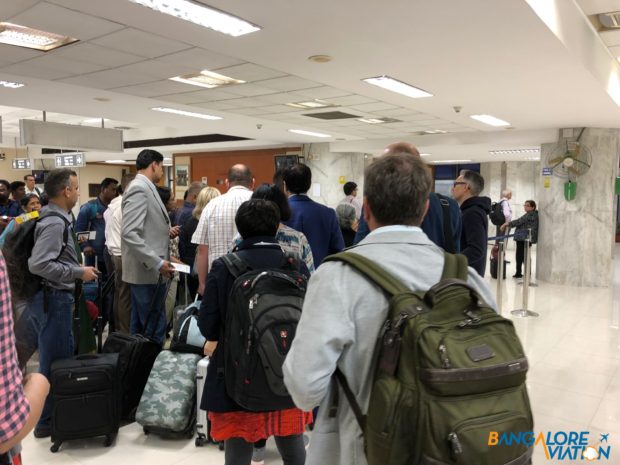 We quickly went through the gate and were shortly on the plane.
Chennai International (MAA) to London Heathrow (LHR).
BA 36. STD 05.31 STA 11.50. All times local.29-Apr-2018.
Boeing 787-8. G-ZBJH. Seat 1A.
Now boarding first is usually important in economy due to bin space filling up but it is equally important when flying business on BA since the business class is so dense that the bins fill up in the front as well.
On boarding the aircraft, we were pointed to our seats. I quickly stowed my bags and dropped into my seat. Waiting for me in the seat were a pillow, blanket and headphones.

British Airways Boeing 787-8 seat and cabin
BA uses a super dense 2-3-2 front-back configuration on it's 787's. A, E and K seats on the aircraft are rear facing while the rest are forward facing.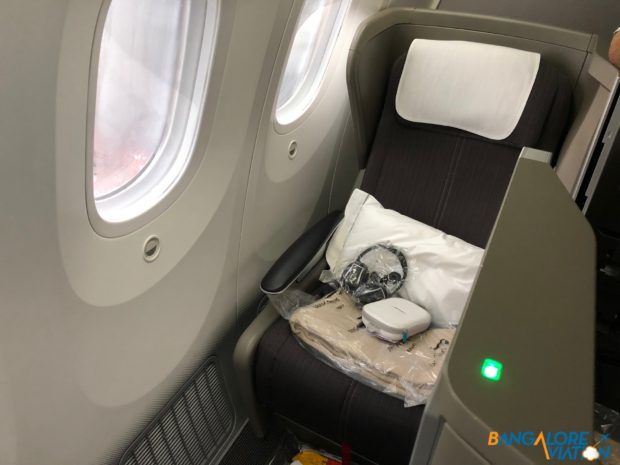 British Airways was among the first airlines to introduce a lie flat seat in business class back in 1999. The airline introduced it's new generation club world back in 2006. Unfortunately, the airline is still using that 12 year old product even on it's latest 787's.
The product which can be called ancient at best features a narrow 20 inch wide seat with absolutely no storage space except for one large drawer at the bottom of the seat which can only be accessed with the seat up. The foot rest must be manually released with a lever. The seat reclines into a full flat bed which is quite comfortable and BA has got the seat cushion at just the perfect balance between soft and firm.
When the seat is in it's upright position there is a massive amount of leg room in front of it. The seat and the entire cabin were a bit dirty and obviously haven't been cleaned after coming in from London.
The IFE has a fold out screen which is not very big but has a decent selection of movies and TV shows to choose from. The IFE can be controlled by the touch screen or via the remote.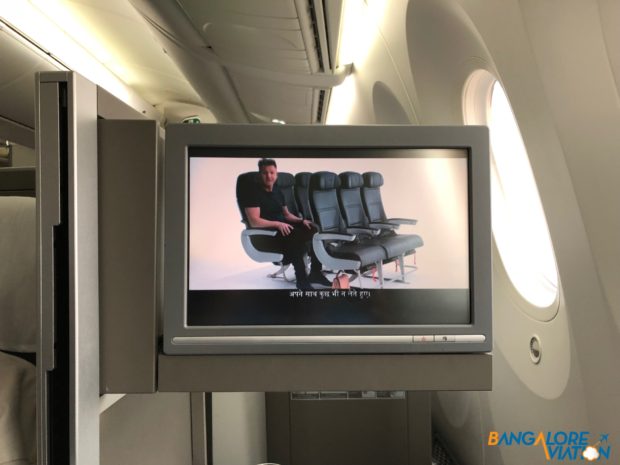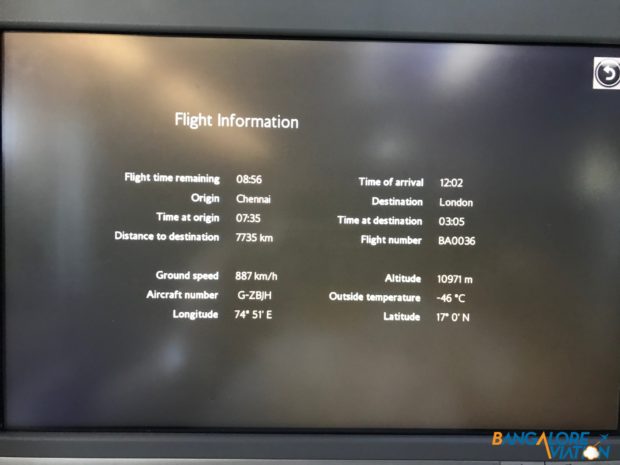 While I was getting comfortable in the seat, I was offered an amenity kit and a choice between orange and sweet lime juice by one of the Indian flight attendants. BA has a strange system of dressing Indian flight crew members in a different red colour uniform. Another attendant came by and gave me a bottle of water.
After some time, we pushed back and were wheels up at 0646. A little after takeoff the crew came around and took breakfast orders.
I picked the fruit and English breakfast option. The fruit was ok (can't go too wrong there) and was served with a miserable looking croissant.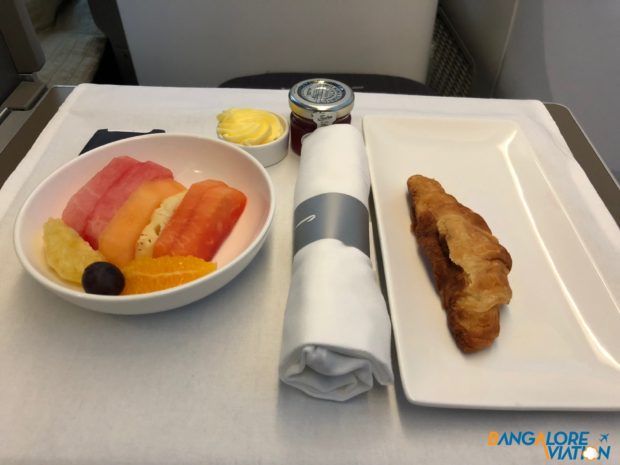 The breakfast itself was very bad, the food was all overcooked and flavorless. I returned most of the tray uneaten.

After breakfast, having been awake all night I reclined the seat and proceeded to sleep for the next five hours. After waking up, I went to the small self service area by the galley and got a pack of popcorn and some ice-cream.

About an hour after I woke up, there was a drinks service where I asked for a glass of champagne which was served with a packet of roasted almonds.

Lunch was served about an hour later and I chose the chicken option. The starter was good and the salad was passable with a good bottled vinaigrette dressing.

The main chicken was not very good – the only flavor it had was salt and was very rubbery.

The cheesecake was very good, the other option was a cheese plater which dad picked.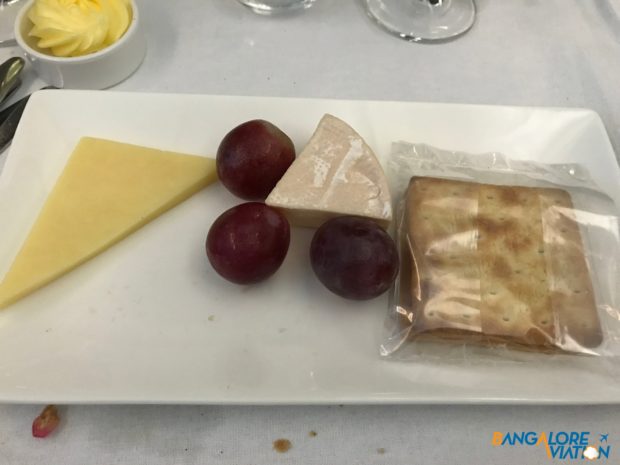 Service throughout the flight was bad – if you wanted anything or even wanted the tray cleared you had to ring the bell (which I hate to do) and wait. If you tried to flag the attention of the passing crew they would never stop.
The rest of the flight proceeded uneventfully and we landed about 30 minutes behind schedule. After reaching the gate, fast track immigration passes were handed out at the door while deboarding the aircraft.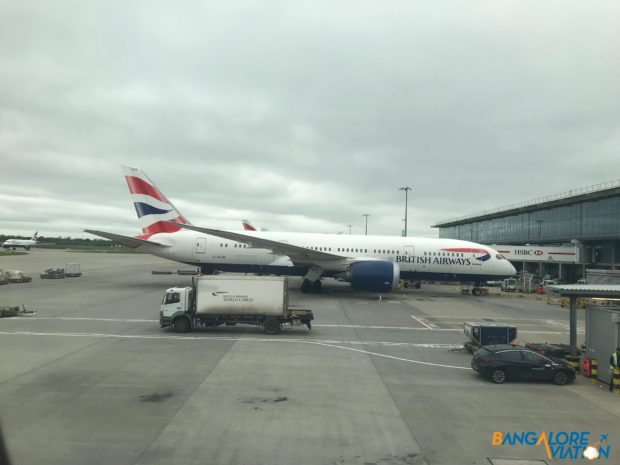 Summary
All in all I found this flight to be sub-par. Everything from the cabin to the food to the attitude of the crew left huge room for improvement.
BA is rumored to be introducing a new cabin product in 2019, but they also have miles to go in everything other aspect of their business class service.