European airframer Airbus opened the second quarter of 2019 with five orders. The orders were for three A350-900s from Lufthansa Technic on behalf of the German government and two A330-800neos for Uganda Airlines.
The manufacturer also recorded five cancellations for A330-200s which keeps their net order deficit to 58 aircraft for 2019. Airbus has also not yet logged the cancellation of Emirates A380s or their orders for A350s and A330s, indicating that the deal is still not finalized.
Deliveries
Continuing from last month, Airbus delivered a total of 70 aircraft in April 2019 to 35 customers, with deliveries from every aircraft family except the A380.
Family-wise Deliveries
A220 family
Airbus delivered three of its smallest family with two A220-200s to Delta and one A220-300 for Air Baltic.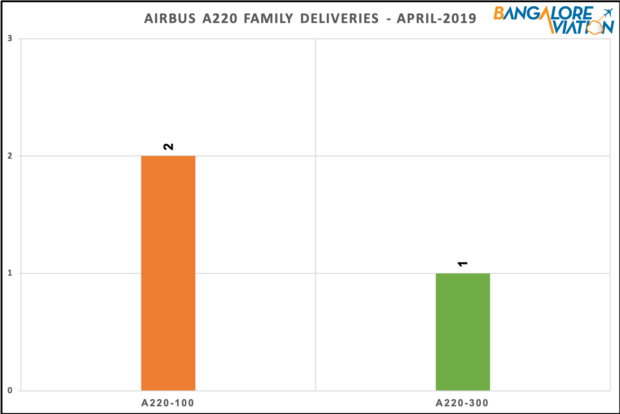 A320 family
57 A320 family aircraft were delivered in April (47 neos and 10 ceos). Airbus delivered the first A321neo for Air Arabia.
Indigo took delivery of five A320neos and one A321neo in April. GoAir took delivery of a single A320neo.

A330 family
Airbus delivered two A330-900neos in April with one to TAP Portugal and the first of the type to Air Mauritius.

A350 family
Eight A350's were delivered in April with seven A350-900s and one A350-1000, all delivered to existing operators.

Total Airbus Deliveries – April 2019
The above charts reflect figures reported by the manufacturer in their orders and deliveries reports, it does not reflect orders that have been announced but not finalized.