I had to make a short-notice business trip to Dubai in early November 2014. For the week I needed to travel, I found airfares on most carriers extremely high. This included the only non-stop airline between Bangalore and Dubai, Emirates. On shopping for better fares, I came across a good fare on the UAE's other national carrier, Etihad which flies to Abu Dhabi and offers a luxury chauffeur-driven luxury car service to Dubai for its premium passengers. This flight also gave me an opportunity how Etihad is leveraging its partnership with Jet Airways for domestic connections.
The onward flight which I review is Bangalore to Mumbai on Jet Airways and Mumbai to Abu Dhabi on Etihad and then a luxury limo ride to my hotel in Dubai.
Kempegowda International Airport (BLR) to Chhatrapati Shivaji International Airport (BOM).
9W 7010. Depart 23:35 Arrive 01:15+1. All times local.
Boeing 737-700. VT-SJA. Seat 12J.
06-Nov-14.
This was the last flight out of Bangalore. Operated by an all-economy JetLite Boeing 737-700 aircraft. The check-in hall was quite empty when I arrived at 22:00. The stampede for the post midnight European and Hong Kong departures had not yet commenced.
Check in was smooth and then off to security, which was also empty, making my security check a super-fast two minutes. With an hour to my flight, I headed to the domestic Plaza Premium lounge to which I gained access courtesy of my HDFC Visa card.
Plaza Premium domestic lounge – Bangalore airport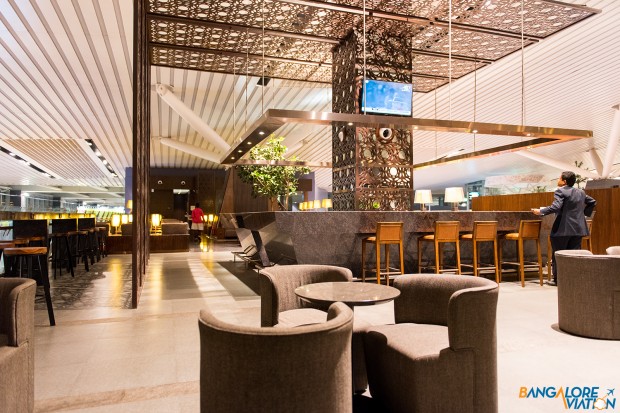 The lounge is on the mezzanine in the departure hall and is designed in the same style as the Plaza lounge on the international side. Compared to their international lounge, Plaza's domestic lounge has only a few basic food stations and appears a little understaffed, though this could be due to the hour. The lounge is modelled after the famous Cathay Pacific Wings lounge at Hong Kong airport overlooking the concourse and has a good view of the ramp, something many lounges miss out on.
The lounge overlooks the boarding gate and though boarding was scheduled for 22:50, I used the view to wait till the boarding line actually formed before leaving the lounge and heading down a floor. Boarding actually begun only at 23:10, 20 minutes behind schedule. But boarding was completed very quickly allowing for a push-back by 22:30.
The aircraft was a 10 year old Boeing 737-700, which was reasonably well maintained. Since this was a JetKonnect flight, food had to be purchased. The service was quick and efficient. The flight was routine and we reached our gate in Mumbai at 00:35, technical the next day.
Inter-terminal transfer at Mumbai Airport
To get to the new international terminal T2 from the domestic T1, the airport offers a shuttle bus which runs along the inner perimeter road of the airport. It is crucial you do not exit the arrivals hall.
To catch the shuttle, you need to speak to the information desk in the arrival hall, which is staffed by some very helpful staff. I waited 15 minutes before boarding for the shuttle began. To reach the shuttle, passengers must undergo another security screening by the CISF. The shuttle is a Volvo B7R bus, which was in the worst state I have ever seen a Volvo bus in. The bus was dirty and creaked and bounced all along the ride. The airport operators MIAL need to address this on priority.
Chhatrapati Shivaji International Airport (BOM) to Abu Dhabi International Airport (AUH).
EY205. Depart 04:30 Arrive 06:25. All times local.
Airbus A340-600. A6-EHL. Seat 7A.
07-Nov-14.
Etihad Mumbai – check-in
The last island in the T2 check in hall (Island N) is reserved for premium passengers check-in for premium passengers. Due to a lack of signage, most premium passengers do not use these dedicated desks. Something that both the airline and airport need to address.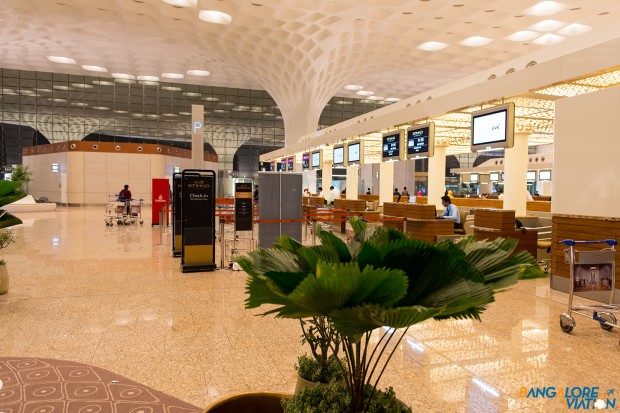 On check-in I was informed that the flight was an hour and a half late. Also my seat was changed to 7A from my reserved 9K even thought the aircraft model operating the flight (A340-600) had not changed. The agent had no clue why or how this happened.
Mumbai T2 – premium class dedicated security check
After check in I proceeded to the First and Business class security check which was a very pleasant experience. The CISF guards manning these stations were very pleasant and surprisingly chatty. Security check is not usually a very friendly experience, but MIAL and the CISF seem to have made it as painless as possible for it's premium passengers. Then it was off through immigration and customs to declare my camera equipment.
After passing through the very extensive duty free area, one could easily think you had walked into a high end shopping mall. The central area had coffee shops, stores and a elaborate food court on one end. After a quick walk around, I proceeded to the temporary lounge located one level below.
Mumbai T2 business class lounge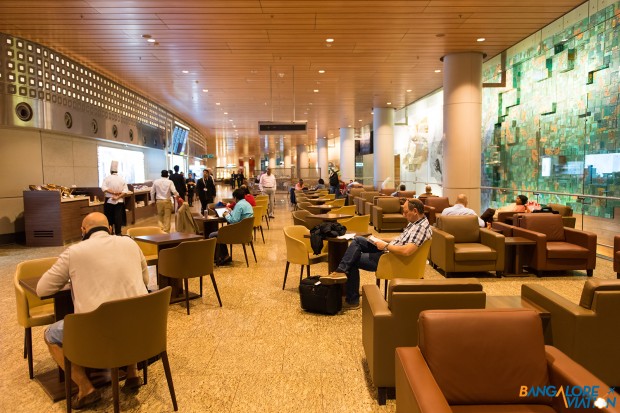 The temporary lounge is actually a inactive corridor which is being used as a lounge. That being said, it was a pretty good lounge which a decent selection of food and very attentive staff. The major gripe I had with this lounge was the complete lack of power sockets which meant eating into my battery reserves, though it's understandable since this is after all a corridor. By now, since the permanent lounge has opened this issue should have been addressed.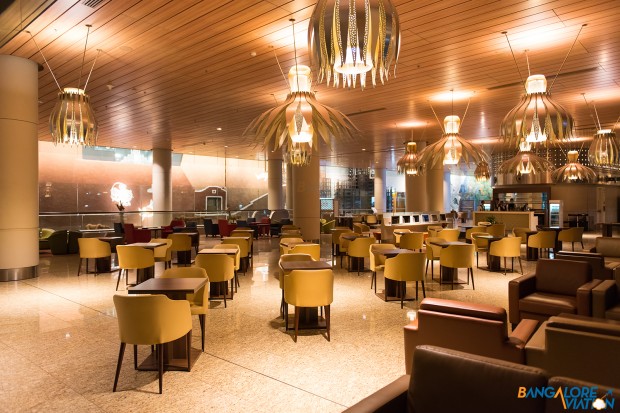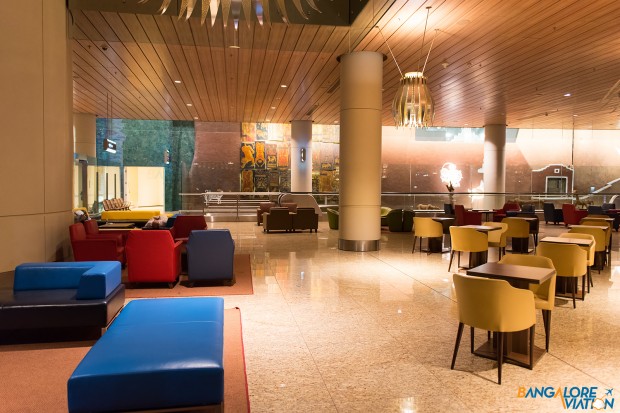 I started to move to the gate at the updated boarding time, and it was a long walk from the lounge to the gate we were assigned.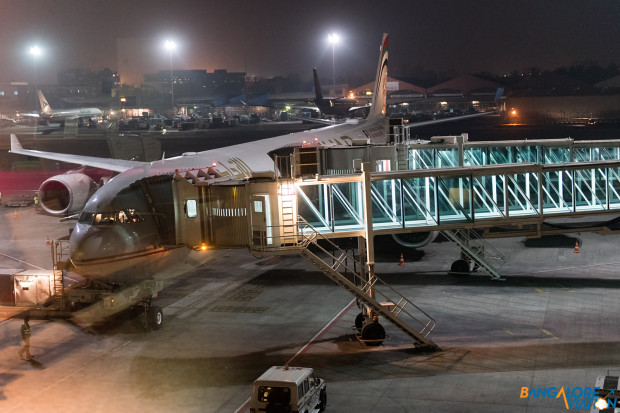 Etihad Pearl business class – Airbus A340-600 – seat and cabin
Boarding was swift and I quickly found my seat. Etihad uses a staggered 1-2-1 seat arrangement with direct aisle access for each seat. Shortly after taking my seat, I was offered a lime drink and a hot towel while we waited for the boarding to finish.
The seat itself was good, but narrow. Larger passengers would find it a bit cramped. The seat reclines into a full flat bed, which I found to be just long enough for my height. Passengers over six feet tall would definitely find this seat cramped.
Seat 7A is what I would call a true window seat, the seat is beside the window and the side table is in between the seat and the aisle. Alternate rows have the side table in between the seat and the window. While the aircraft is sitting at the gate, the IFE system only shows a stream of Etihad airways ads. Etihad should allow starting a movie on the ground an gain the additional 15~20 minutes viewing time, considering the three hour flight time.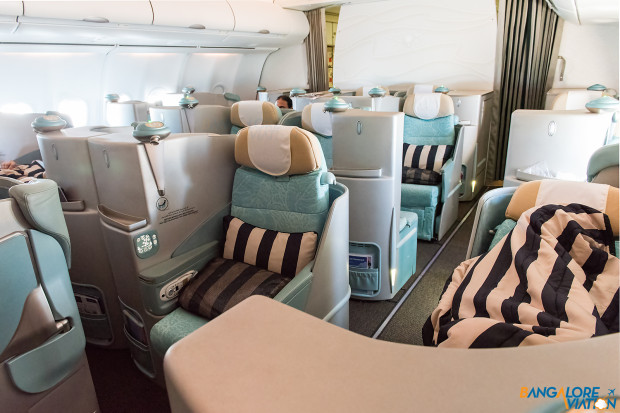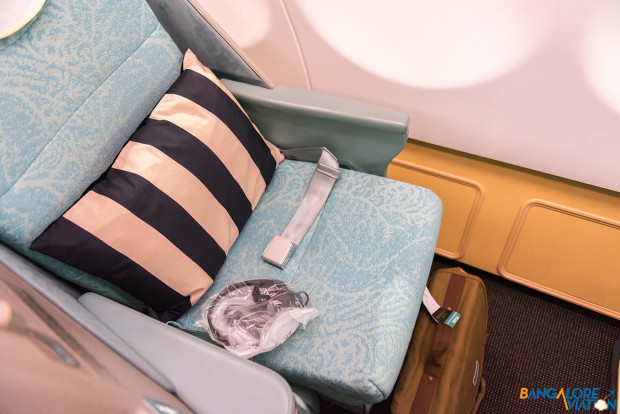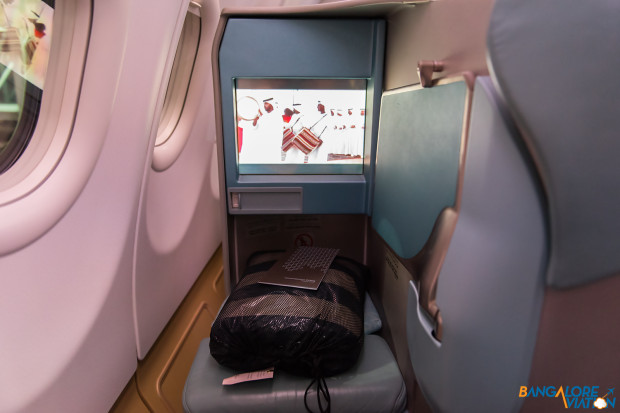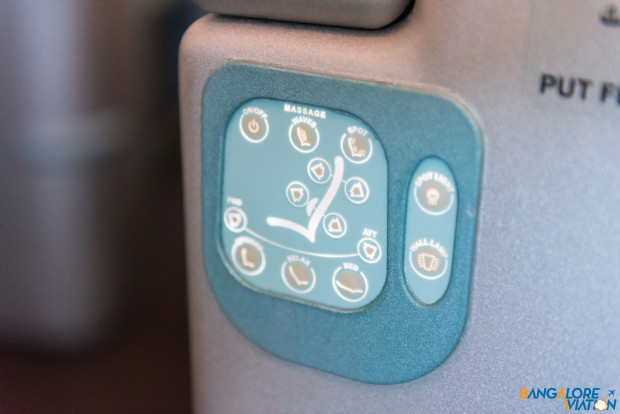 Just before push-back, the crew came and took my meal order and distributed the amenity kits. The kits are very basic and similar to those found in the economy class kit of many of Etihad's competitors.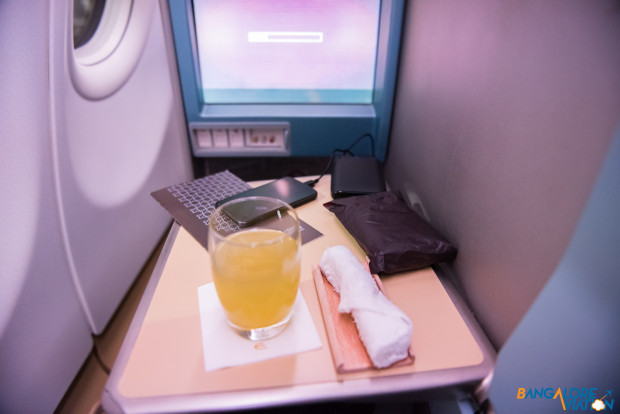 Just after take-off, both the IFE and my seat stopped working. Many reset attempts could not revive them, forcing me to move to seat 5C. I found the food to be quite standard, the eggs was slightly flavourless though the meat portion is reasonable.
In-flight entertainment
Completely exhausted, I unpacked my blanket which was thick, soft and had a luxurious feeling velvety cover. I quickly rolled over and fell asleep. I woke up about half an hour before the flight landed and was soon served a cup of coffee and biscuits. Since we were close to our destination, I watched a few TV shows on the IFE. The E-Box system as it is called is not the most user friendly, I found it to be a little cumbersome. But the E-Box also has some nice touches – for example it warns the user if they start a movie that is longer than the remaining flight time.
Final descent and landing was normal and we were at the gate about 10 minutes after landing. Only one door (2L) is used for de-boarding, the crew holds economy class passengers until the first and business class passengers have disembarked.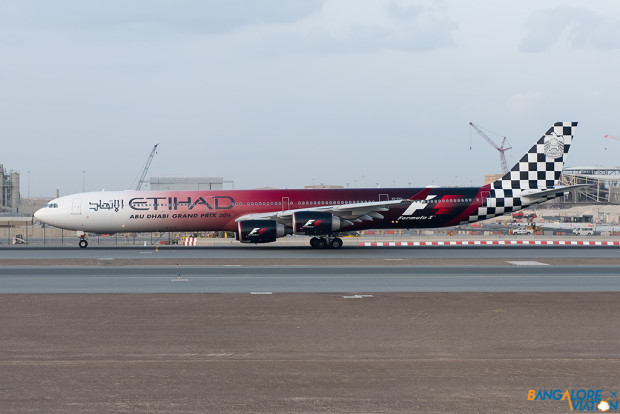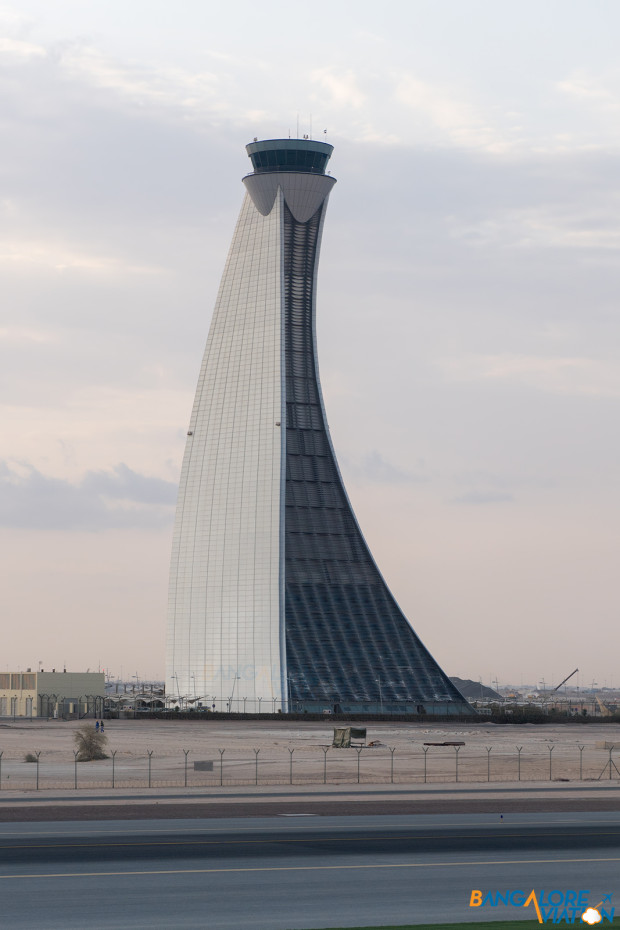 Abu Dhabi airport – a poor experience
The entire premium experience of flying Etihad comes crashing to the ground as soon as you exit the aero-bridge. Abu Dhabi airport's terminal 1 is one of the most crowed and badly designed terminals I have visited. The terminal signage is poor and the airport staff, not Etihad staff, are rude and unhelpful. Immigration, baggage claim and customs were quick thanks to a dedicated fast track lane for premium passengers.
Etihad arrival lounge at Abu Dhabi
Etihad has a small but well set-up arrival lounge at Abu Dhabi airport. Apart from good food, the lounge has shower facilities, a complimentary steam pressing of your clothes, and even a barber to give you a nice clean wet shave.
Etihad's chauffeur drive service
Etihad offers its premium class passengers a complimentary drop or pick-up anywhere in the United Arab Emirates via a luxury chauffeur driven car. The lounge exits directly to the chauffeur drive desk, from where I was taken to a gleaming white Lexus LS for my 150km 70 minute trip to my hotel in Dubai.
Stay tuned for a review on an incident filled return trip on the Airbus A330 featuring the newer Etihad cabin product.
Disclosure. All flights were paid for. Etihad Airways or its affiliates did not review, or revise this article prior to publication. Our views remain independent and our own.
Pictures are copyright of Vedant Agarwal and are used with permission, all rights reserved. Please do not reproduce in any form.