India's largest airline reported its results yesterday. What was surprising was the quantum of the loss at 870.8 crores. Indigo attributes this to the impact of COVID-19, coupled with the weakness of the rupee, which has resulted in a spike in costs.
Indeed, it is very telling that for an airline that is so focused and disciplined, there has been a 30% rise in costs. It follows that other airlines, which neither have the same cost competitiveness nor the cost position, are likely to see a situation where a bankruptcy or shut-down cannot be ruled out.
Indigo Q4FY20 results snapshot (in INR) comparisons to Q4FY19
Revenues ₹8,634 crores (up 4.5%)
Costs ₹9,924 crores (up by 30%)
EBITDAR ₹86 crores (not comparable due to change in accounting treatment)
Loss after tax (EAT) ₹870.8 crores (-246%)
Revenue per available seat kilometre (RASK) ₹3.65
Cost per available seat kilometre (CASK) ₹4.21
Capacity (measured in available seat kilometres) 23 billion (up 4.1%)
Passenger load factor 82.8%
 The revenues held going into Q4
Indigo had a revenue increase of 4.5% against a capacity increase of 4.1%. Indeed on a revenue per available seat basis (RASK), Indigo's RASK actually increased to 3.65 compared to 3.63 for the same quarter last year. That is while flying more aircraft and more seats, Indigo was able to command a 0.5% higher revenue realization.
Looking at the revenue splits once again operational income including ticket sales, ancillary, cargo etc was up by 5.3%, while other income which is largely driven by sale-and-leasebacks was down by -10.9%. The other income also included the fact that Indigo only took deliveries of eight aircraft in the quarter.
The Pratt& Whitney engines seem to be a matter of contention
Indigo continued to be impacted by issues with the Pratt and Whitney geared turbofan (GTF) engines that power its NEO fleet. Industry sources indicate that there continues to be much discussion on the engines and DGCA directives that mandate the removal of older engines. This has a large impact on Indigo and later this year Indigo will take delivers of A320/321 NEOs powered by CFM engines.
Due to the engine issues, Indigo would be entitled to compensation and it is quite telling that this was disclosed in its earnings release. Specifically, Indigo stated:
The Company has certain agreements with an Original Equipment Manufacturer (OEM) for supply of new engines, spare engine support and provision of maintenance services. During the year ended 31 March 2020, the supplier has raised invoices on the Company amounting to Rs. 2,156.00 (cr) for spare engine charges, which management, considering its assessment of the contractual terms and conditions and basis advice from legal counsel, believes that it is not entitled to pay and accordingly has not recorded any provision for the same, in the books of account. Further, the Company has also raised certain claims on the OEM due to issues noted with the engines supplied by the OEM…"
The weak rupee is a curse to costs
Perhaps what is most surprising about this quarter was the increase in costs. On a cost per available seat (CASK) basis, Indigo fared 25.8% worse than the same quarter last year. This was largely driven by a foreign exchange loss where the rupee has consistently declined against the dollar (keep in mind most of the lease rent payments which are the largest expense for airlines are denominated in dollars).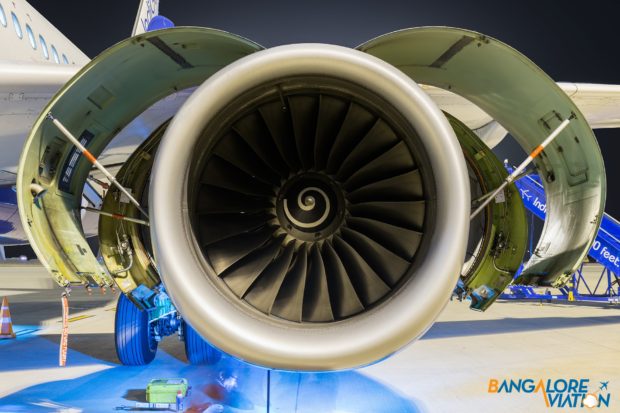 Further, there was a spike in maintenance costs which indicates that the current fleet was flown for more hours and that the maintenance costs were revisited. Per Indigo, the maintenance costs were reassessed to an additional INR 885.6 crores. There was also a huge spike in depreciation and amortization however, this is on the basis of the revised accounting treatment.
Finance costs which were higher by 267% were quite telling and reconfirm that fact that the weakness of the rupee is very detrimental. Because for dollar-denominated loans which are largely serviced by rupee-denominated cash, as the rupee weakens the airline is forced to pay more to service the same loans.
Finally, employee expenses rose in the quarter but these will now be contained given the salary cuts and retrenchment that is underway.
The results speak to the wider market: one or more airline failures are likely
The Indigo results are likely to make other airlines sit up in shock. Especially the weaker airlines that neither have cash-balances nor a strong parent company support.
The failure to save for a rainy day have only exacerbated the situation with airlines like SpiceJet which was already facing litigation by OEMs and others like GoAir implementing salary cuts of 60% or more. With the lockdown coupled with no government support rather a "passenger-funded bailout" the most price-sensitive segments of demand have dissipated.
And the matter of not refunding money to passengers rather holding it in a credit shell is subjudice but in the event of a judgement that forces airlines to refund they are looking at an additional INR 700 – INR 1000 crore cash-outflow. Some will simply not be able to fly through that storm.
Finally, the Indian airline sector as it stands has too many distortions. Whether it is Air India that is continuing and competing after being funded by the taxpayers or players that are beneficiaries of government policy time and again, the market has too many players competing for very little demand. And the voluminous aircraft orders (these are firm orders and not even options) are not helping.
On the basis of fundamentals which look at revenues and costs and the ability to fly through the COVID-19 impact without any government support and in an environment where banks are extremely averse to lending to airlines, airline failure(s) are a likely possibility. One just hopes it does not devolve into a situation like Kingfisher or worse still like Jet Airways where market failure leads to even greater distortions.
For the time being, Indigo's results have delivered a jolt to all alike.