The gate from the lounge brought me right onto the aero-bride to the aircraft. I was met at the door by a member of the crew who checked my boarding card and pointed me to my seat.
Washinton Dulles (IAD) to Abu Dhabi (AUH).
EY 130. STD 21.25 STA 19.00 (+1). All times local.
Boeing 787-9. A6-BLD. Seat 9A.
I reached my seat and stowed my bag. As I took my seat, one of the stewards Vik, introduced himself and took my drink order. He returned shortly with a hot towel and a glass of champagne.
Etihad Boeing 787-9 seat and cabin
Etihad uses a staggered 1-2-1 arrangement for their business class with odd rows being forward facing and even rows facing the rear. The odd rows have the table between the seat and the aisle which makes them more private.
The seat itself relines into a full flat bed and has a convenient side table and multiple cubbies to store your things. The seat can be controlled by either a touch screen panel or preset buttons. The product is identical to the one the airline uses on its Airbus A380.
(For high-resolution pictures of the cabin see our walk-through)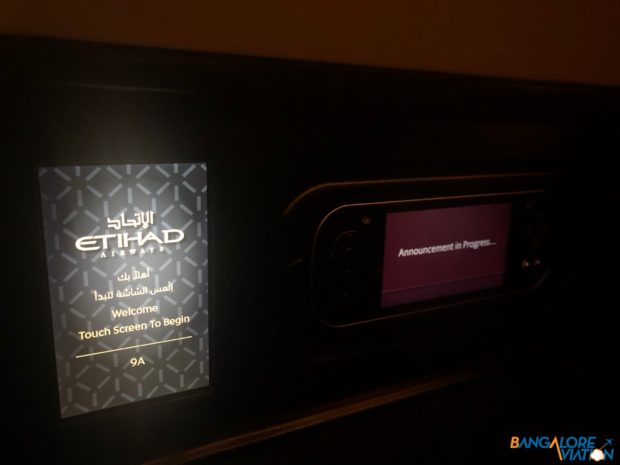 The menu and amenity kit were already placed at the seat when I boarded. The amenity kit is a small folio with a small selection of items.

While waiting for the rest of the aircraft to board, I thought of going through the IFE. Unfortunately, I was out of luck, Etihad doesn't switch on the IFE till the aircraft pushes back which was about 55 minutes after we boarded.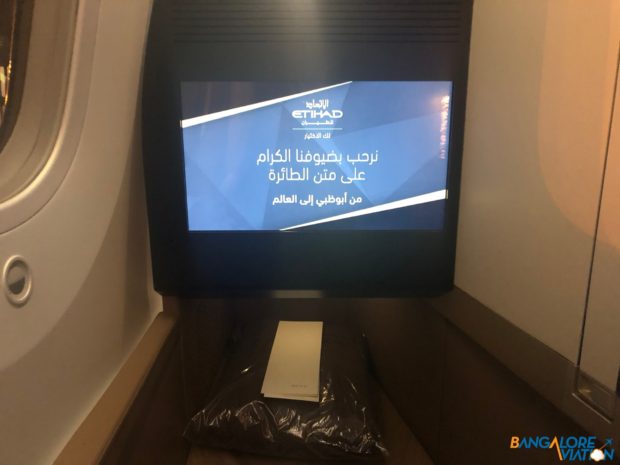 During this time, the crew came around and offered newspapers and also took the dinner order.
When the aircraft finally pushed back, I went through the IFE. Etihad's IFE has a large selection of titles and is easy to use.
After departure, the crew brought me another glass of champagne and a ramekin of nuts.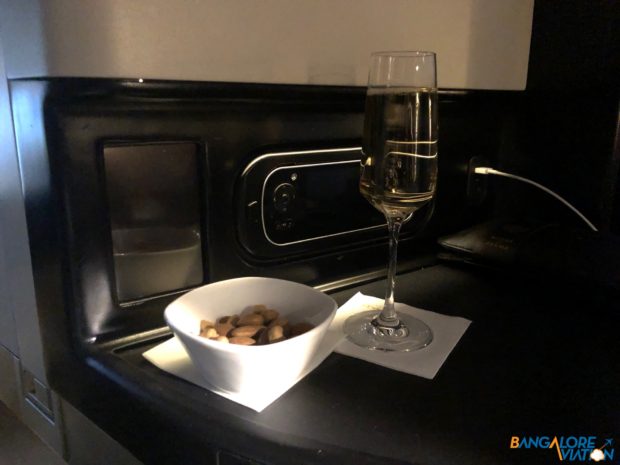 About an hour after departure, dinner was served. The Mezze platter was just horrible, the seat was about average and the dessert was again just bad.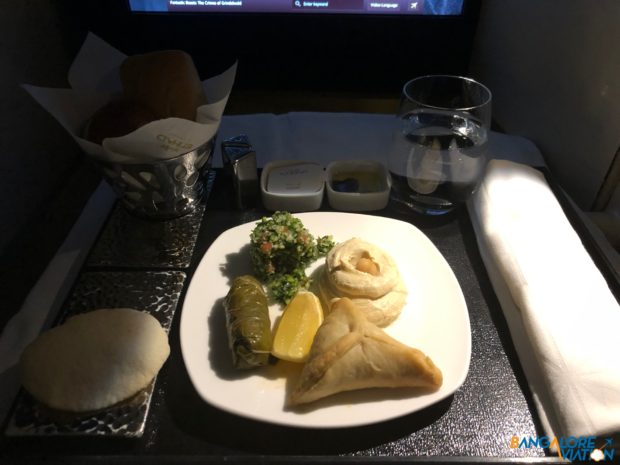 After dinner, I tried reclining the seat to get a couple hours sleep. That's when the seat first acted up – it wouldn't cross a reline position to flat. Vik had to dismantle the seat and wrestle it down at which point it seemed to be working. Since it was flat, I didn't want to fiddle with it and just got in and wen to sleep. Etihad has stopped offering pajamas in its business class.
When I woke up, the seat had a new issue – it would no longer straighten up. Again Vik, had to wrestle it back up at which point it would only recline and not flatten out fully again. Since, I was not planning to sleep the reclined position was absolutely fine for me.
A little while later, I was a bit hungry and ordered a snack which was a pastrami sandwich and some baklava. Both dishes were absolutely excellent. I really wished I had ordered the same thing for dinner earlier on.

As we descended for landing, the seat finally gave up completely and refused to move at all. Vik, then asked me if I would mind shifting seats to the last row for landing, which I did.
We landed about 15 minutes before schedule and taxied to a gate at Terminal 1. Disembarking was done via aero-bridge.
Summary
Not a particularly great flight, despite having a good hard product – Etihad's cabin upkeep, food and amenities all seem to have suffered during the airline's cost cutting. The IFE not working for an hour after boarding is also exceptionally annoying.
The service on the flight was still very good.