A British Airways Boeing 777-200ER registration G-YMMU, operating flight BA119 from London Heathrow to Bangalore Kempegowda airport returned to London Heathrow airport soon after take-off due to a technical issue. The cause of the issue is being investigated by the engineers, and no determination on what caused the issue has been made as of the time of this report.
The flight which was originally scheduled to depart at 1415 local (2:15pm) was delayed for over an hour and finally departed at 15:27 local (3:27pm).
As flight maps show, the aircraft climbed to an altitude of 24,000 feet before turning back mid-way over the English Channel about 15 minutes after take-off. The pilots descended to 10,000 feet altitude and circled for about 30 minutes. This was presumably to dump fuel and lighten the aircraft. As readers are aware, the London to Bangalore flight is almost ten hours long and the full fuel load makes the aircraft to heavy to land so soon after take-off. If needing to land soon after take-off, pilots routinely dump fuel to reduce the weight of the aircraft below its specified MLW (maximum landing weight). The aircraft finally landed about one hour later after take-off around 16:40 local (4:40pm).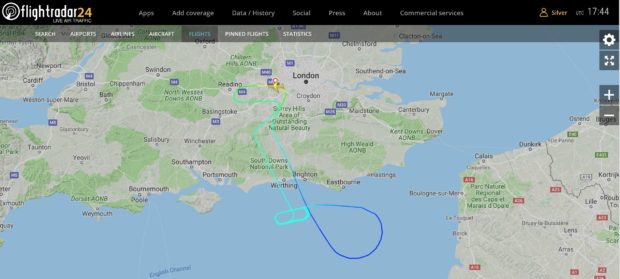 An airline's spokesperson said
"The pilots requested a priority landing into Heathrow as a precaution due to a technical issue, and the aircraft landed as normal. We apologise to customers affected by the disruption to their journey but safety will always be our highest priority.
We have organised a replacement aircraft to allow them to continue their journey this evening."
The spokesperson concurred with Bangalore Aviation's understanding that the replacement flight was tentatively scheduled to depart London at 2100 local (9pm).
The airline refused to provide specifics on the number of passengers on the flight. The aircraft has 48 seats in Business, 24 seats in Premium Economy, and 203 seats in Economy class.
Tentative revised schedule
We expect the replacement flight to operate with an approximate seven-hour delay. So the replacement inbound flight BA119 will arrive in Bangalore around 11:45am Thursday (July 4th) morning. We expect the return flight BA118 to depart Bangalore around 1345 local (1:45pm) and reach London around 1930 local (7:30pm).
We recommend those passengers travelling beyond London, to immediately connect with British Airways and make alternate arrangements. We remind passenger of the European Union rule EU261 that requires the airline to provide with you with alternate travel arrangements and in some case compensation.
Bangalore Aviation would like to re-affirm that this was not an emergency. Passengers deplaned normally.
Aircraft information G-YMMU
Serial number: 36519 LN: 796
Type: 777-236ER
First flight date: 16/06/2009
Plane age: just over 10 years
Engines: 2 x Rolls Royce Trent 895