European airframer Airbus has developed a new cabin concept for its best-selling narrow body A320 family of jetliners called Airspace.
Just as its competitor Boeing borrowed cabin concepts from the 787 Dreamliner and incorporated it in to the 737, Airbus has borrowed concepts from the A350 and the A330neo for the Airspace interior to offer similar designs in both the cockpit and the passenger cabin, along with the latest technology.
Some of the elements of the new interior include:
The "Airspace Bin" will be the largest overhead storage bin in its class. It will fit eight cabin bags in a four-frame bin, instead of the current five. Bigger and heavier bags and vertical storage is also accommodated.
New ceiling lighting which is customisable starting from the entrance and continues throughout the aircraft. In a way this reminds me of the Boeing Sky Interior ceiling, but in a more modern avatar.
One inch more shoulder width using new sidewall panels with increased cabin width.
Windows similar to the A350 using a new bezel and fully-integrated window shades provide passengers more window space and an unobstructed view.
New lavatory design which better uses space, anti-bacterial coatings, automatic aroma dispensers, and optional touchless options.
Coloured LED mood lighting using 16.4 million colour options.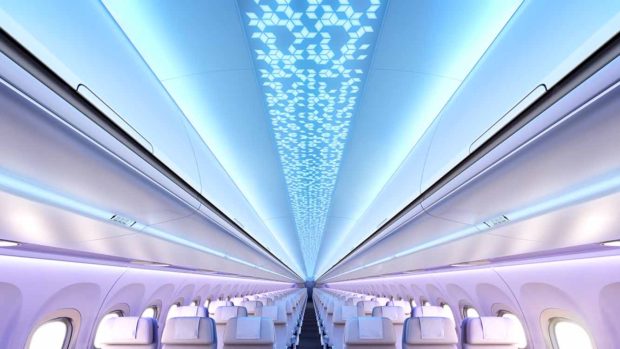 The company says
Additional features such as the less obtrusive cabin sidewall panels and lavatory options ('Smart-Lav' and 'Space-Flex') maintain a consistent design to the popular Airspace wide-body series. Passengers will also appreciate the modular IFE platform with overhead video and in-seat audio/video on-demand, as well as the provision for in-seat power, wireless flexible connectivity and mobile telephony (GSM on board). The full Airspace Interior package is targeted for 2020 and will retrofit to the current hardware.