European airframer Airbus unveiled a development study for an enhanced version of the A380 superjumbo, the "A380plus".
The study is a bid by the company to re-engergise sales of the world's largest passenger aircraft that have been stagnant for over a year. It also appears to be an effort to bridge the requests of the largest A380 customer, Emirates airline, for an A380neo with newer engines and a re-designed wing. Airbus has already spent over $25 billion on developing the A380 and given the poor sales, it does not see returns commensurate with the expense to develop an A380neo.
A380plus infographic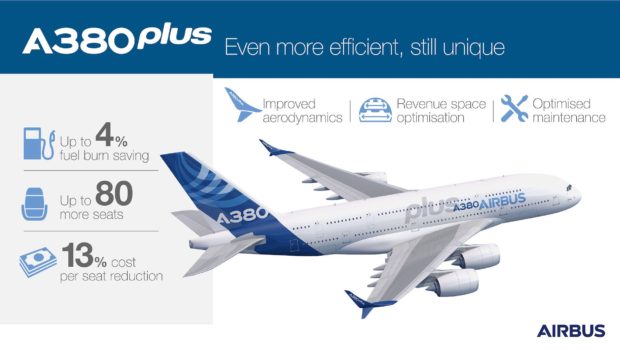 The enhancements include new split winglets about 4.7 metres (approx 15½ feet) in height (up 3.5m and down 1.2m) and other wing improvements that will improve fuel burn by up to four per cent.
Other "cabin enablers" (detailed further below) will allow airlines to add up to 80 additional seats further reducing per seat costs by up to 13%. Airbus estimates the current A380 average seat count of 497 in a four classes will increase to 575.
Airbus will increase the maximum take-off weight (MTOW) by three tonnes to 578 tonnes to carry up to 80 additional passengers over the existing range of 8,200nm or flying with fewer passengers an additional 300nm for ultra-long range flights.
Airbus is also proposing longer maintenance check intervals, a reduced six-year check downtime, and systems improvements, on the A380plus to reduce maintenance costs and increase aircraft availability.
Cabin enablers
New Forward Stairs – add 20 seats
The forward grand staircase will be re-designed and relocated from door 1 to door 2, and combined with the stairs to the lower-deck crew rest area, to make room for up to 20 additional passengers.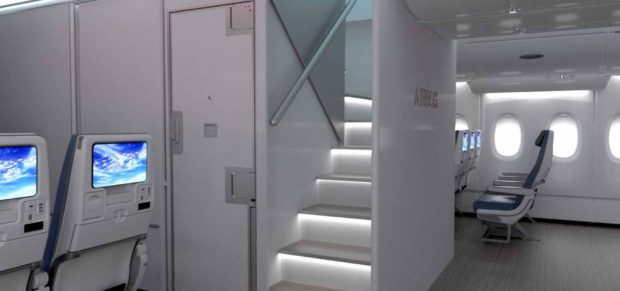 Combined Crew-Rest Compartment (CCRC) – add three seats
The existing flight-crew-rest behind the cockpit is combined with the cabin crew rest on the lower deck enabling three additional seats to add three extra premium economy seats at the front of the main-deck.
11-abreast 3-5-3 economy layout – add 23 seats
Something we passengers don't want to hear, but a new 11 abreast 3-5-3 economy class seating will add 23 seats. Airbus says it will maintain the 18-inch seat width.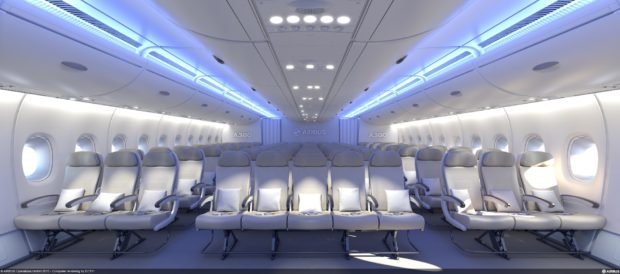 Nine-abreast premium economy – add 11 seats
Airbus would like to use the wide main-deck cross section to add one more premium economy seat in each row from the existing eight-abreast layout to add 11 more premium economy seats.
New Aft-Galley Stair Module (AGSM) – 14 seats & two food trolleys
The spiral rear-stairs is redesigned to a straight/square shape providing for 14 additional economy class seats and two extra food trolleys.
Upper-deck sidewall storage removal – 10 business seats
By removing the sidewall storage on the upper deck found in the business class, the cabin width at foot-rest level increases. This allows for 10 additional business class seats when deployed in the popular angled herring-bone configuration.
A380plus video
Share your thoughts
Do you think the A380plus will help generate sales of the whalejet? Or this is an attempt by Airbus to protect its existing A380 order book which could be under threat given the slow-down in the middle-east and ASEAN carriers. Share your thoughts on the new concept via the comments.