European airframer Airbus built five A380's for the initial flight test program of the world's largest commercial passenger aircraft. It still retains two aircraft in its test fleet which are used for on-going long term testing and for making improvements on the A380. F-WWOW (MSN 1) is fitted with the Rolls Royce Trent 970 engines, while F-WWDD (MSN 4) is fitted with the Engine Alliance GP7270 engines. While most customers use the Rolls Royce engines, the A380s largest customer, Dubai-based Emirates airline uses the GP7270.
At the 2016 edition of the Farnborough Air Show, I was invited to go on-board F-WWDD. As its manufacturer's serial number (MSN) indicates, it is the fourth A380 to have been built, with its first flight in October 2005. The aircraft began life fitted with Rolls-Royce Trent 970 engines but was subsequently fitted with GP7270 engines in 2009. This aircraft was used extensively for promoting the A380 with it's customer airlines and has worn the liveries and titles of Emirates, Singapore Airlines, Lufthansa and Etihad apart from a full white livery and the regular Airbus corporate livery.
The aircraft is now configured in a full flight test setup and is used to test improvement packages for the A380. Along with MSN 1, MSN 4 F-WWDD is also used for displays at various airshows and other promotional events.
The lower deck
The lower deck is equipped with the test, measuring, and data capture equipment. The test engineers sit on this deck to monitor the aircraft and gather data during flights.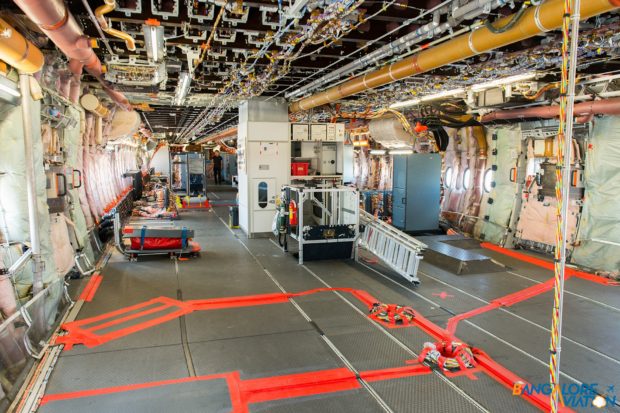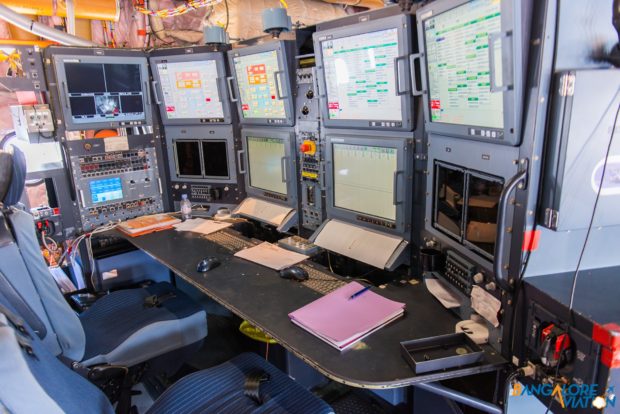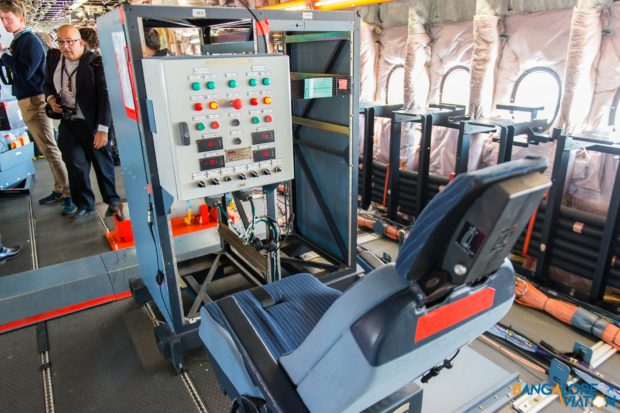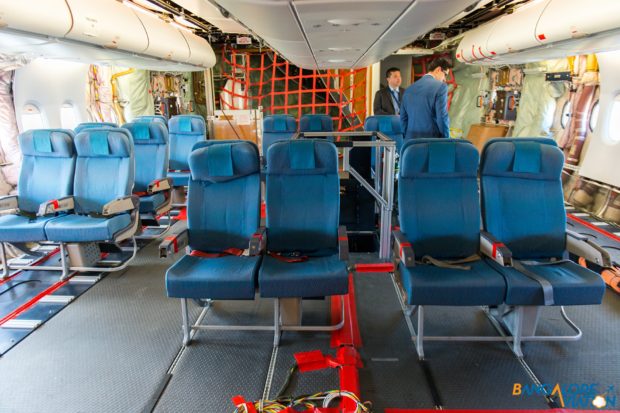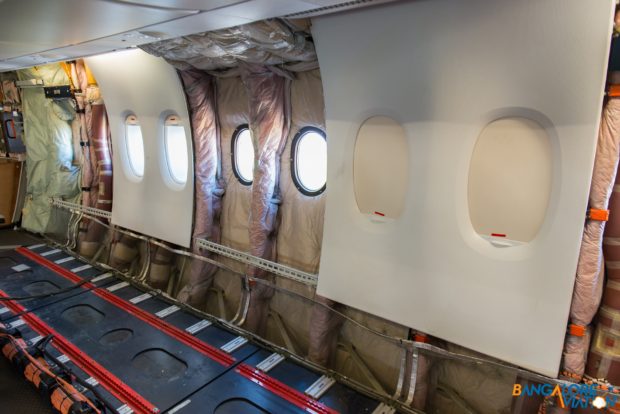 The upper deck
The upper deck is almost empty, except for the forward most section which is configured to demonstrate various economy class cabin seating options.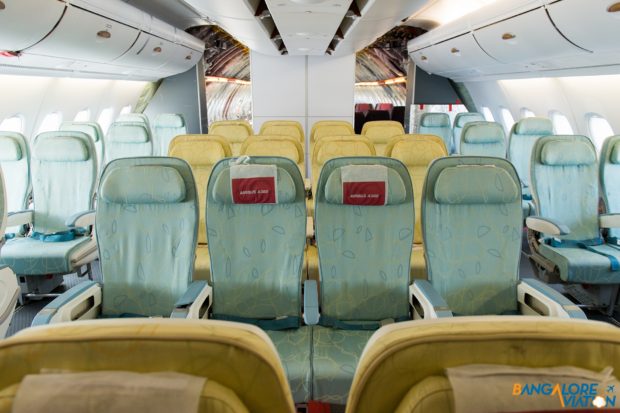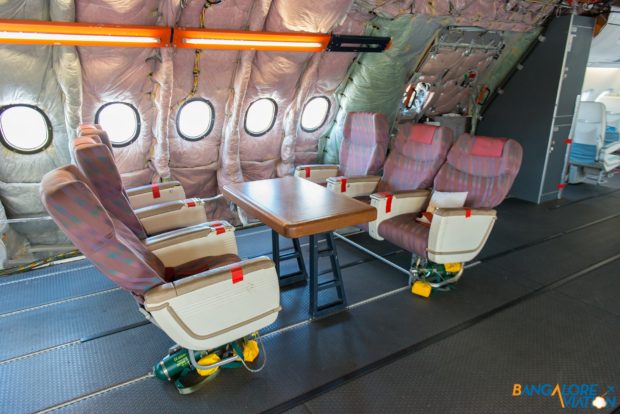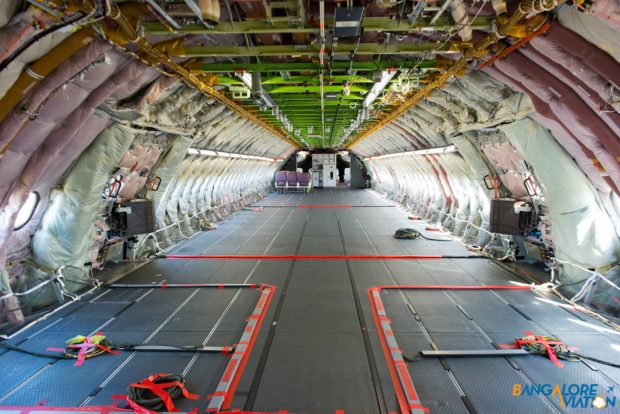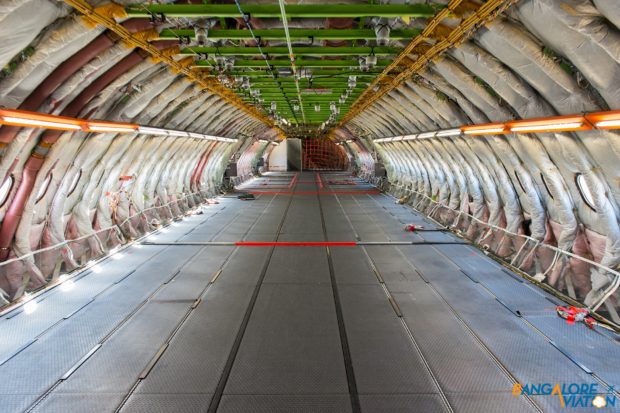 The cockpit of the A380
The A380 uses a full glass cockpit developed around an integrated modular avionics architecture developed by Thales. The aircraft is controlled by a fly-by-wire system linked to the traditional Airbus sidesticks. The cockpit uses eight LCD displays which are identical and interchangeable, they comprise of two flight displays, two navigation displays, one engine display, two multi-function displays and one aircraft systems display. The cockpit layout is similar to other Airbus aircraft making type rating on the aircraft easier and cheaper for existing Airbus type rated pilots.
The extremely large size and multiple redundant systems requires extremely powerful on-board computers. However we are not getting in to the details of the A380 cockpit electronics and avionics is a vast topic all by itself.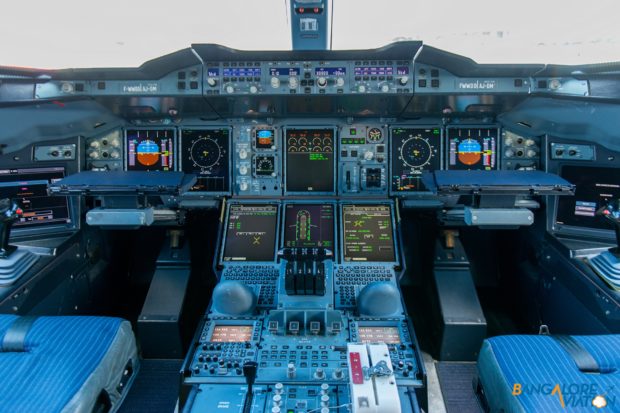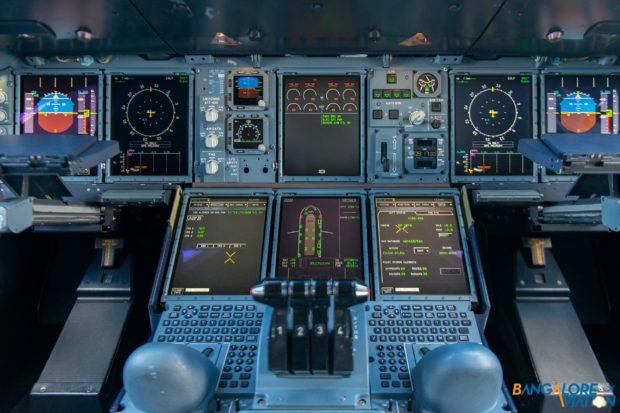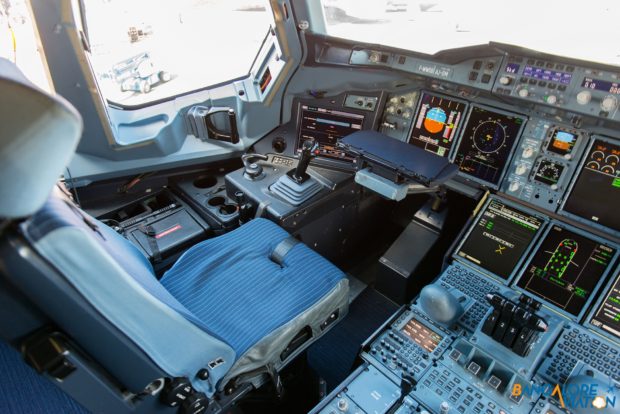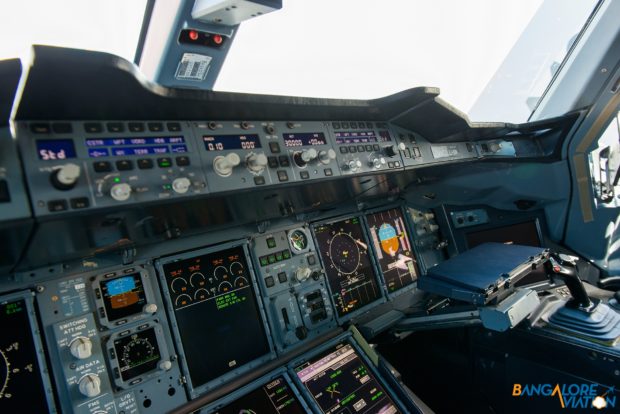 Pictures are copyright of Vedant Agarwal and are used with permission, all rights reserved. Please do not reproduce in any form.