After a few misses, German flag carrier Deutsche Lufthansa will upgrade its Frankfurt Mumbai service to a Boeing 747-8i, the newest variant of the venerable 'Queen of the skies'. The upgrade will be effective from the Winter 2016 schedule which starts on Sunday October 30, which also happens to be the night of Diwali, the biggest festival in India.
The airline currently operates the 747-8i on the Frankfurt Bangalore route. The Frankfurt New Delhi route was up-gauged from a 747-8i to an Airbus A380.
The carrier appears to have finally secured the coveted Code-F slot which it was requesting for a long time. A single Code-F gate and a clash of timings with arch rival Emirates' A380 flight ensured the Mumbai passengers missed out on this new aircraft fitted with the new Lufthansa business class and premium economy class cabins.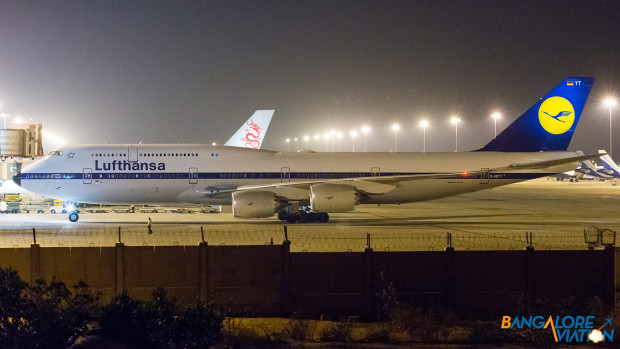 For the Mumbai route, Lufthansa will operate its Boeing 747-8 in a 364 seat configuration. Eight passengers in first class, 80 in business, 32 in premium economy and 244 in economy class. The first class on-board the Lufthansa Boeing 747-8i was considered to be "quietest first class cabin in the sky".
See photos of the:
Also read our review of the new Lufthansa business class cabin.
The flight schedule is very similar to the existing. LH756 departs Frankfurt at 12:35 and arrives Mumbai at 01:00 early the next morning. LH757 departs Mumbai at 02:55 and arrives in Frankfurt at 07:20 in the morning.
The route will be serviced in line with Lufthansa's 'More Indian Than You Think' philosophy. Indian crew, meals curated for the Indian palate by expert Indian chefs, and Indian content on the in-flight entertainment system. The flight will also offer Lufthansa's on-board internet service – FlyNet®.