The Lufthansa group has placed an order for 20 Boeing 787-9 and 20 additional Airbus A350-900's. The order which is worth $12 billion at list prices (as confirmed in the group's statement, airlines always negotiate a heavy discount from the list price).
Deliveries of the new aircraft will be between 2022 and 2027. The new aircraft will primarily replace four-engine aircraft (A340's of Lufthansa and Swiss and 747-400s of Lufthansa) of the groups fleet.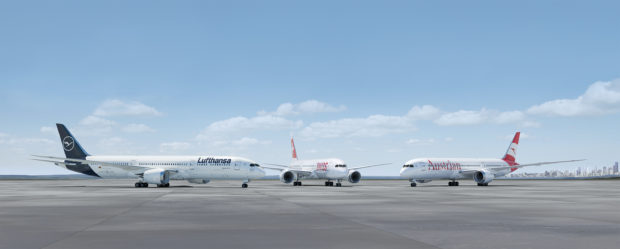 The distribution of the aircraft amongst the group's airlines will be announced at a later date.
Six A380's sold
Lufthansa has sold six of its 14 Airbus A380s back to Airbus. The aircraft will retire from the airline's fleet in 2022 and 2023.
In the airline's statement:
Lufthansa continuously monitors the profitability of its worldwide route network. As a consequence, the group is reducing the size of its Airbus A380 fleet from 14 aircraft to eight for economic reasons. The structure of the network and the long-haul fleet, fundamentally optimized according to strategic aspects, will give the company more flexibility and at the same time increase its efficiency and competitiveness. This will of course also benefit Lufthansa's customers.
It will be interesting to see if Airbus has already planned homes for these aircraft with British Airways rumoured to be interested in used A380s. Or was this just a compromise by the manufacturer to secure the future A350 order.