At the ITB show in Berlin, German flag carrier Lufthansa revealed its new premium economy class which will be progressively fitted on to 106 aircraft of the airline's long haul fleet, for flights starting this October with its Boeing 747-8i and then progressing to their A380s. A total of about 3,600 seats will be added in the new class, which represents about 10% of Lufthansa's total long haul seat capacity. The retrofit is expected to be completed within a year and this class will feature on all new deliveries of the aircraft types being retro-fitted.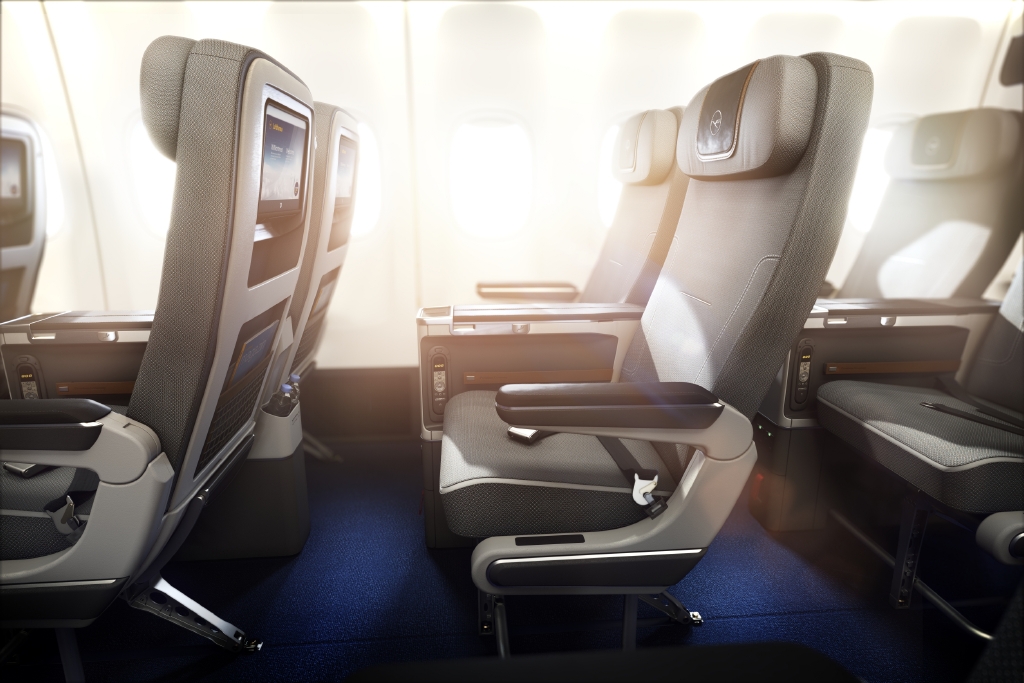 The new premium economy of Lufthansa is being positioned more of an "economy plus" and is targeted at passengers who travel economy class due to company travel policies or those who want a little more comfort in the air. The new cabin will feature eight abreast seating, compared to the ten abreast of the regular economy class.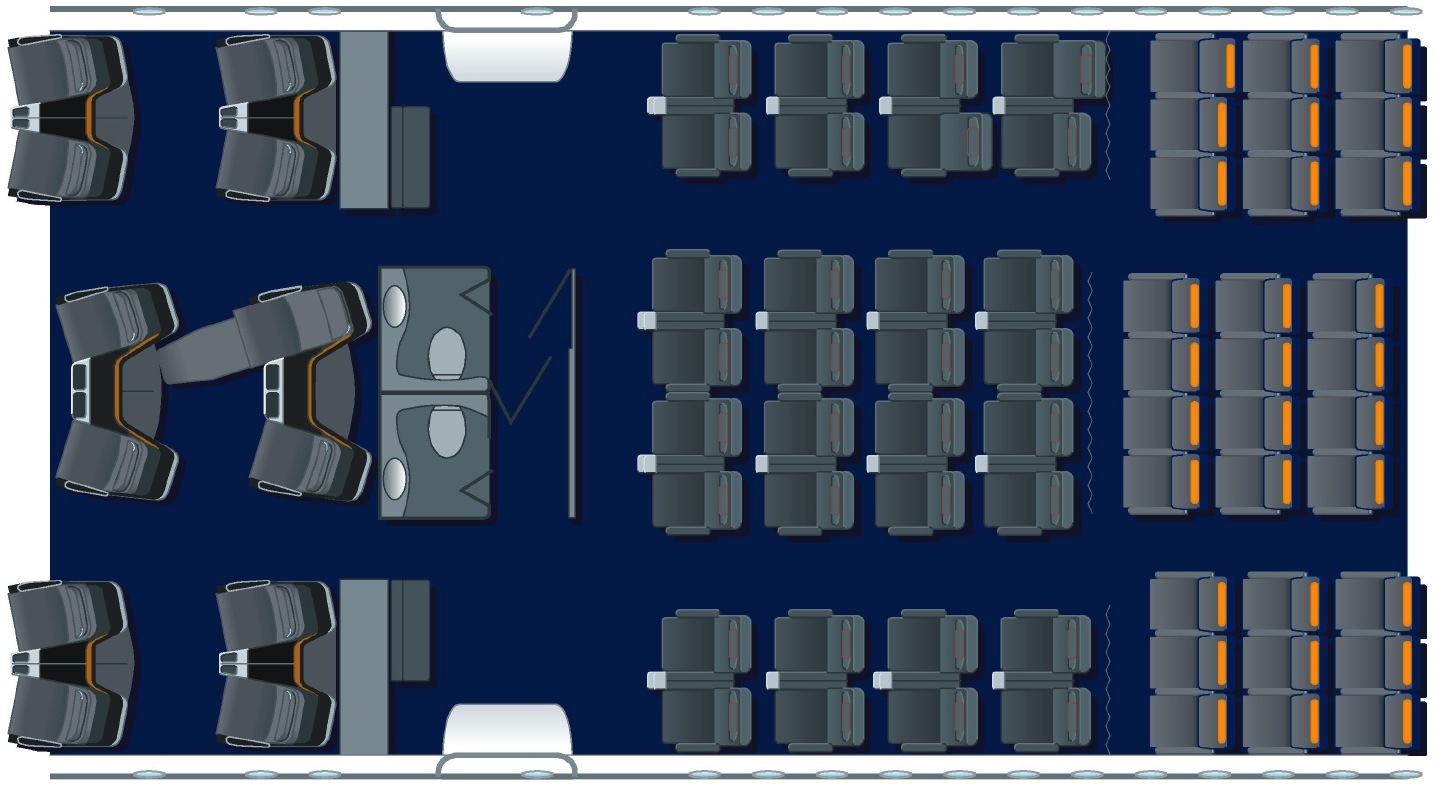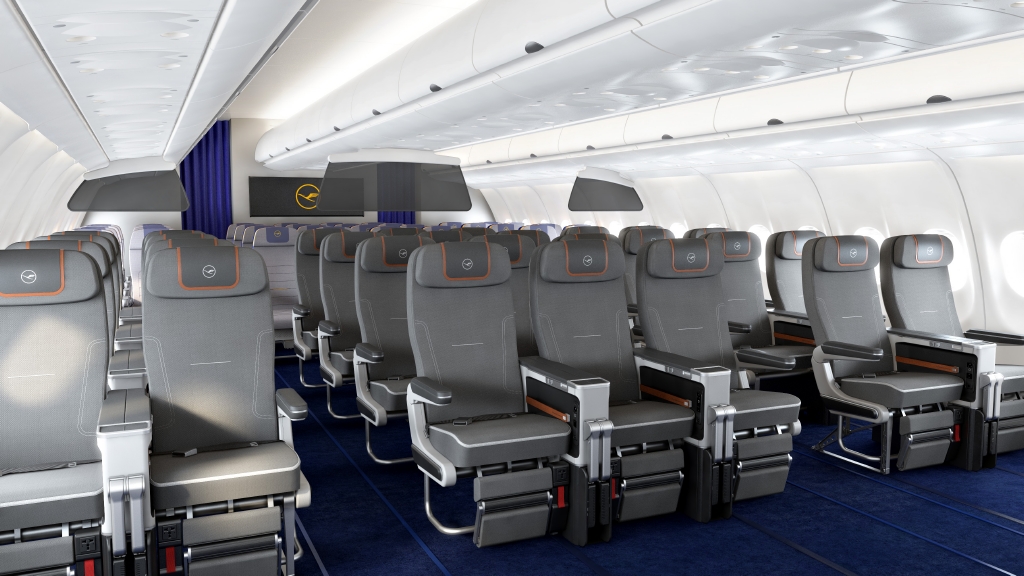 This is similar to fellow European carriers British Airways and Air France who offer a premium economy service. Though, Air France in the only airline with shell seats in premium economy class.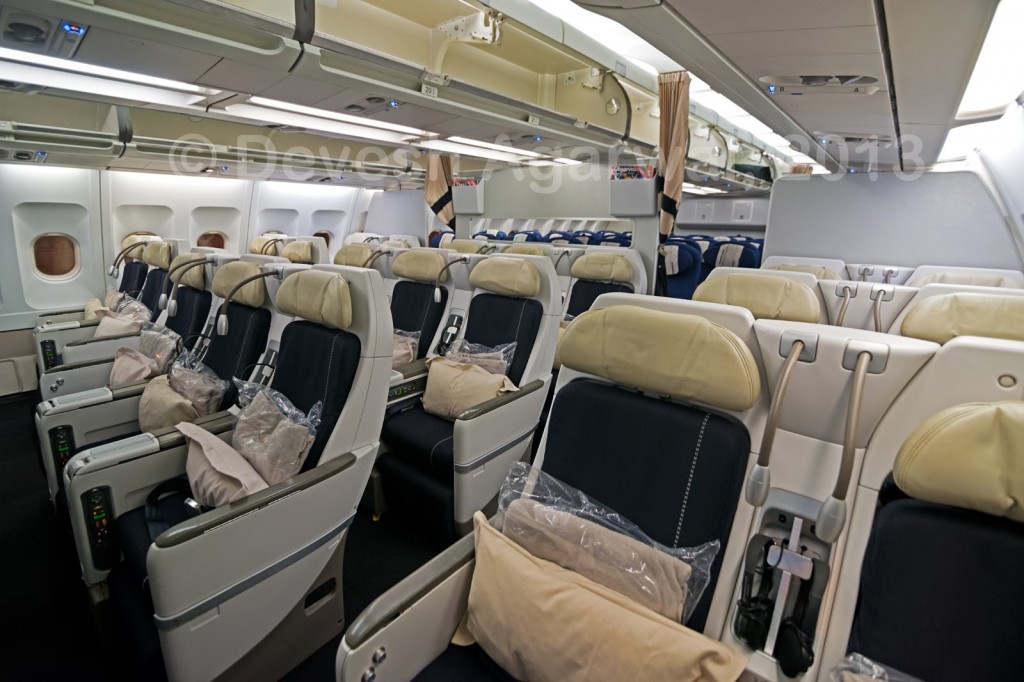 Lufthansa plans to keep fare closer to economy class than business. While the airline says "Lufthansa Premium Economy Class is located within the cabin as a clearly identifiable separate compartment between Business and Economy Class." there will be only a curtain rather than a bulkhead between premium economy and economy. Similarly hand-baggage allowance, check-in and boarding procedures will be the same as economy class.
The carrier says the new class "will contain between 21 and 52 seats, depending on the aircraft type." The airline expects about 1.5 million passengers to use the new premium economy class.
The new premium economy seats
The new seats were designed in partnership with müller/romca Industrial Design in Kiel and are produced by ZIM Flugsitz. The seats will be about one inch wider depending on the aircraft type. Shoulder room is increased by about four inches thanks to each seat having its own wide armrest and a centre console between the seats. The back reclined is increased and seat pitch is increased to 38 inches, or 97 centimetres.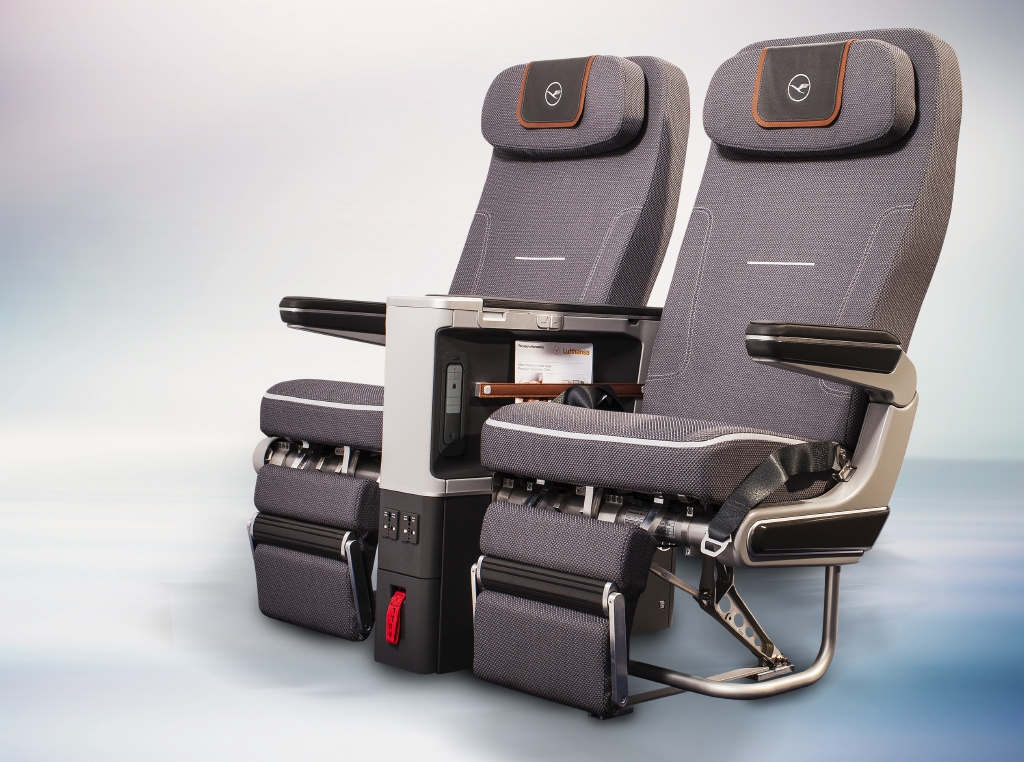 The usual height adjustable head rests with folding wings are present, and height adjustable foot rests complement the seat. The seat features a bottle holder and electrical socket
The in-flight entertainment (IFE) system uses a 11 to 12 inch (28 to 30 centimetres) wide touch-screen monitor.
Additional services for premium economy passengers
Baggage allowance is doubled to two pieces weighing up to 23 kilogrammes each.
Enhanced on-board services include a welcome drink, personal water bottle, a high-quality amenity kit and meals presented on menus commensurate with the new class and served on porcelain tableware.
For an extra 25 euros, passengers can also enjoy the comfort of the Lufthansa Business Lounges before departure. These lounges were previously only open to status customers and are otherwise unavailable on a paying basis.
Summary of Lufthansa premium economy class benefits
Double free baggage allowance: two bags per person, each weighing up to 23 kg
Welcome drink, a water bottle at every seat and a high-quality amenity kit with many useful accessories providing additional refreshment
The high quality meals are presented in menus and are served on china tableware
An 11- or 12-inch touch screen monitor, a handset to control the in-flight entertainment and a generous range of magazines provide for even more entertainment
More storage space for personal belongings
Central console between the seats with sturdy table and power outlet at every seat – well suited for work on board
All seats in Premium Economy Class are not more than one seat away from the aisle
Access to Lufthansa Business Lounges available (for a fee of EUR 25)
Lufthansa has created a micro-site dedicated to the new premium economy class which you can visit here.
Lufthansa premium economy class video
[bsu_youtube url="https://www.youtube.com/watch?v=cxD2LPisoO4″ width="640″ height="480″]