London is probably the busiest destination outside the United States for all three major US carriers, American, United, and Delta. While most of the lounges of US carriers cannot compete with those of their gulf or Asian rivals, they offer a service perfectly tailored to their north Atlantic premium traffic which is dominated by the business and corporate traveller, many times travelling to the United Kingdom for just one day or two.
Nestled in relative obscurity is the American Airlines Arrivals Lounge located in Terminal 3 of London's Heathrow airport, which is accessible by all passengers of American Airlines and US Airways (including non-premium class or super-elite levels), and select passengers of British Airways, Cathay Pacific and Qantas.
Getting there
Soon after you exit the arrivals area, past the arrival duty free shop, you will enter a meeting location where chauffeurs and others wait for passengers to arrive. Make a right U-turn and head to the elevators / lifts with the sign for airline lounges. Go up and you will see the lounge entrance.
Entry qualifications
Entry to the lounge is free for first and business class passengers, and the highest tier elite passengers (AAdvantage Executive Platinum, Dividend Miles Chairman's Preferred, oneworld Emerald). All other passengers must pay a fee of $90 + 20% VAT. Total $108. Not bad if you are in London just for a day, or even two, and want to maximise your stay. Complete access information is available on the lounge's web-page.
Lounge
The lounge which is open from 05:00~14:00 is decently appointed and has the standard amenities of most modern lounges. It is divided in to three areas. The lounge area which has a small business centre along with individual sofas, and some recliners should you desire a quick nap. A breakfast area, and the showers. Though almost all passengers want to freshen up, get breakfast, check their mails, and get on with their day.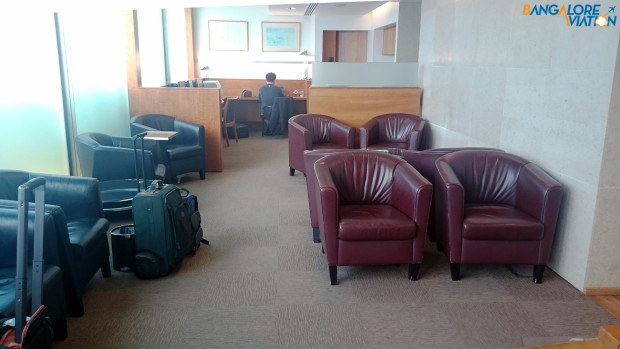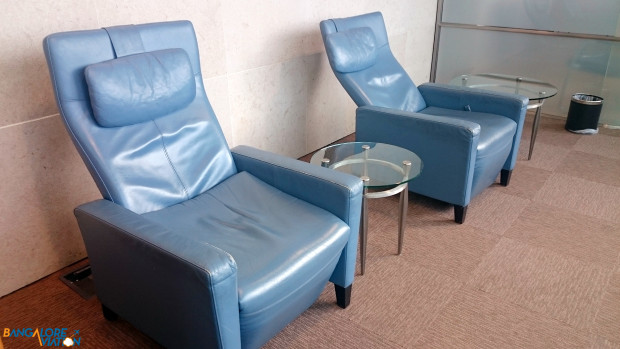 Breakfast
The large breakfast area serves a nice hot English / American breakfast along with eggs, bacon, hash-browns and sausages. Fruits, juices, yoghurt, cheese, espresso, cappuccino, lattes, and a decent selection of bakery items round off the fare. Pancakes, cheese omelettes, three types of salads, a broader cheese selection, mini salmon bagels, baked bread, and sandwiches are added nearer to 12:00 noon.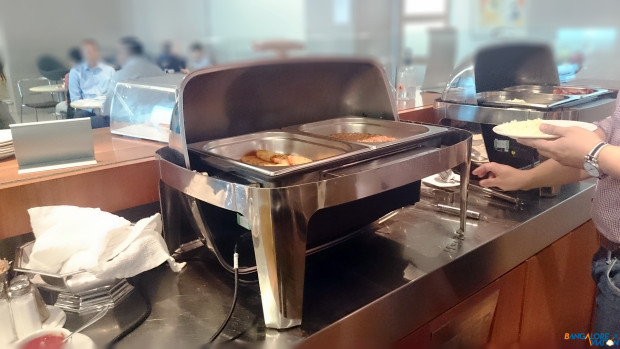 Showers
The shower area is on the opposite side of the reception from the main lounge and is the star attraction. Down a nice white passage, are a quite a few shower stalls with a very ingenious door (which we shall discuss later in the review).
The bathrooms are quite large and one does not have to twist and squeeze to move around. American has, very thoughtfully, provided a luggage rack to place your carry-on bag on.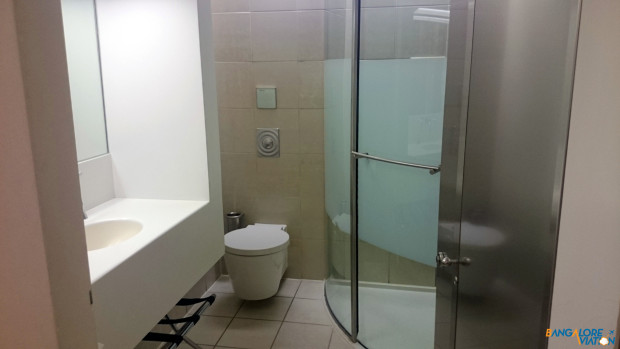 The shower is similar to those in the British Airways arrivals lounge in Terminal 5 with the same impressive hydraulics, but the stall and bathroom are much bigger in size.
The elaborate toiletries are from Gilchrist & Soames and includes a comb, shaving kit, dental kit and ear-buds.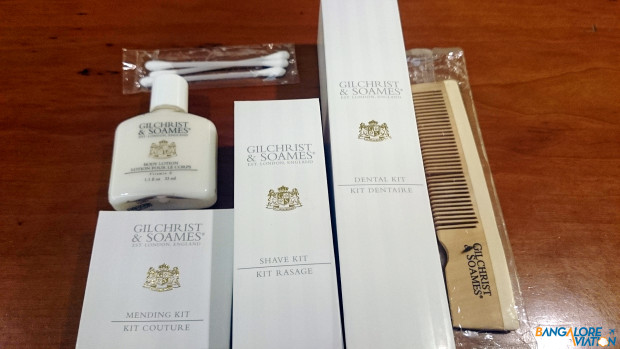 Valet services
Earlier in the article I had mentioned an ingenious door to the bathroom. The door is about 6 inches wide and features a full length wardrobe built inside, complete with a hanger. You put your suit and shirt or blouse, shoes and close it. Press a switch which lights up an indicator. A valet comes and collects your clothes and shoes by opening the wardrobe from outside the bathroom, while the inside door is closed, protecting your privacy. The valet presses your clothes, shines the shoes, and neatly places them back in about 15 minutes for you to access from the inside. You emerge from the bathroom spick and span, wearing your neatly pressed clothes and shiny shoes. I placed my suit and shoes and by them time I showered, they were back.
Summary
The American Airlines arrivals lounge is not a very elaborate general lounge, but excellently suited to its stated purpose — to refresh, recharge and get you prepared for the work day. American Airlines has indicated they are re-fitting the lounge closer towards the end of year. The food selection is good. The valet is excellent. A good bathing experience.
Good morning and welcome to London.
Note: I could not take more photographs, as the staff were getting a little concerned.