German carrier Deutsche Lufthansa is expected to commence its long desired Airbus A380 super-jumbo service to both New Delhi and Mumbai from this Winter schedule which commences on October 26, 2014.
READ ONLINE: Emirates may suspend A380 operations to Mumbai
Lufthansa A380 schedules to India
As per the airline's on-line time-table which was retrieved today, the schedules are:
Frankfurt New Delhi v.v.
LH760 daily departs Frankfurt 13:40 arrives New Delhi 01:30 the next morning
LH761 daily departs New Delhi at at 03:30 and arrives Frankfurt 07:20
Frankfurt Mumbai v.v.
LH756 daily departs Frankfurt 12:45 arrives Mumbai at 01:10 the next morning
LH757 daily departs Mumbai at 03:05 arrives Frankfurt 07:20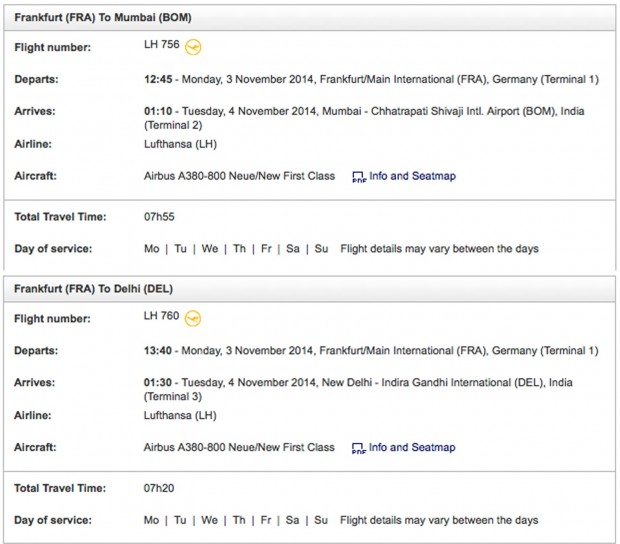 Operating an A380 has been a long pending desire of the German carrier which was first reported by Bangalore Aviation back in 2009.
READ ONLINE: Lufthansa may be the first carrier to operate A380 to India
[bsu_pullquote align="right"]"We will likely make it for the winter flight schedule of 2014-2015″
–
Christoph Franz
[/bsu_pullquote]When the Indian government finally permitted A380 operations, our analysis showed the commitment of the German carrier to operate the A380 to India. Then CEO of the airline Christoph Franz told Reuters "We are interested to use the A380 also for the major Indian markets," and the airline appears to be living up to his commitment of "We will likely make it for the winter flight schedule of 2014-2015."
READ ONLINE: Analysis: Which airlines will fly their A380s to India
The Indo-German bi-lateral air services agreement did not provide for an A380 service. The German government was pursuing a change with the Indian government. It is not clear whether Lufthansa has received all regulatory permissions.
[bsu_quote cite="Lufthansa spokesperson"]"India is an important market for Lufthansa. We always aim to offer our customers in India our top products like the new Business Class and the new Premium Economy Class. Lufthansa already operates A330, A340 and B747 on its routes from Mumbai, Delhi, Chennai, Pune and Bangalore to Europe. We are pleased to say that in view of the growing demand we plan to introduce the A380 in Mumbai and Delhi subject to government approval. We have applied for permission and are hopeful of getting government approvals soon"[/bsu_quote] Knowledgeable sources indicate the approvals are through, but the airline spokesperson refused comment saying the airline has not received any formal communication as yet.
Mumbai capacity conundrum
Lufthansa appears to have finally won one against its fierce competitor, Dubai based Emirates airline.
In early May 2014, Lufthansa announced an upgrade to its Mumbai Frankfurt flight from the aged Boeing 747-400 to the new Boeing 747-8i. This upgrade was to be effective July 15th. At the end of May Emirates announced an upgrade of one of its Mumbai Dubai services from a Boeing 777-300ER to an A380 effective July 21st. The clash came in the form of a capacity constraint at Mumbai's Chhatrapati Shivaji International airport (CSIA). Both the 747-8i and A380 are Code-F sized aircraft and CSIA has only one Code-F stand. The schedules of EK500/EK501 overlap those of LH756/757.
READ ONLINE: Lufthansa upgrades Mumbai to Boeing 747-8i expect A380 to Delhi this winter
READ ONLINE: Emirates introduces A380 to Mumbai, ups capacity to New Delhi and Hyderabad
Sources in the know tell us that the airport operator MIAL, gave Emirates preference. This is against normal industry practice of "first come first served" and "historicity" i.e. which airline has been operating to a city longer, forcing the Germans to abandon their 747-8i plans. May be the fact that Emirates is the largest international airline at Mumbai played a factor.
READ ONLINE: Lufthansa withdraws planned Boeing 747-8i to Mumbai, to introduce A380
Now it appears the Germans are having the last laugh. Their winter time-table shows them operating an A380 to Mumbai, while Emirates' time-table shows a removal of the A380 and back to a 777-300ER service.
Share your thoughts. Do you think Lufthansa will bring A380s to both Mumbai and Delhi? Or will Emirates retain the prize at Mumbai?