The latest generation airliner of European airframer Airbus S.A.S. the A350-900 XWB has received its 'Type Certification' from the European Aviation Safety Agency (EASA) earlier today. The certified aircraft is powered by Rolls-Royce Trent XWB engines.
The other major certifying body, the United States Federal Aviation Administration's (FAA) certification is expected shortly since both EASA and FAA recognise each others' certificates.
Patrick Ky, the Executive Director of EASA signed the certificate which was handed over to Airbus team members, Executive Vice President Engineering, Charles Champion and A350 XWB Chief Engineer, Gordon McConnell.
The A350 family will compete with the upper end of the Boeing 787 and the lower end of the Boeing 777 families. Like the 787 the A350 makes extensive use of new generation composite materials, engines and other engineering advances to deliver significantly lower fuel burn, noise levels, and passenger comfort. These are detailed in the infographic below. Airbus employees call the A50 the 'Dark plane' due to its heavy use of composites.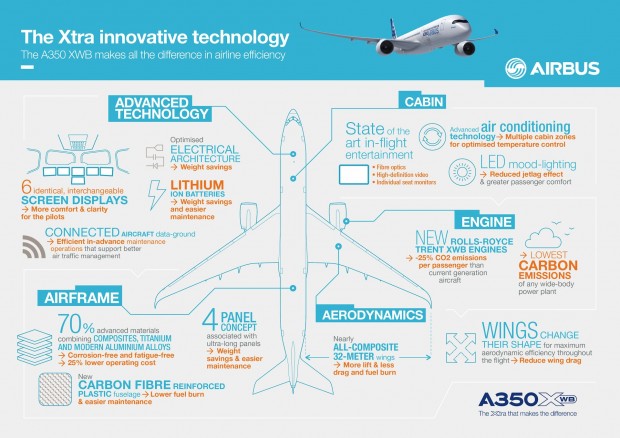 The A350 XWB has about 750 orders from 39 customers worldwide. Delivery to launch customer Qatar Airways can be expected soon.