Singapore Airlines has finally unveiled its previously announced premium economy class, and has opened up selected routes for sale which will commence operations on August 9, 2015, the island nation's 50th independence anniversary, on the Singapore Sydney route.
Singapore Airlines will invest $80 million to install the new class on 19 Airbus A380s, 19 Boeing 777-300ERs (B77Ws) and the first 20 Airbus A350s the airline will receive. The seats are being made by ZIM Flugsitz GmbH for the A380 and 777-300ER, and by Zodiac Seats USA for the A350.
For travel agents, the new class is designated 'S' class in the traditional F, J, Y classes for first, business, and economy class. Sub classes include 'T' and 'P'. [Note: Singapore Airlines considers its Suites product on its A380s as one above first class and designates it 'R' class.]
Premium economy class
The airline indicates a seat width between 18.5 inches and 19.5 inches compared to the 19 inch width (the widest in the industry) in regular economy.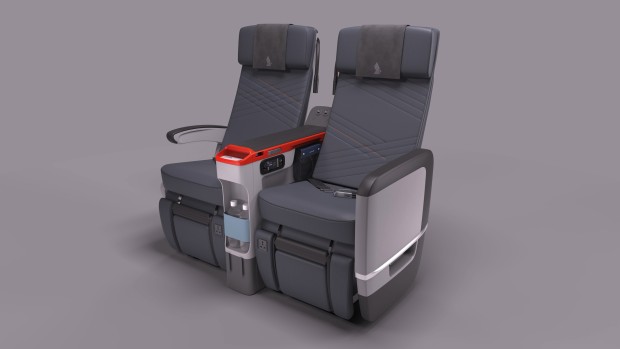 The seats have eight inches of recline with calf supporting leg-rests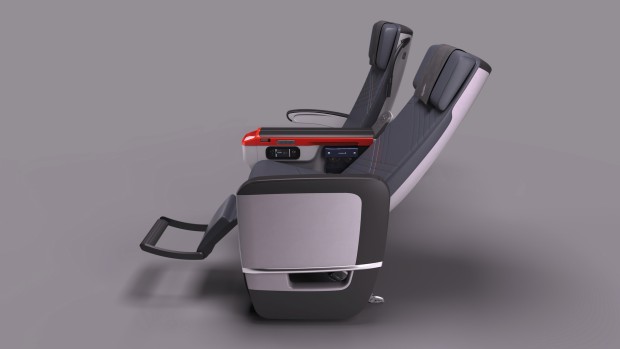 Seat pitch increases for 32 inches in economy to 38 inches in premium economy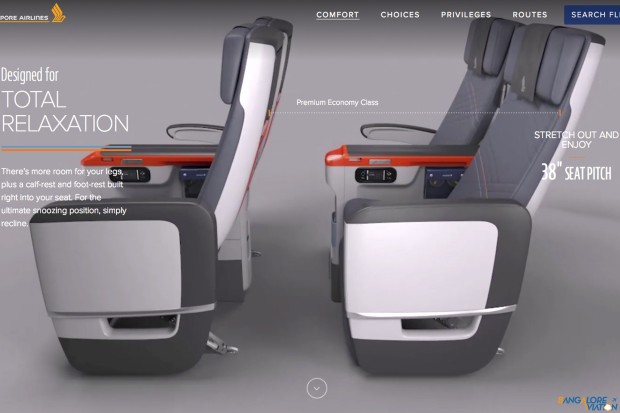 The seats have plenty of personal storage space for phones, tablets, notebooks, etc. Each seat has individual in-seat power sockets, reading lights (so you do not disturb your neighbour at night with the overhead light), USB ports for charging mobile phones and which allow you to connect your PEDs (personal electronic devices) to the in-flight entertainment system, 13.3 inch full HD IFE screens, active noise-cancelling headphones, large table for eating and working, water bottle storage and double wide armrests for shoulder space.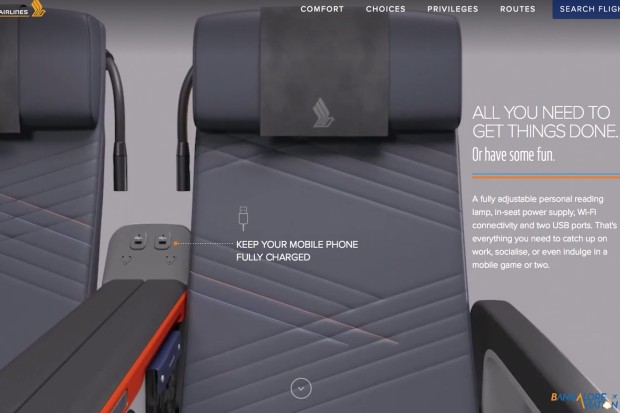 Cocktail mini-table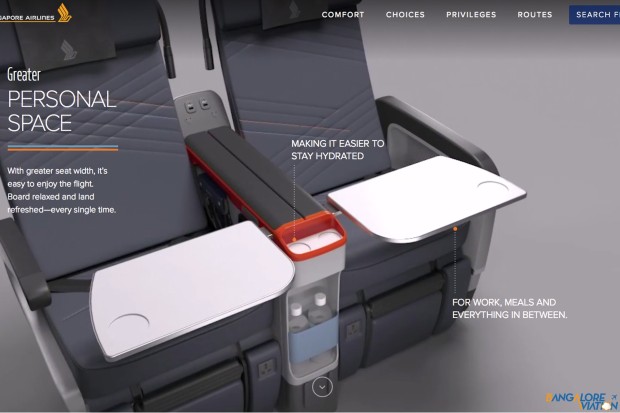 The food and beverage options are significantly enhanced for premium economy. Champagne is on the drinks menu, along with three meal choices on the regular menu. From April, the airline will offer its famous Book the Cook service allowing pre-ordering of popular dishes.
On the ground S class passengers will have priority check-in and priority baggage tagging. Baggage allowance is increased to 35kg and 110% frequent flier mileage accrual will be offered though the airline's release is not clear whether this will limited to the airline's KrisFlyer program members.
Premium economy seat maps
As we had predicted in May 2014, Singapore Airlines will use an eight abreast 2-4-2 configuration for the new premium economy (S) class in both the A380 and B77W. On the A380 the S class is located between the Suites and economy, while on the Boeing it will be between business and economy.
36 seats on the A380. On the A380 the airline is reducing 66 seats in economy class to provide for 36 of premium economy. Total configuration R12 J60 S36 Y333 (current R12 J60 Y399) or R12 J86 S36 Y245 (all J upper deck, current R12 J86 Y311)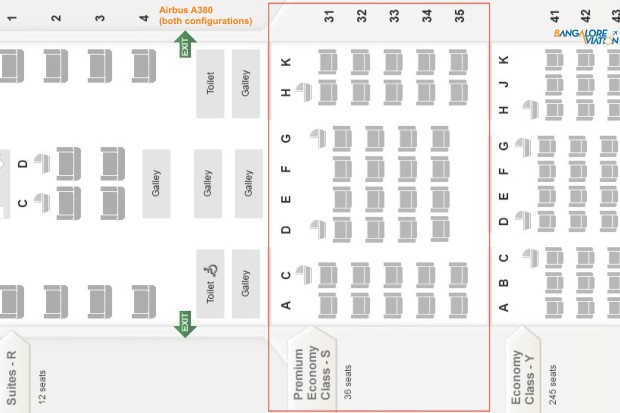 28 seats on the 777-300ER. To add the new class, the first class is reduced from eight to four seats, business class is increased from 42 to 48 and economy class is reduced by 44 seats. New total configuration is F4 J48 S28 Y184 (current F8 J42 Y228).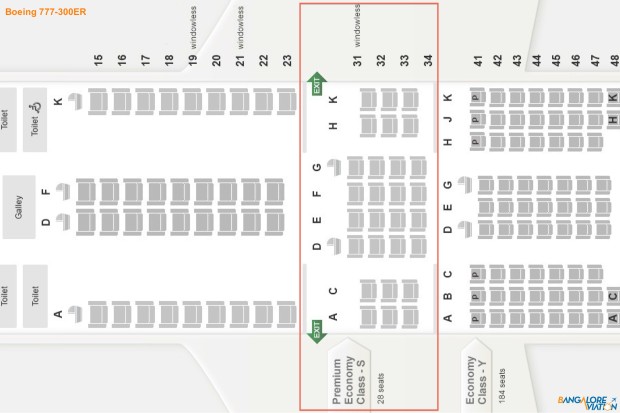 Premium economy destinations
Initial destinations are Beijing, New Delhi, Hong Kong, Frankfurt, London Heathrow, Mumbai, New York JFK, Shanghai Pudong, Tokyo and Zurich.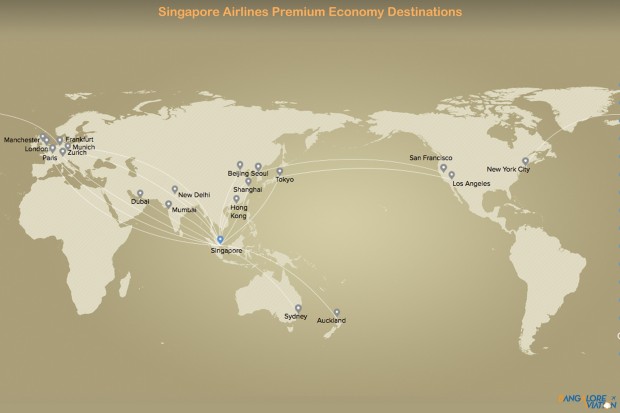 Singapore Airlines will offer the S class only to Mumbai and New Delhi since it does not operate an A380 or a B77W to any other Indian destination. With the reduced first and enlarged business class the airline can consider Bangalore which does offer significant premium business traffic but very little first class traffic.
Premium economy routes dates
Courtesy Airline Routes website, the initial planned roll out of the premium economy service is as below. New Delhi and Mumbai will commence in October 2015.
A380 eff 09AUG15 Singapore – Sydney SQ221/232
B77W eff 12AUG15 Singapore – Sydney SQ231/222
A380 eff 28AUG15 Singapore – Hong Kong SQ856/861 Gradual increase to daily by 07SEP15
A380 eff 28AUG15 Singapore – London Heathrow SQ322/317 (SQ308/321 from 17DEC15)
B77W eff 31AUG15 Singapore – Hong Kong SQ866/865 Gradual increase to daily by 10SEP15
B77W eff 02SEP15 Singapore – London Heathrow SQ306/305
A380 eff 18SEP15 Singapore – Beijing SQ802/807
A380 eff 18SEP15 Singapore – Shanghai PuDong SQ830/833
B77W eff 24SEP15 Singapore – Frankfurt SQ326/325 2 weekly (Day 47; 4 weekly Day x136 from 25OCT15; 5 weekly Day x36 from 03NOV15; Daily from 30NOV15)
A380 eff 28SEP15 Singapore – Paris CDG
A380 eff 13OCT15 25OCT15 Singapore – New Delhi SQ406/403
B77W eff 20OCT15 Singapore – Munich – Manchester 2 weekly (Day 25; 4 weekly Day x147 from 27OCT15; Daily from 01DEC15)
A380 eff 21OCT15 02JAN16 Singapore – Mumbai SQ424/423
A380 eff 25OCT15 Singapore – Auckland
A380 eff 01DEC15 Singapore – Tokyo Narita – Los Angeles
A380 eff 14DEC15 Singapore – Frankfurt – New York JFK 2 weekly (Day 15; 4 weekly Day x347 from 26DEC15; 6 weekly Day x3 from 19JAN15)
A380 eff 27DEC15 Singapore – Zurich 3 weekly (Day 357; 6 weekly Day x2 from 06JAN15)
B77W eff 05JAN16 Singapore – Dubai SQ494/495 3 weekly (Day 256)
B77W eff 06JAN16 Singapore – Seoul Incheon – San Francisco 2 weekly (Day 37)
Other airlines' premium economy class
To compare Singapore Airlines, with the premium economy class of Cathay Pacific, Lufthansa and Air France, use the related links.

Updated 06OCT15 to reflect revised dates of New Delhi and Mumbai service.