Until recently, like many others, I was under the opinion Air France was a stuffy airline, an uncaring crew, and one I was not likely to fly any time soon. Recently, I was a guest of Air France to attend the launch of their new "Best and Beyond" campaign in Paris, and had the opportunity to fly the airline in business class from Bangalore to Paris and back to Mumbai.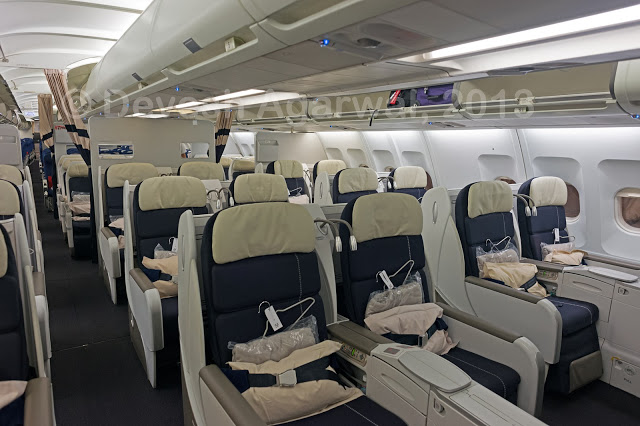 I also flew the airline, on my own account, in economy class between Paris CDG and Amsterdam Schiphol.
Over the coming weeks, I shall review various aspects of the airline, including trip reports, the Paris Charles De Gaulle hub, the Salon lounges, and also the Best and Beyond campaign.
Trip Report
Today, we commence with the trip report Bangalore to Paris Charles De Gaulle. AF191. Scheduled departure 01:50. Actual departure 02:30 (40 minute delay). Scheduled arrival 08:35. Actual arrival 08:50. Aircraft Airbus A330-200 registration F-GZCE.
Click on the photos below to see a high resolution light-box view.
New attitude
A critical component, of the new "Best and Beyond" initiative, meant to bring passengers back to Air France, is staff attitude. The change is visible starting right from the kerbside. I found a porter with a SkyPriority plaque waiting when you arrive.
The SkyPriority service is offered to all premium class passengers from Premium Economy upwards, and to all SkyTeam elite members from Silver level on upwards. Other than the erstwhile Kingfisher, I have not seen any other airline offer a kerbside porter service in Bangalore. Even overseas, I have seen it offered only to first class passengers.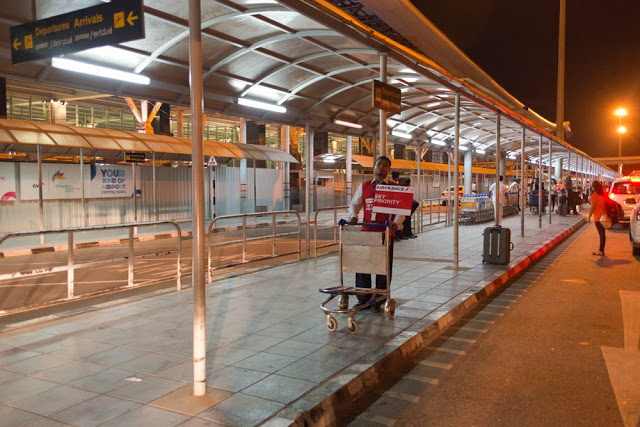 Check-in, lounge and boarding
Despite my many requests for him to help other passengers, the porter insisted, and whisked me in to the terminal, expediting the cumbersome passport check by the CISF. I was late, arriving at 1:05am for a scheduled 1:50am flight, but which was delayed to 2:30am. Check-in was smooth, quick and efficient. My boarding passes were issued, and my baggage checked, all the way to Amsterdam.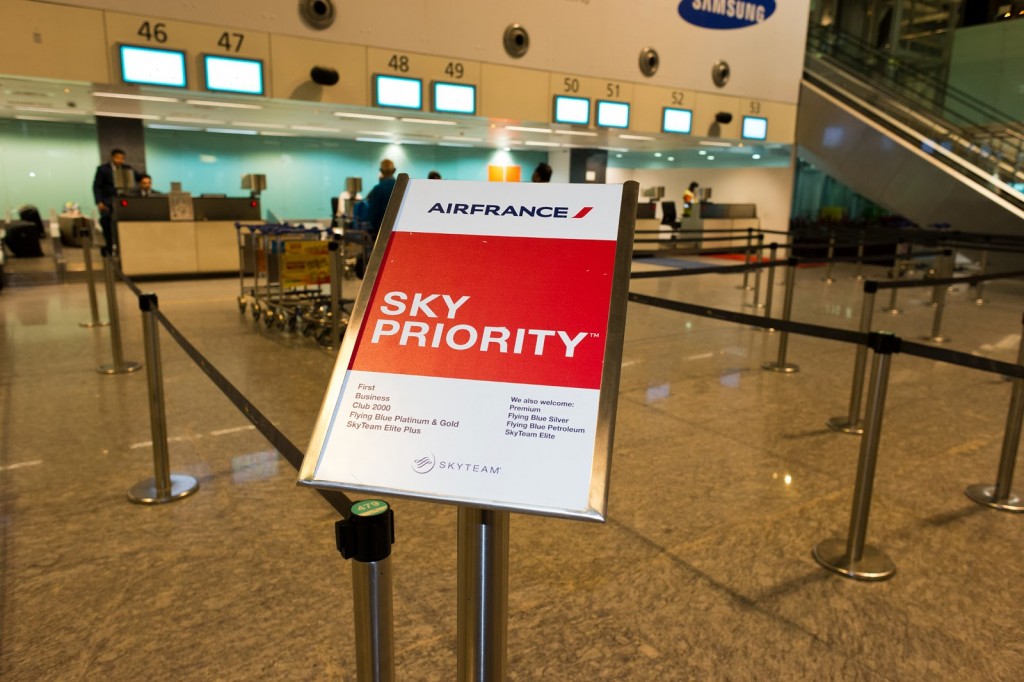 Off I went, through immigration, on to the customs desk to declare all my camera equipment, and then through security, where I am required to take out each piece of camera equipment before scanning the bag, and where my cigarette lighter was seized, as it is not allowed. This is contradictory to my experiences at the security checks of 12 different airports in three continents I have been to in the last six months. But security checks at Indian airports are a whole different subject.
I barely had time to step inside the Oberoi run lounge at the Bengaluru International Airport, and I was thankful. The lounge is badly over-crowded, stuffy, hot, and poorly equipped to handle to the volume of premium passengers departing Bangalore. I am told that the new terminal expansion will solve this problem. Expect a separate article on this subject later.
Boarding was a smooth affair, and well managed.
Cabin product
You step in to a very calm and soothing cabin decked out in navy blue and white. Air France aircraft may have a reputation for being dirty looking on the outside, but the inside was spic and span. The smiles and welcome by the cabin crew, were genuine and warm.
Note: All the pictures below were shot, by me, in the natural light of the cabin. No flash was used
The business class has 40 seats in two sections, in a six abreast 2-2-2 layout. 61 inch pitch and 21.5 inch seat width. It features shell seats and unlike some of the other angled lay flat seats, has a good headrest which conforms to the rest of the seat when it reclines fully. The arm-rest goes down during the recline adding to the width. You will also find the lack of the bottom end of the leg-rest. Instead Air France provides a type of cubby-hole inside the seat-back which I found more comfortable than any of the lay-flat seats I have experienced till now. I am a notoriously poor sleeper on angle lay-flat seats, but I did manage about four hours in Air France, which is the longest. So the seats win my seal of approval.
Unlike other premium economy cabins which are more of an upgraded economy class, on the Air France Airbus A330-200, the premium economy cabin almost identical to the business class cabin, with the exception of the one additional seat to give a seven abreast 2-3-2 layout. There are 21 seats in three rows. 38 inch seat pitch, 19 inch seat width. I was later informed that Air France is the only airline that uses the similar shell seats in its premium economy class.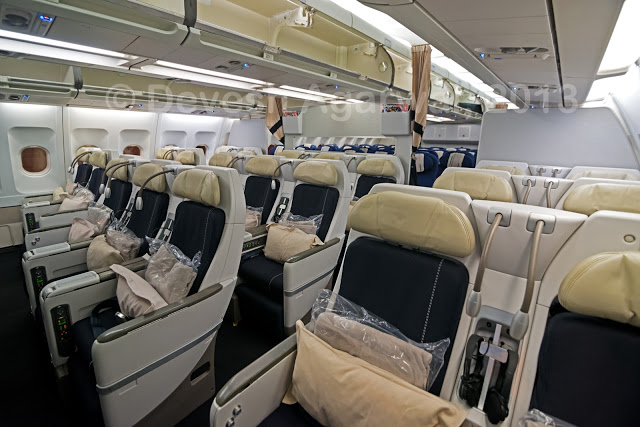 The economy class cabin is bright in the national colours of France, blue, red and white. The 147 seats are in the Airbus standard, eight abreast in a 2-4-2 configuration. 32 inch seat pitch, 18 inch seat width.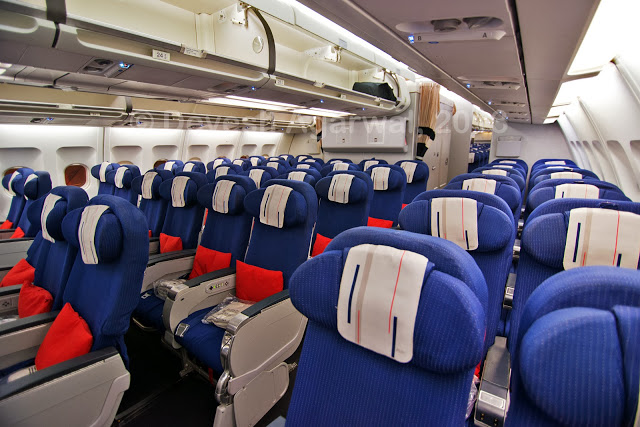 The trip, service, meals, in-flight entertainment
We departed at 2:30am, about 40 minutes past our scheduled departure. Trip time 10h15m. The flight route was from Bangalore, NNW, over Mumbai, turning WNW skirting the southern coast of Pakistan, turning NW entering Iran near Chabahar close to the Pakistan border, through Azerbaijan, over Tbilisi, Georgia, over Sevastopol in Southern Russia, Moldova, turn westerly, skirting northern Romania, Hungary, Slovakia, southern Czech Republic, Germany, in to France.
The flight was quite bumpy from take-off, so meal service was slightly delayed. The French are gastronomes and the meals reflect it. The fish I had was on of the better ones I have had anywhere, on board, or on ground. Deliciously prepared, cooked to creamy perfection, not rubbery at all.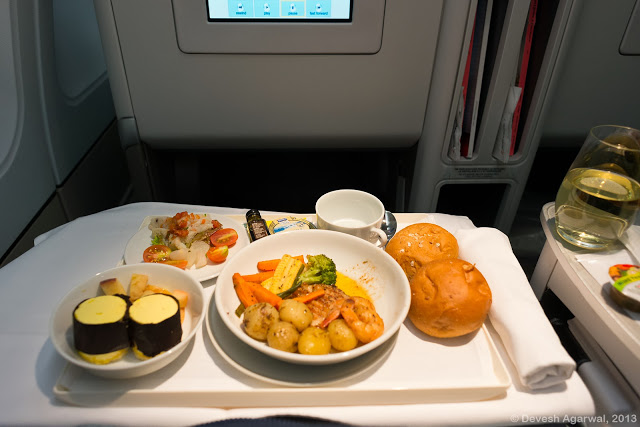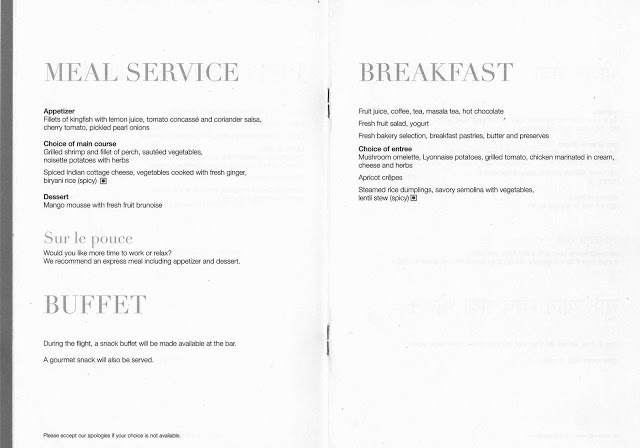 The wine list was unusual and offered decent wines, but are not a match to the cellars of Singapore Airlines, Emirates, Qantas, or even Lufthansa. Considering wine and France are inseparable, this is an area the airline has to improve on.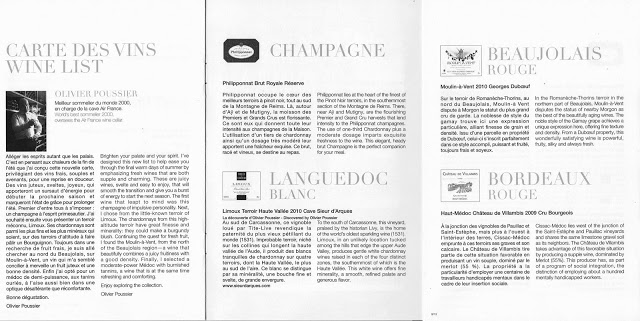 The pre-arrival breakfast service was good. Nice breads, butter, preserves, and an espresso machine on-board for my double espressos kept me happy.
Through the flight, the crew puts out a small buffet near the galley with fruits, cheeses, small sandwiches, nuts and chocolates for those wanting a small snack.
Through the flight the cabin crew service was good, attentive and responsive. While Air France still has a way to go before it catches up to the leaders Singapore Airlines and Cathay Pacific, the change in attitude is refreshing, and service levels are close to its main European competitor Lufthansa. This is a crucial advance for Air France in its efforts to attract back lost passengers.
If there was a let down, it was the in-flight entertainment (IFE), audio video on-demand (AVOD) system. While the content was good, it was fairly limited, and the screens are not too big. The user interface, and its navigation is, clunky and tests your patience. For a passenger flying Air France long haul about two or three flights a month, it is okay, but more than that, and you will start feeling the pinch of the lack of volume in terms of content.
Paris Arrivals lounge
All Air France-KLM long haul international flights to and from Paris CDG airport are from terminal 2E on concourses K, L, M. The concourse names are no coincidence. Air France had ground staff stationed who patiently explained each enquiring passenger how to get to their respective flights. Another sign of the changed attitude at Air France.
A hidden gem of information, at Paris, is the Arrivals Salon Lounge of Air France.Tucked away at the junction of terminals 2C and 2A, this petite lounge is easy to miss. I must apologise to you, our dear readers, but the memory card of the pictures of this lounge got corrupted, and I have none to share with you at the moment. If I can revive the pictures in any way, I will surely share them.
If you are arriving in to Paris, or have a longish connection (two or more hours) to a Schengen country, this lounge is a must visit. It has a great set of shower facilities, with one of the most complicated shower temples I have seen. Multiple jets blasting hot water just soothe those tired muscles. The lounge provides a complete toilet kit with L'Occitane en Provence personal care products, including a razor and toothbrush.
Once showered, there is a great breakfast. Despite a small area, I found the breakfast spread better than the large Salon departure lounges in concourse K when I departed back to Mumbai. There is the usual fantastic French breads, along with butter, preserves, and charcuterie. Eggs, fruits, yoghurt, crackers, cheese, varieties of drinks complete the feast.
Paris Amsterdam Paris domestic flights
Showered and fed, I headed to terminal 2F from where all the Air France flights to Schengen countries depart. Very honestly, this one hour flight both onward to Amsterdam and return, was extremely routine, pretty much any other short-distance domestic flight. However, even on this short duration, the change in Air France attitude was noticeable.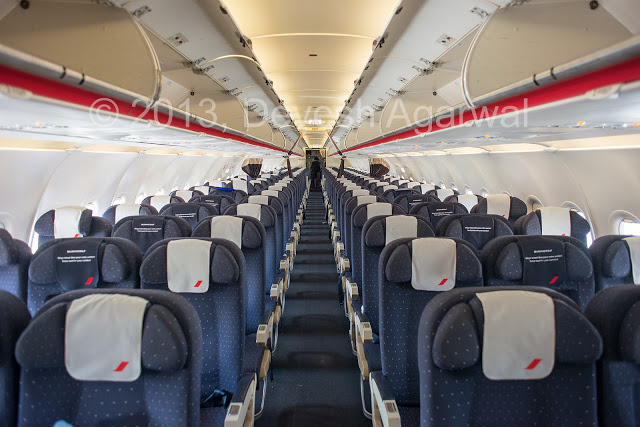 The arrival concourse of Terminal 2F is extremely futuristic with its metal and glass construction. Makes on feel like they are in some Sci-Fi movie.
Paris Mumbai flight
An almost carbon copy of the Bangalore Paris flight, except for a more elaborate lunch starting with an L'amuse-bouche, appetiser, main course, cheese tray, and dessert. Great for a foodie like me.
The aircraft coincidentally was the same one I had flown from Bangalore to Paris, just five days earlier, Airbus A330-200 registration F-GZCE. We departed on schedule, and thanks to some fantastic tailwinds, made it to Bombay one hour ahead of schedule.
Summary
I flew Air France after a gap of almost 25 years. The business class is much like other European carriers, but with a much more calm and soothing touch, compared to the energy of Lufthansa's new business class. The change in crew attitude was refreshing, and it appears to be yielding results. There was only one seat free in business class, and none free in premium economy on my outbound flight. Even on the return to Mumbai, the flight had just one seat empty.
I was informed later, that AF191/192 the Paris Bangalore route goes full almost all days of the week in both business and premium economy classes. If anything, Air France has spare seats only in economy class. Considering it was a Thursday night I flew to Paris, and a Wednesday morning I returned to Mumbai, this shows the positive results of a good overall hard and soft product.
Disclosure: I was a guest of Air France on the India Paris India segments. I paid for the Paris Amsterdam return segments. Air France did not review, or revise this review prior to publication. Our views remain independent and our own.