Vistara has taken delivery of it's first Airbus A321neo from Airbus' Finkenwerder plant in Hamburg, Germany. The aircraft is the first of six A321neo for the airline, on lease by Air Lease Corporation, is part of a 50 A320neo family aircraft order that the airline placed in 2018. The aircraft was meant to be deployed on short to medium-haul routes in Asia.
The aircraft features full-flat business class seats making Vistara the first airline in South Asia to offer flat-bed seats in a narrow-body aircraft.
Leslie Thng, Chief Executive Officer, Vistara
"We are excited to welcome our first A321neo aircraft, the latest addition in our growing fleet. The new aircraft ensures operational enhancement, cost efficiency as well as reduction in carbon footprint for us while enabling extra payload capacity, greater fuel efficiency and higher range. The new cabin products on our A321 aircraft truly complement our promise of providing a premium and world-class flying experience to travellers from and to India. All of these aspects perfectly align with our international growth strategy,"
The aircraft is configured in a three-class configuration with 188 seats with 12 seats in business class, 24 in premium economy and 152 in economy class.
Vistara Airbus A321neo Business Class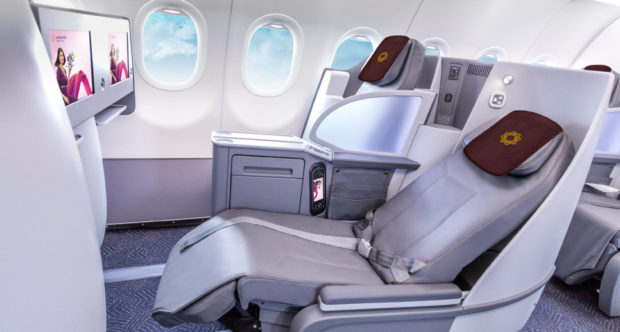 The business class is configured in a 2-2 layout with 12 seats. The seats are Collins Aerospace Diamond seats which are found on many other airlines and are a solid narrow-body product.
The airline has said that the seats are upholstered in leather with 63" seat pitch that reclines into 84" fully-flat beds.
Generous leg space with 63" seat pitch. Each seat has a 16" High Definition (HD) IFE screen, USB port and a 3-pin charging point.
Read our review of these seats on United airlines.
Vistara Airbus A321neo Premium Economy

There are 24 premium economy seats in four rows of 3-3. The premium economy in Vistara is essentially extra legroom seats with enhanced service.
The seats feature 33″ of pitch, a 10″ HD IFE, four-way headrests, USB ports and a three-pin charging point.
Read our review of premium economy on Vistar's inaugural flight.
Vistara Airbus A321neo Economy
Finally, there are 152 seats in economy in a 3-3 layout. The seat has a tight 29″ seat pitch and like the PE seats – a 10″ HD IFE, four-way headrests, USB ports and a three-pin charging point.
It's great to see Vistara raising the bar on its premium offering in India. Along with it's recently delivered 787, the airline looks to be in a good position to expand its international network in the coming months.