Until very recently, I was under the impression that American flag carriers were lackluster airlines, with poor service and an even worse attitude, in short to be booked only as a last resort. Admittedly, United Airlines was the last carrier on my mind to get from London and Dallas. Never having flown United on a long haul flight I went with very poor expectations. Fast forward to the end, I was pleasantly surprised I was wrong, the flight was easily one of the better international long-distance flights I have flown and this includes comparisons against the best from south-east Asia and the middle-east.
To reach Dallas-Fort Worth airport (DFW) on United, I had to fly via its hub at Houston George Bush International (IAH). The first leg would be on a brand new Boeing 787-8 Dreamliner featuring United's new BusinessFirst product and the connection from Houston would be on an Embraer 175 on United First.
London Heathrow terminal 2 check-in
Departing from the brand new Terminal 2 at London Heathrow better known as the 'Queen's Terminal' was something I was really looking forward to. I got to the terminal nice and early hoping to do some plane spotting after checking in but with my perpetual luck at London, it was raining. On entering the terminal, the signage clearly points out the United section at one end. Walking up to the section, I could only see self-check-in machines. I did not see any manned counters. However, as soon as my boarding pass was printed out, a United representative turned up by my side and insisted on walking me with my bag over to the BusinessFirst baggage drop off. At the drop off I was offered a bottle of water while my bag was tagged and checked in. Terminal 2 follows the Terminal 5 'walk-through' style check-in desks. The passenger exits through the desk instead of walking around the baggage belt. As soon as I crossed the baggage drop off I saw the full service desks behind the baggage drop off along the rear wall of the hall.
I walked to security where I went through the fast track security section. Security was very fast and efficient and also very well laid out with multiple tables to pull out your computers, etc. I am sure this will be a smooth security area even when the terminal reaches full usage as more Star Alliance carriers move in.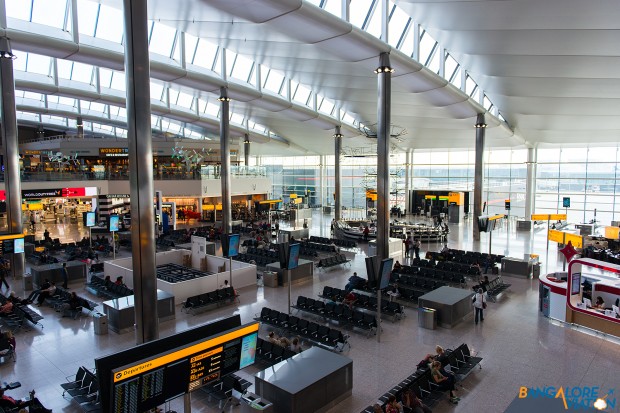 The main area of the terminal is a large spacious hall with a lot of seating. At the time T2 served only two airlines. The large empty areas will surely fill up as more airline move in. United's lounge The United Club and all its departure gates are on the B pier of T2. The underground tunnel to reach the concourse is long and at times, steep. It will be tedious for the elderly or the unfit.
United Club lounge at London Heathrow terminal 2
The United Club at Terminal 2 is designed in the new style; bright, airy, lots of comfortable seating, and very importantly, lots of power sockets.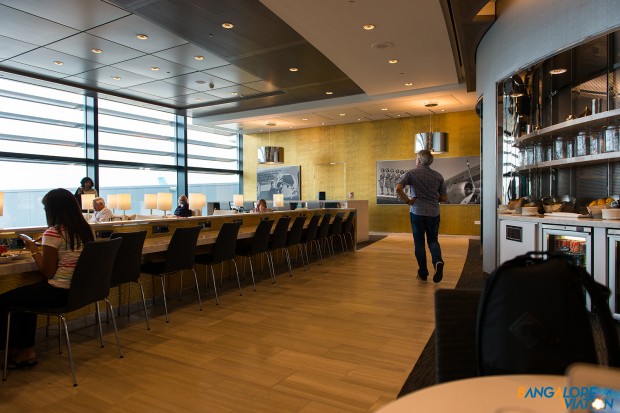 The lounge has a great bar with quite a few local brews in stock. The bartender had quite an extensive knowledge on the local brews he was pouring, telling me about the history and styles of the local beers he was pouring. The lounge also has two buffet areas, a small area on one end with drinks and other nibbles and a proper lunch buffet at the other end. I wasn't very hungry, but the food I tried was decent.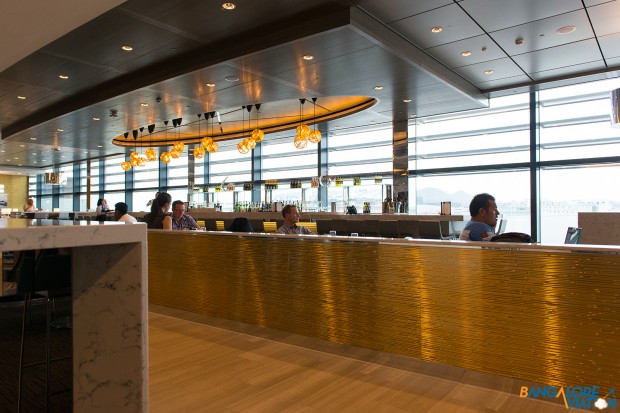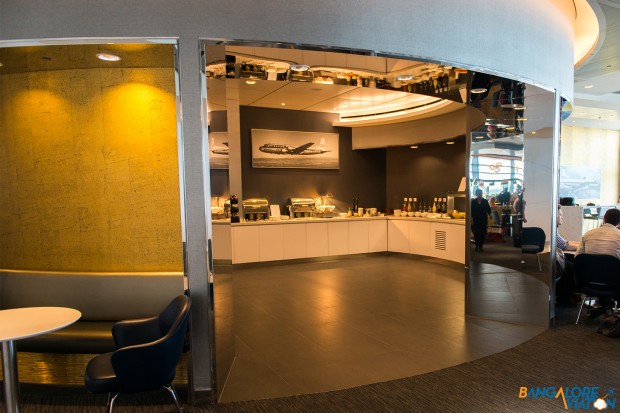 One thing I really enjoyed at the lounge was old pictures of United aircraft through the years along the walls. Though most airlines have not shifted to T2, the lounge was reasonably full, I feel it may become a little small when all the star carriers shift into the Queen's Terminal.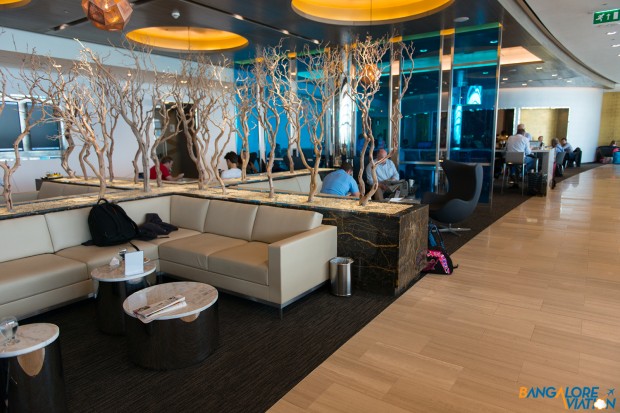 My flight was delayed by about 40 minutes, the lounge agents announced when boarding was about to be started and I proceeded back into the terminal area to my gate which was right next to the lounge entrance. My overall impression of Terminal 2 was good, it has been well designed and made to be efficient. The terminal does not give the luxurious feel of the new terminals in India and may seem a little clinical to some passengers but I found it to be very good.
London Heathrow (LHR) to Houston – George Bush Intercontinental (IAH).
UA 5. Depart 13.35 Arrive 17.45. All times local. 21-July-2014.
Boeing 787-8 Dreamliner. N27903. Seat 1A.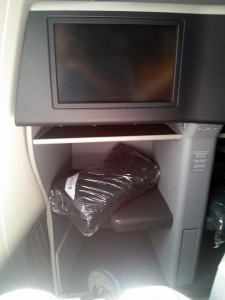 Boarding was a little un-organised at first but the gate agents quickly got their acts together and started boarding. I got into the flight and found my seat. United uses the conventional straight facing 2-2-2 arrangement on their 787-8 which does not offer direct aisle access to every seat, unlike the herringbone 1-2-1 configuration adopted by many competitors.
Shortly after taking my seat, I was offered a menu and a drink. I started with a glass of champagne and proceeded to stare out of the stare out of the window at the amazing variety of traffic at Heathrow.
The seat is pretty good, it is reasonably wide and I did not feel cramped at all. The seat is completely lie flat and provides good privacy when fully flat. The seats are slightly angled towards the window, which is an ideal setup. There is a small shelf to store the menu along with a laptop, a foot area which is reasonably spacy, and a little cubby to the left of the headrest with the headphones, a bottle of water, the amenity kit and other items. I found the headphone wire from the cubby very irritating while adjusting the seat and the cubby itself is quite useless you stand up and face the seat to use it.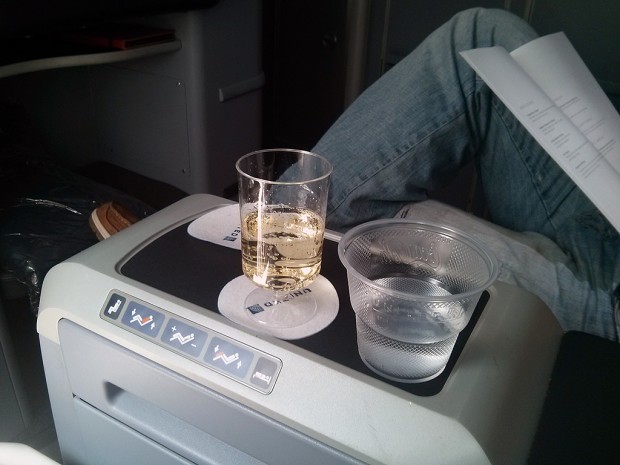 As I was getting comfortable in the seat, I explored the IFE system and finally started a movie. The moving map and camera views are very clear and easy to use. A nice touch I found was the IFE remote displays the time to destination on it's little screen which allows you to see that without having to exit your movie. The monitor on the seat was large and had great resolution and clarity.
The seat has a fixed head rest, so you have to put your pillow over it to sleep, since this was a day flight, I only took a short one hour nap during which I found the bed comfortable. One feature I really like on the Dreamliner is the electronically dimmed window shades which even when darkened allows you to look out of the window. (I like looking out the window and while I appreciate its logic, it annoys me when the cabin crew ask for all window shades to be shut.)
United is very strict about taking photographs of the cabin, and the notorious incident involving United million-miler and travel blogger Matthew Klint still serves as a warning. I did not take any cabin overview shots and hence used stock images from United.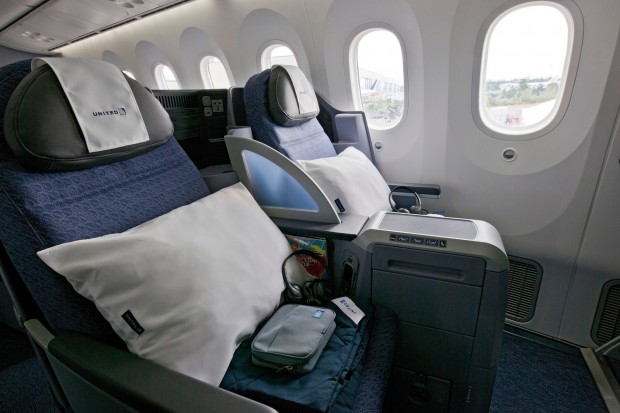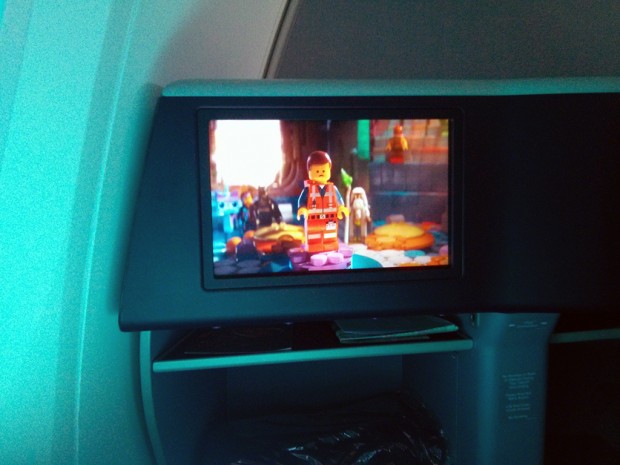 Use scroll-bar on the right or click on top right icon to enlarge.
A little while after the flight took off, I was asked for my meal choice. I chose the Tenderloin of Beef. While the menu does not reflect it, each course of the meal was served with a glass of wine which our air hostess said had been paired with the dish.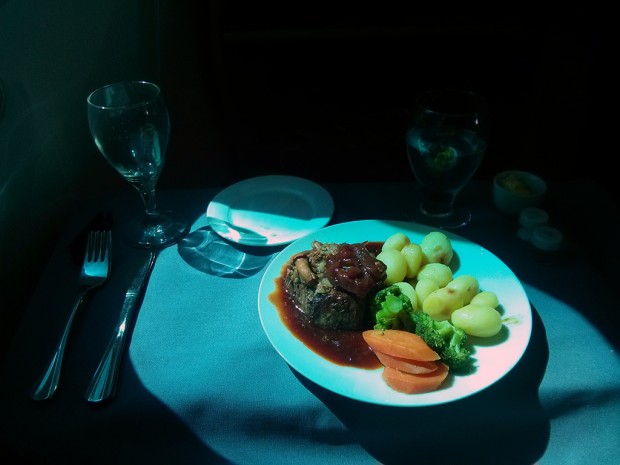 The fish and salad were fresh and tasty. The beef tenderloin was fabulous for airline food, it was served a little over medium rare and was a nice, large piece. Finally there was cheese plate, followed by an ice cream sundae.
The entire service was very good, the cabin crew were fast and efficient and conducted the meal service in a very warm and helpful manner. In fact the service on the flight was some of the best I have experienced in the recent past, the cabin crew were regularly checking in to see if I wanted anything. And as soon as they saw someone wake up from their sleep, they came by to offer them a glass of water and a fresh baked cookie.
While I was walking around the cabin, I was chatting with the crew who were among United's more experienced crew. They were all ex 767 or 777 crew and without fail each of them told me that they preferred flying the new 787.
About an hour and a half before landing, the crew asked wether I would like the 'Before-Landing' meal. The meal was brought out on a tray and had a very nice salad and a standard fruit bowl. The sandwich was nice and the little box of chocolates was pretty good.
Arrival in Houston was decent, a quick taxi to the gate and we were off. There is a long walk from the gate to immigration. Immigration was very fast and took me only about 5 minutes. After which I had to pick up my bags and clear customs. After clearing customs, I dropped my bags off at the baggage drop off and got into the security line. (There is no fast track security or immigration for premium class passengers – something United has to look into in one of it's main hubs). After about 25 minutes getting through the security line, I cleared security. Then I proceeded to read the signage wrong and walk halfway up the wrong terminal. After figuring out I was going the wrong way, I backtracked through the terminal again feeling a little stupid. I got onto the inter-terminal train which has a really nice view of the ramp and proceeded to the United Club in terminal C. The club had a few snack items and a basic bar, but had nice comfortable couches and a great view of the ramp.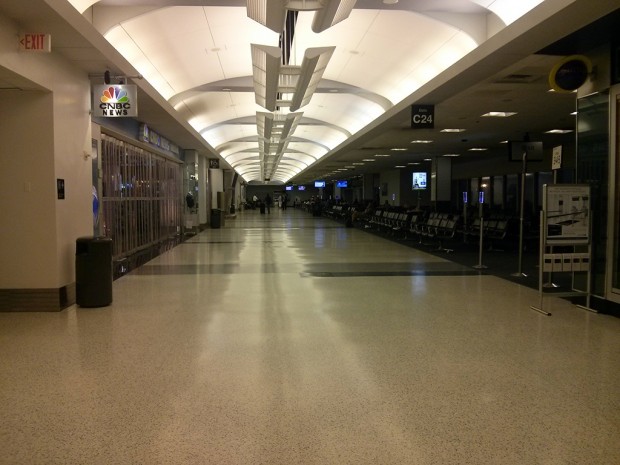 Houston – George Bush Intercontinental (IAH) to Dallas Fort-Worth (DFW)
S5 3478. Depart 21:05 Arrive 22:12. All times local. 21-July-2014
Embraer 175. Seat 2A.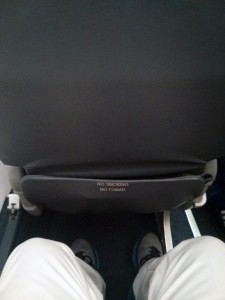 I proceeded to gate which was just a gate down from the lounge, I was a little surprised to find the airport virtually deserted. Boarding was called on time and was smooth.
The flight was fully occupied. Not one seat spare. The Embraer 175 has very small overhead bins making it quite difficult to store regular size cabin carry-on luggage. I had a tough time getting my camera backpack stored. Now one understands why most frequent flier fight for status. Early boarding is a critical benefit, especially considering the two-piece carry-on rule in the USA.
The flight taxied out soon after the doors closed and we were airborne soon after that.
There was a quick round of refreshments served just after take-off, which for me was a coffee and a snack packet.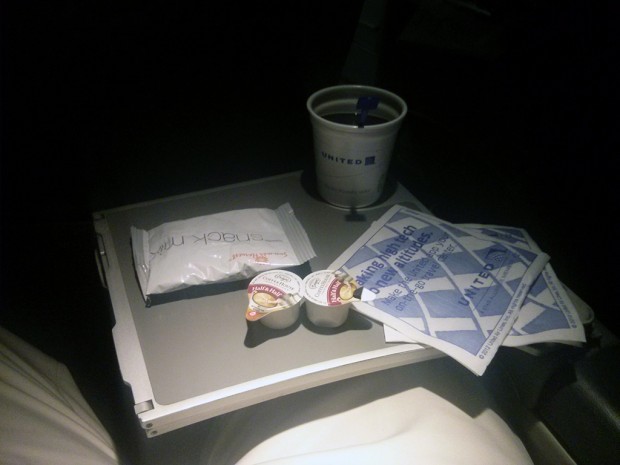 Landing at Dallas was again very quick and efficient and we were on our way very fast.
Summary
Overall I was very happy with both my flights on United, and my pre-conceived notions of US flagged carriers are removed. If this is United's consistent level of service, competitors watch-out. The one area United must improve is the transit experience at Houston.
Disclosure. All flights were paid for. United Airlines or its affiliates did not review, or revise this article prior to publication. Our views remain independent and our own.
Pictures are copyright of Vedant Agarwal and are used with permission, all rights reserved. Please do not reproduce in any form.