Today morning, I flew the inaugural flight of India's newest full service airline, Vistara, the brand name for Tata-SIA Airlines, the joint venture between India's most respected conglomerate the Tatas, and Singapore Airlines.
Indira Gandhi international (DEL) to Chhatrapati Shivaji international (BOM).
UK890. Depart 12:30 Arrive 14:45. All times local.
Airbus A320-200. VT-TTB. Seat 7D.
09-January-2015.
Check In – New Delhi
I transferred to the departure hall in Terminal 3 after arriving on my fight from Bangalore on Jet Airways which also arrived in T3.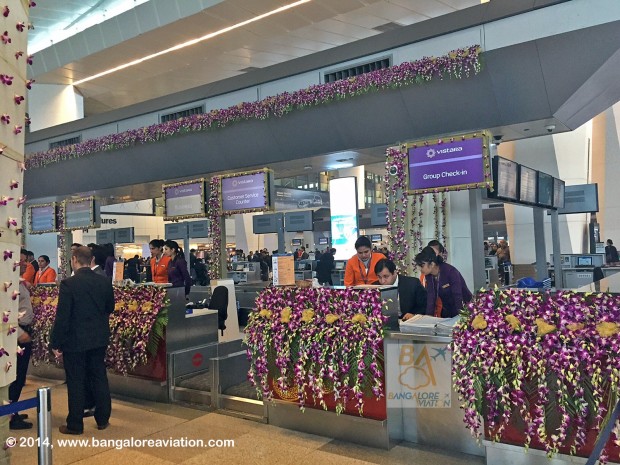 I arrived at the check in desk just after the first boarding pass was issued. The check in desks were all decorated in orchids in the airline's royal aubergine colour. The Premium Economy check-in desk greeted and welcomed me with warmth and gave a sense of belonging right from the start.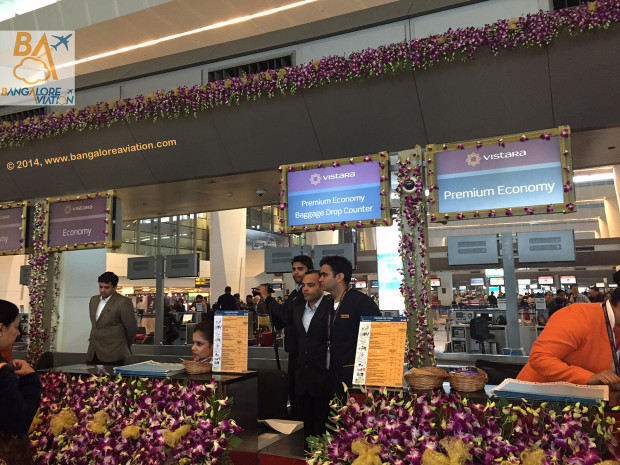 With no check-in luggage, I was quickly given my boarding pass and a bar of chocolate.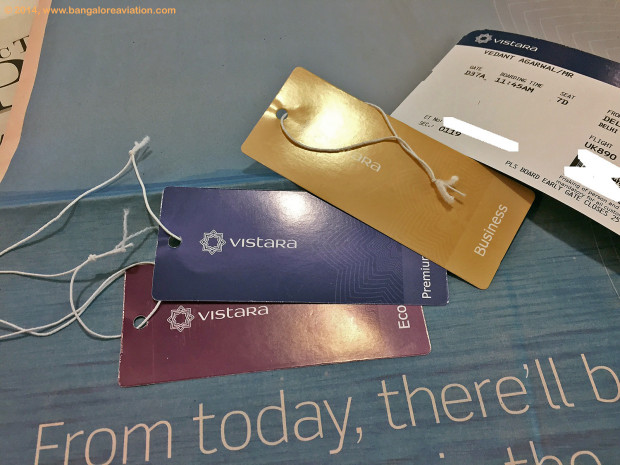 All around the check in desk there was a celebratory atmosphere.
Security check and boarding gate
Being late morning, the rush hour was over. I got through security quite fast and was on my way to the gate in less than five minutes, but had a reasonable walk to gate 37, which is around the middle of the concourse.
The boarding gate was beautifully decorated and set up for a ribbon cutting ceremony, again with the purple coloured orchids. While we waited for the flight to be inaugurated, refreshments were being served from a buffet set up next to the gate.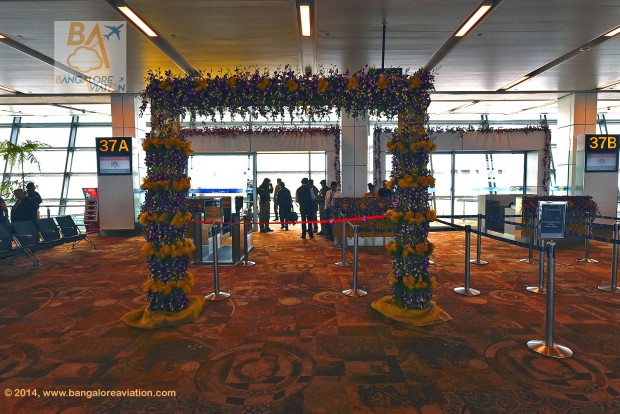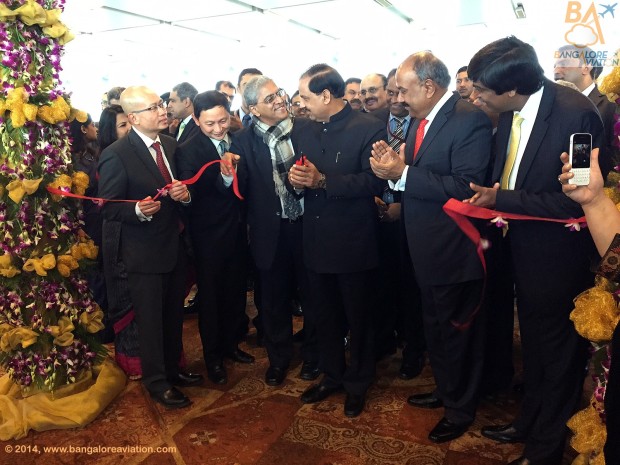 The ribbon was cut and the flight inaugurated by Dr Mahesh Sharma, India's junior minister for civil aviation in the presence of dignitaries and officers of the parent companies of Tata-SIA airlines i.e. Tata Sons and Singapore Airlines.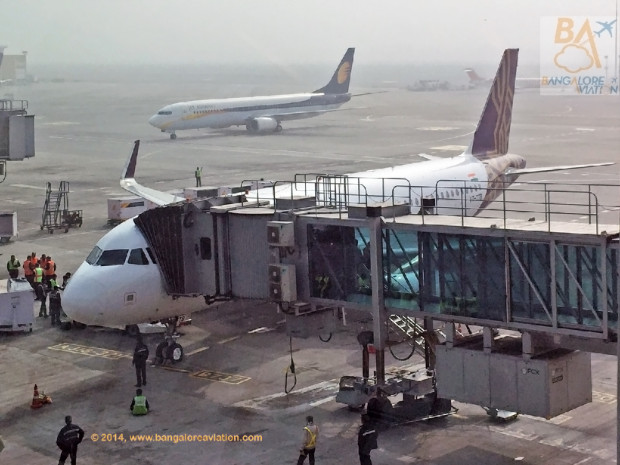 Lounge access
Lounge access is limited to business class passenger and gold elite members of Vistara's frequent flier programme. Vistara plans its own lounge, but for now is using the Plaza Premium lounge, which you can also get access to via the MasterCard lounge program.
Vistara premium economy – cabin, seat, and boarding
Boarding began about 15 minutes after the inauguration, and unlike the mad rush found at most Indian carriers, Vistara did it in a very orderly manner. Each class of travel was called sequentially with business class first. In economy class the cabin was filled from rear to front. A smooth and peaceful boarding by itself is additional points.
On entering the aircraft I was repeatedly welcomed on-board Vistara by all the crew, but what was missing was the tradition pioneered by Singapore Airlines — of a cabin crew at the door examining the boarding pass, welcoming you and guiding you. I hope Vistara introduces it.
Vistara uses a three class configuration on their A320's. The aubergine (brinjal) colour with the grey looks rich and is smoothing. The colour also stands out in the uniforms of the cabin crew. The 16 seat business class cabin is four rows in the standard 2-2 configuration with foot-rests, 42 inch seat pitch and seven inches of recline. Premium economy is 36 seats, six rows in a 3-3 seating, 18 inch wide, 33 inch pitch, with the two emergency exit rows providing 36 inches for additional legroom. Economy class is 96 seats, 16 rows in a standard 3-3 configuration with 30 inch seat pitch like all other A320s in India, but the seats appear to be in leather. Both the economy and premium economy seats are the slimline type, though Vistara says it has added additional foam for the premium economy seat.
Vistara A320 cabin pictures
[bsu_carousel source="media: 11161,11160,11159,11157,11141,11158,11142″ limit="30″ link="image" target="blank" width="620″ height="200″ items="2″ scroll="2″ pages="yes"]
All passengers found a cover from Vistara with a personalized thank you certificate for being on their first flight, placed on their seats.
Almost all the cabin crew were former Kingfisher Airlines.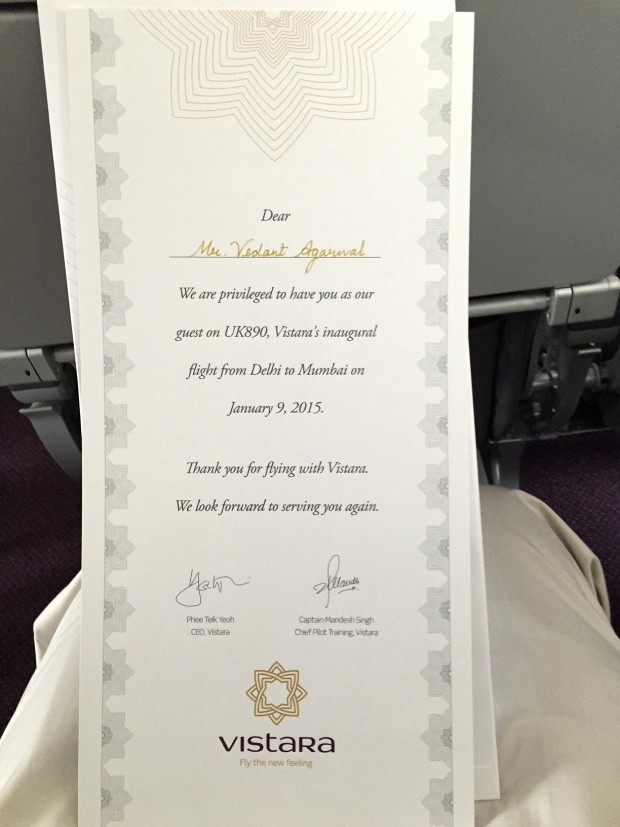 As the cabin settled down for take-off there was a sense on excitement in the air that one would never find on a regular flight. As the aircraft began to push back, we were welcomed a hot towel, and like parent Singapore Airlines, it was HOT. Along with the towel was cold tetra-pack fruit welcome drink.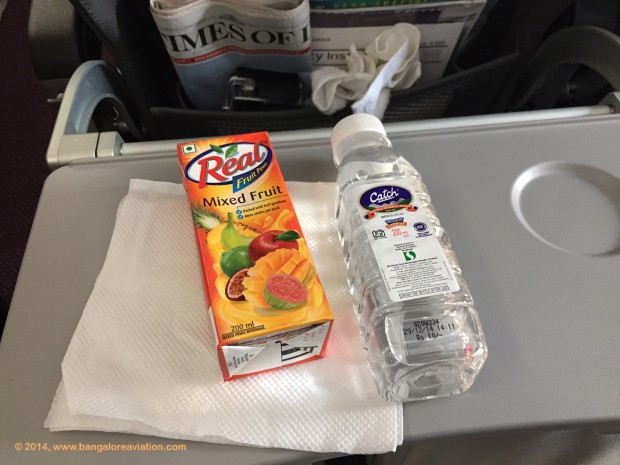 We took off from runway 29 around 12:55.
No IFE system
At present, none of the cabins have any in-flight entertainment options. I understand Vistara is exploring the options and may add IFE some time later.
Vistara premium economy – meal service
Lunch service began about 15 minutes after we reached cruising altitude. The meal choices are almost identical across classes, only the presentation varies. Business class is served pre-plated on bone-china. Premium economy in a tray. Economy is in a box. Contrary to Vistara press releases which claim two non-vegetarian and one vegetarian choice for premium classes, we were offered one non-veg, leek and prawn quiche, and two veg, a kathi roll or a cannelloni. Typographical error in the press release or a change in strategy? Economy class was offered just the pasta, no kathi roll.
The meal service was conducted well with warmth and smiles, but very slowly. It is possible this was due to the inaugural flight. I expect the crew will improve as they become familiar with the routine.
I chose the leek and prawn quiche which also came with a bread roll, a green salad, and a pina colada dessert. The food was good, very flavourful and filling. The food is catered by the award winning Taj-SATS flight kitchen, the other joint venture between the Tatas and Singapore, headed by Grand Master Chef Satish Arora, formerly the Executive Chef of the Taj Mahal hotels group.
My one gripe — the plastic cutlery, feels very cheap, especially considering this is the premium economy class which is double the price of regular economy. By comparison, my earlier morning flight from Bangalore to New Delhi on Jet Airways, a full service competitor to Vistara, used proper metal cutlery even in their economy class.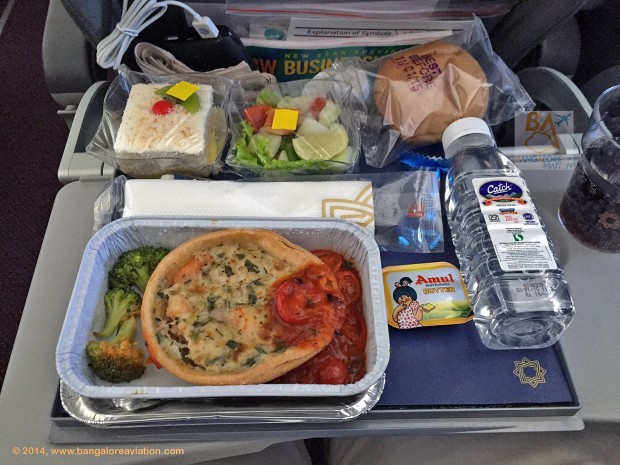 As the trays were cleared we were offered a ice cream and coffee or tea. The ice cream was served at just the right temperature – warm enough to be creamy but cold enough not to be liquid.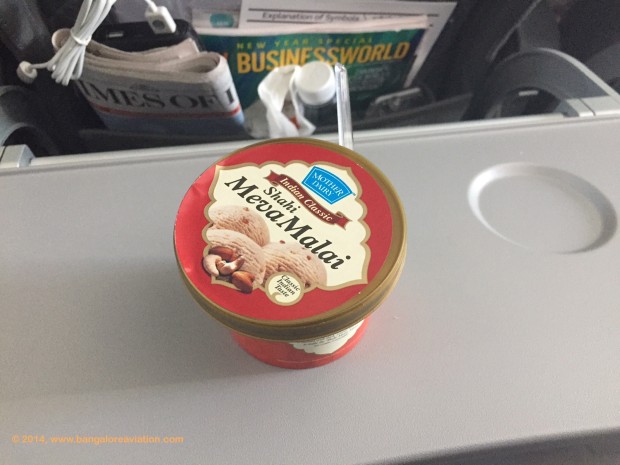 Economy class meal service
From reading reviews by some other fellow inaugural flight travellers, the meal service is almost identical in economy class. Only the economy class gets the food in a box and premium economy in a tray.
Personalised service
Throughout the flight the service was with a smile and warmth that gave a sense of belonging. Very Singapore Airlines and very unique. Throughout the flight the cabin crew lived up to the Vistara promise by addressing all the premium passengers by their family names, a standard and highly appreciated practice at Singapore Airlines. I do not know if the personalised addressing was practised in the regular economy class, may be someone in economy class can add to this review.
Arriving at Mumbai – the ATC conspiracy
As we began our descent in to Mumbai, the captain proudly announced that the flight was set to arrive 15 minutes early. The guess the ATC gods heard the boast since we were made to circle the city for about 20 minutes.
Water Cannon Salute – Mumbai Airport
The flight landed on runway 14 at Mumbai's Chhatrapati Shivaji airport and taxied over to the new Terminal 2, which till now handled only international flights.
Vistara is the first domestic carrier to be based out of T2 which will be integrated with the other full service domestic carriers Air India and Jet Airways sometime later this year.

Keeping with tradition, our flight, the first commercial flight of Vistara to Mumbai airport, was welcomed with the water cannon salute. I hope you enjoy the video. I had to my fellow passenger sitting next to the window to shoot this for me, and he did not have the steadiest of hands.
The disembarkation was quick and routine. I did not have any checked-in baggage but saw others' baggage arriving pretty quickly.
In Conclusion
Vistara has a good cabin product – from it's hard cabin to items like food, there is a definite effort to offer a quality product. Service warmth, hospitality and courtesy is high, but efficiency has to improve and quickly.
In economy class, Vistara holds a definitely edge over its competitors, and I would be willing to pay a small premium.
Vistara's premium economy class lacks a value proposition as of now. Other than the three inches additional leg room it is almost identical to economy class, and with the plastic cutlery, inferior to competitors' economy classes. I cannot see the airline commanding its present 100% premium over economy fares. Vistara has to offer a better differentiated product.
Vedant Agarwal is the photo editor at Bangalore Aviation. The trip costing Rs 13,860 one-way was paid for by us. Vistara or its affiliates did not review, or revise this article prior to publication. Our views remain independent and our own.