It had been a good 11 years since I had last flown British Airways (BA), an experience, in my early teen years, I had vowed to never repeat. July may be the worst time to buy tickets to Europe, and the Farnborough Air Show ensures fares are high across the board. Additionally, since I was gunning for oneworld status, my options were limited.
I grudgingly booked a decent fare on British Airways onward in premium economy (World Traveller Plus), return in business (Club World). On the return the premium economy fare from London to Bangalore was higher than business. I appreciate that British Airways allows you to book different legs of your journey in different cabin classes with ease.
Bangalore (BLR) to London Heathrow (LHR).
BA 118. STD 07:00 STA 13:05. All times local. 7-July-2016.
Boeing 777-200ER. G-YMMC. Seat 13J.
For some inexplicable reason, British Airways is the only European carrier choosing this odd 7am departure time. The three hour check-in deadline, ensures your sleep for the night is ruined, and the mid-day arrival ensures the rest of the day is also rendered useless. This early morning departure is common to all British Airways flights to southern India, Hyderabad and Chennai included.
Check in
I reached the airport a few minutes before 4AM for my 7AM flight, and proceeded to the BA counters. There is no separate line for premium economy (World Traveller Plus), but being early, the queue was short. My wait was about five minutes. At the desk the agent offered me an one way upgrade to Club World (business) for a "super special" fare of Rs.60,000 (approx $900), which I found hilarious. After declining my bags were tagged and I was quickly on my way. BA's agents push paid upgrades quite aggressively from check in and at the boarding gate.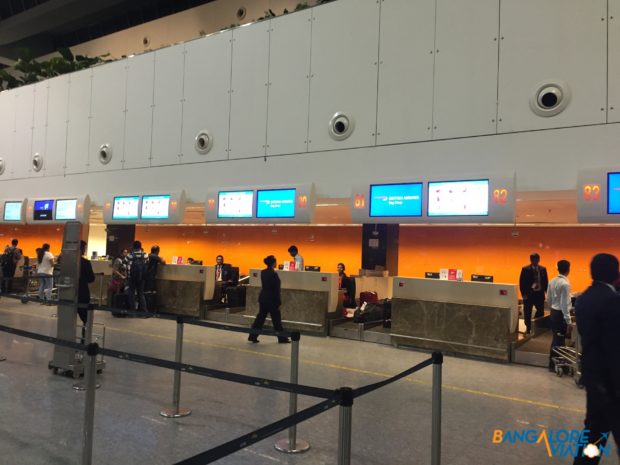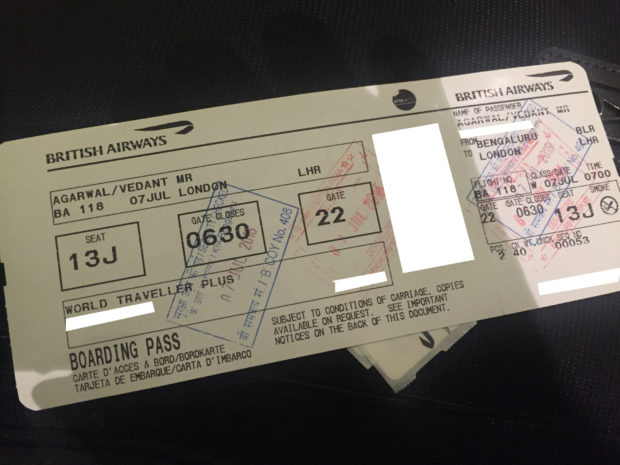 With almost all the international flights departed, immigration and security was the fastest I have ever done it at Bangalore Airport. I was done with both in under 10 minutes. With two hours to kill before boarding, I headed to the Plaza Premium lounge. World Traveller Plus passengers do not get lounge access both at Bangalore and London.
Boarding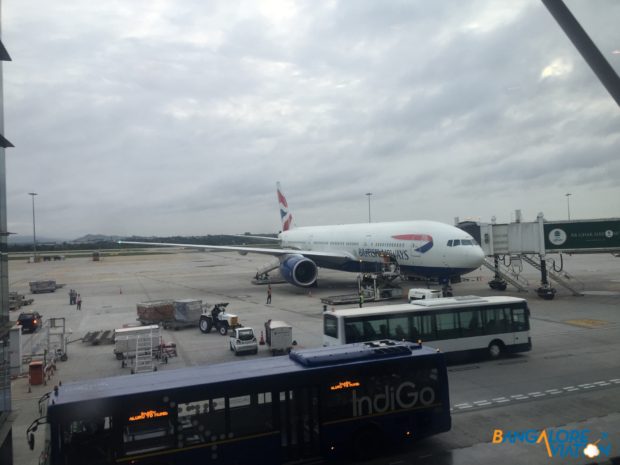 Boarding is done from two queues. The priority line for business and oneworld status holders, and also apparently World Traveller Plus as I found out later. The regular queue for economy class. This normally simple enough procedure is somehow made complex by the BA ground staff at Bangalore
The agents call boarding for the entire aircraft at one time, at which point everyone gets in line. Then the agents start announcing priority boarding for families with infants and wheel chair passengers through the economy queue and business and British Airways status holders through the priority queue. I asked about oneworld status holders but was told to wait and it would be called later. After boarding infants and wheel chairs, the agents then called elderly passengers and all other families. I then found out that families includes everyone who is not single, so basically BA likes to board single economy passengers last. Premium economy boarding was then called in the priority lane from which I boarded, even till then oneworld elite members had not been called.
Seat and Cabin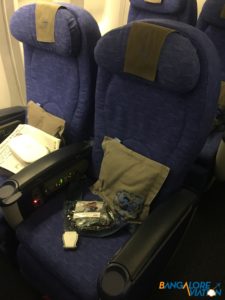 The World Traveller Plus cabin is laid out three rows in a 2-4-2 configuration. BA operates the old World Traveller Plus (WTP) product to Bangalore. The seat is 19 inches wide, the same as Singapore Airlines regular economy class seat. I found the seat to be sufficiently wide with reasonable recline. The seat also has a leg rest and pull down foot rest. The seat is quite plush and comfortable. The armrest between the seats is quite narrow but luckily, the seat next to mine was empty.
Leg room is reasonably good, but the aisle seat has a reasonably large IFE box eating into its leg room. Also when the seat in front of your reclines, it invades a reasonable amount of your space. Again I was fortunate since no one was sitting directly in front of me.
Right after boarding was completed, a round of refreshments including water, apple and orange juice were served. The menu was also distributed along with a really thin but insanely hot towel – this thing should have a warning label with it.
The amenity kit is a basic kit, I assume is common with the economy cabin and is packaged with the headphones. While the flight was taxing, I started playing with the IFE – it is an ancient system with a small screen and is very slow. The selection of movies was reasonably good however.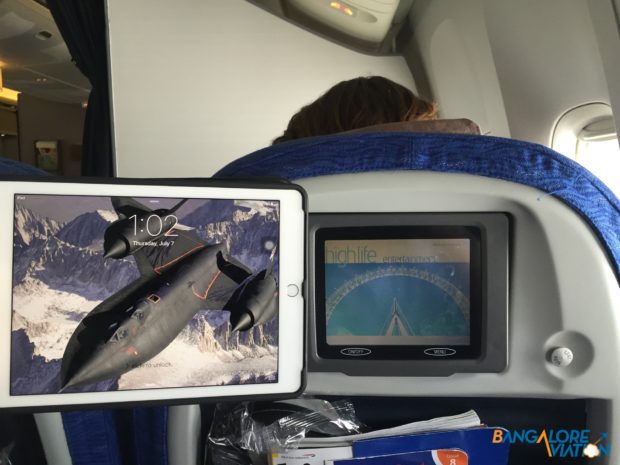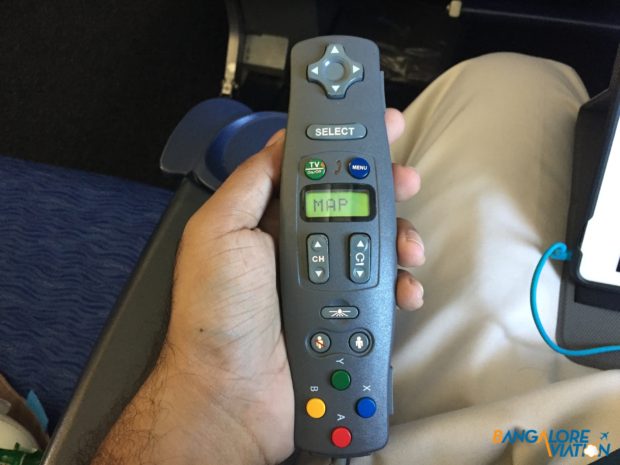 Soon after departure, the crew began serving breakfast. I chose the traditional English breakfast. The meal was two ends of the spectrum – the eggs, sausage and bacon were fantastic whereas everything else like the potatoes, danish and yogurt were just horrible. Along with the meal, there was another service of juice, tea and coffee.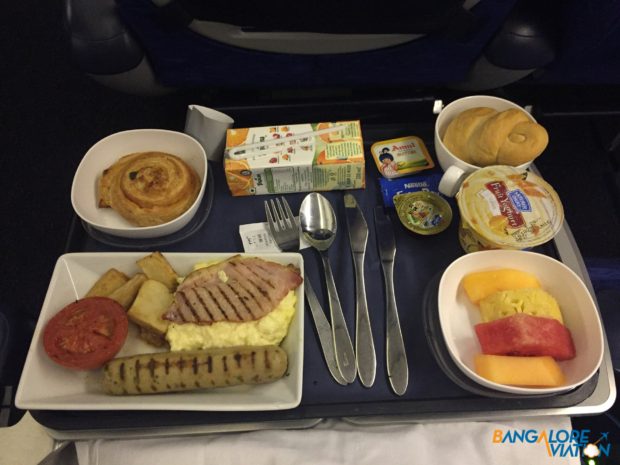 After the meal service, the cabin lights were dimmed and most of the cabin fell asleep. I managed to get a couple of hours of sleep after which I proceeded to binge watch Season 6 of Blue Bloods.
About four hours into the flight, the crew came around to distribute a small snack box. The box had a small packet of chips and salsa along with a piece of cake and a cup of water. I'm not sure if it's just the WTP cabin or if it's the same in Economy but I very rarely saw the crew during the flight. I only saw them walking around the cabin during the meal services, maybe because WTP has no galley area.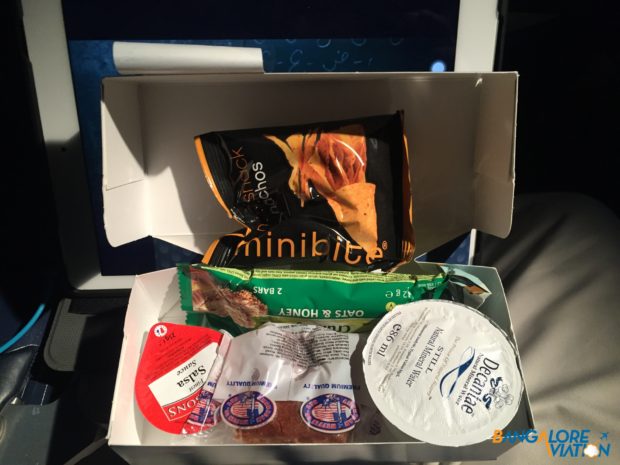 Finally a small lunch was served about 1.5 hours before landing. I was offered a choice between a Lamb, Indian style chicken and a vegetarian option. I picked the lamb which was served with green beans, potatoes and a piece of cake. The lamb and beans were very good, whereas the potatoes were horrible and the cake was ok.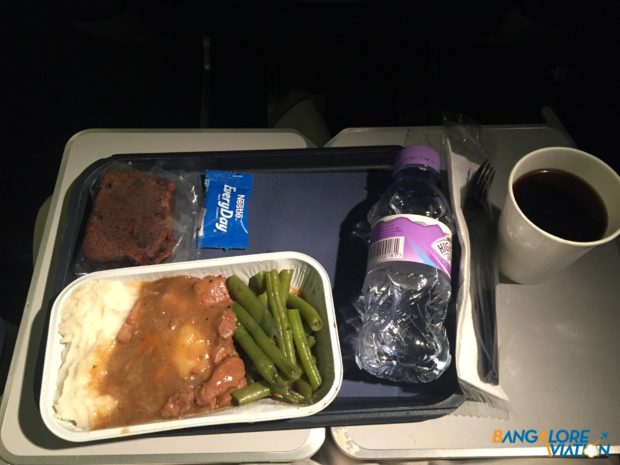 By time the trays were being collected, we had entered a hold over London, the aircraft flew circuits for 45 minutes before landing. After taxing towards terminal 5, we had a 15 minute hold on the taxiway as a 747 was holding the gate we were assigned.
While we were holding, a crew member came over to only me and handed me a Fast Track immigration card. World Traveller Plus passengers are not allowed access to Fast Track, so I assume I was given the card due to Oneworld status.
After the 747 was pushed out of the way, our aircraft pulled into the gate and deboarding began very quickly.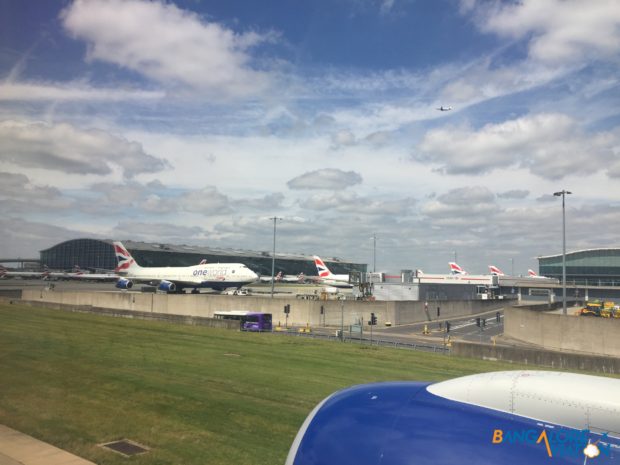 After a bit of a walk and a train ride, I reached immigration which was quite fast in both the Fast Track and the regular line.
Overall
My flight on British Airways was reasonably good. The entire cabin product needs a desperate upgrade and considering BA has a newer cabin product available even on some of their older 777-200's, flying such a decrepit configuration to Bangalore is not acceptable.
Premium economy offers a good value depending on the fare difference over economy. For this leg WTP costed me just Rs. 3700 (USD 55) over economy which with more space in the cabin and other amenities like enhanced baggage allowances, I found it to be great value. However at the time of writing this article, the fare difference for three dates in September between Economy and Premium Economy is Rs. 10,000 – 15,000 (USD 150-225) one way, which on a Economy fare of Rs. 25,000 – 30,000 represents a 50% increase. I personally do not see the value proposition in WTP at that price point unless you need to check in a second bag which according to BA's website costs a $100.
Also for some reason during boarding BA seems to discriminate against single passengers flying in Economy which I find very strange. Has anyone else experienced this with BA or was it just a weird one time thing?