The first Airbus A350-1000, the longest variant of the A350 family of widebody aircraft performed its first flight, at Toulouse, France, yesterday.
The six person crew took MSN059 into the skies at 09:42 UTC. Test pilots Hugues van der Stichel and Frank Chapman, in cockpit flight test engineer Gerard Maisonneuve, flight test engineers Emanuele Costanzo, Patrick du Che, and Stephane Vaux conducted the first flight, which lasted about four hours and 20 minutes.
Pictures and videos gallery below
The flight marks the start of the aircraft flight testing campaign which should see the first delivery to launch customer Qatar Airways in the second half of 2017. The Gulf airline was also the launch customer of the first A350 variant, the shorter A350-900.
Airbus is expected to use three aircraft for the flight test campaign. MSN059, MSN065 and MSN071. MSN059 and MSN071 will have test equipment installed in the fuselage, while MSN065 will be fitted with a full passenger cabin.
Powered by the Rolls Royce Trent XWB-97 (for 97,000 lbs of thrust), the A350-1000 is expected to seat about 360 passengers in three class configuration with an economy class of nine seats abreast each at 18 inches wide. (In comparison many Boeing 777 operators fit 10 seats abreast at a bone crunching 17 inches width). The aircraft will have a range of 8,000nm or almost 15,000km.
The A350-1000 is eight metres longer than the baseline model A350-900, 73.78 m (242.1 ft) vs. 66.8 m (219 ft) which accommodates the 40 additional passengers it seats. The A350-1000 also features a modified wing trailing-edge to increase the wing surface area (to maintain wing aspect ratio), and new six-wheel main landing gears similar to the 777.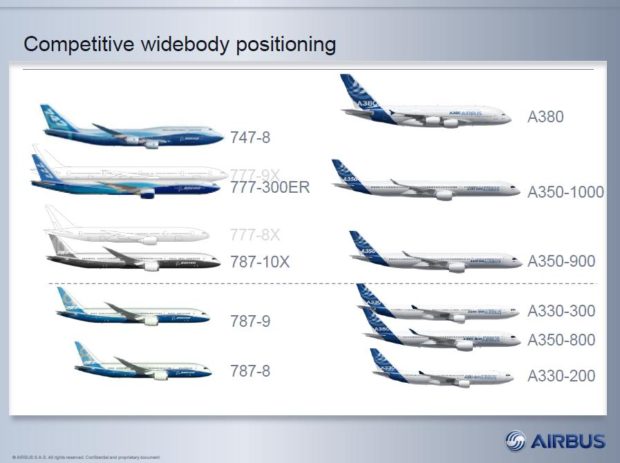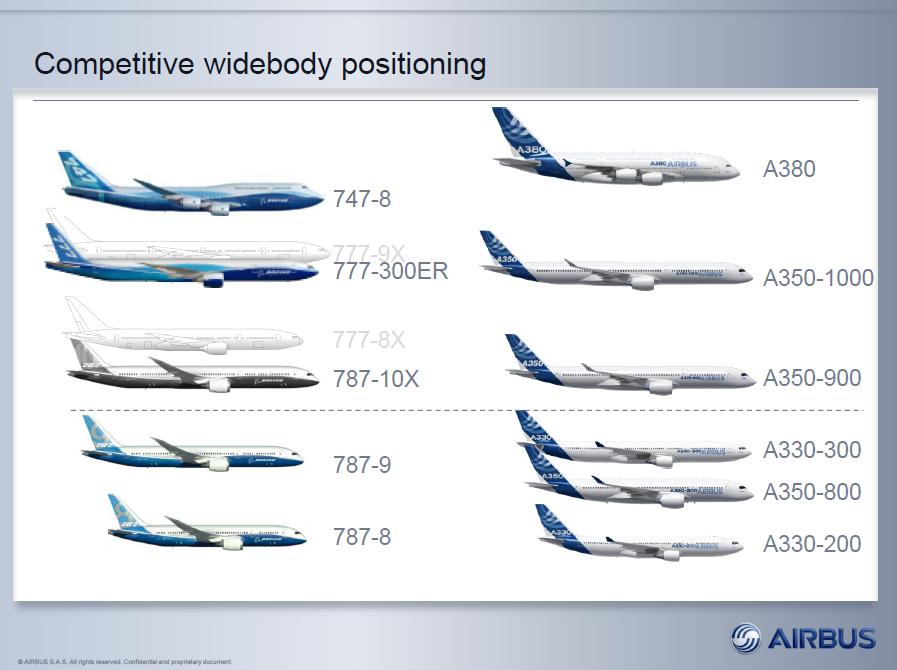 Airbus is positioning the -1000 at the Boeing 777-300ER replacement market. It has about 195 orders to date.
Airbus is facing supply chain challenges which is causing it to run behind on its delivery schedule. The airframer has delivered 35 A350-900 in 2016 against an internal annual target of 50. Seat and lavatory supplier Zodiac is seen as a major contributor to the delays in ramping up production.
Picture gallery
This slideshow requires JavaScript.
Videos
Assembly
Painting
Engine installation
First flight
Flight test
All images and videos courtesy Airbus.