Mumbai based low-cost carrier GoAir, promoted by the Wadias, has received the first Airbus A320neo from its order of 72. This makes the carrier the third operator in the world to use the new fuel-efficient jetliner behind Germany's Lufthansa and India's IndiGo.
This plane is the 20th aircraft in the GoAir fleet and officially qualifies the airline to now fly internationally, since it has already operated domestically for over five years.
Airbus delivered possession of MSN7047 to the airline at Toulouse in France earlier today. The aircraft is registered VT-WGA and is the first to be configured in the new SpaceFlex cabin layout which seats 186 passengers, up from the earlier 180.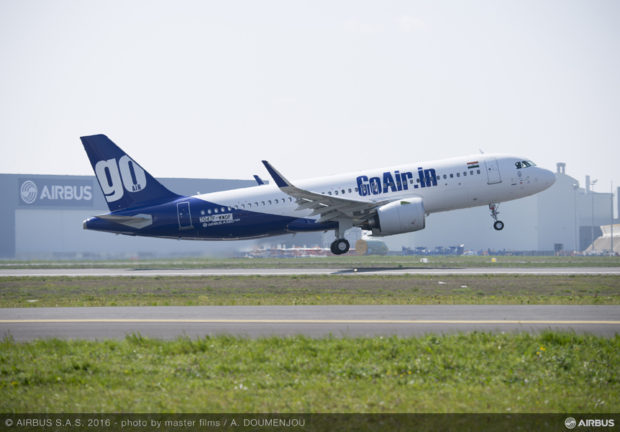 Like Lufthansa's and Indigo's A320neos, GoAir's are also powered by the Pratt & Whitney PurePower PW1127 Geared Turbo Fan (GTF) engines. These engines are facing on-going technical issues which require airlines to idle the engines for three minutes prior to taxi, but the engine maker has reportedly made significant progress in addressing the issue.
This is the first aircraft delivery for GoAir in almost four years. Till now the airline was following a cautious growth path and increased capacity by increasing aircraft utilisation. GoAir has received awards from Airbus for being one of the highest A320 utilisers in the world. The next A320neo is VT-WGB is expected to be delivered next month. The third VT-WGC will be delivered later in October, after the slow period of the calendar third quarter completes.
VT-WGA will depart Toulouse later this evening at 20:30 local and fly non-stop to India's capital New Delhi to arrive around 07:45 tomorrow (June 2) morning.
Since the title has passed to an Indian company, the aircraft is officially Indian, and must be flown by Indian certified pilots and even pre-flight checked by Indian engineers. The flight will be commanded by GoAir's Chief Pilot Capt. Rajit Ranjan, assisted by Capt. Matkar, and a first officer. No passengers are allowed on-board the flight as per DGCA rules priot to the official inspection and processing.
The aircraft is expected to complete its governmental formalities including those with the DGCA, and perform its first commercial flight on June 7 from New Delhi to Mumbai, both of which are engineering bases for the airline. The plane will be used in limited service till June 13, and put in to full service on June 14.
The aircraft is expected to visit Bangalore on June 14. Just as with IndiGo, we expect GoAir to keep their first A320neo flying to and from their engineering bases at Mumbai and Delhi to various cities till a comfort level is built up.
Considering the on-going drought situation, GoAir, in consultation with the DGCA and other authorities will not give WGA the traditional water cannon salute welcoming it. As aviation geeks we are disappointed but we respect the airline's decision in light of nature's calamity.