Early this year, our entire family went on a holiday to Thailand. After booking my tickets for a round trip from Bangalore, I had some work come up in Delhi. I decided to change my tickets and fly there directly. Now unfortunately that is much easier said than done, Thai has no way for me to change my tickets online. There is no central reservation line for any help in India and the Thai office in Bangalore is impossible to reach. It took two days of calling at different times to finally get someone to answer the phone. God forbid someone needs to change their ticket in a hurry on this airline, they might as well go to the airport and take their chances there.
The only good thing in this experience was that the agent at Bangalore pointed out to me that with the fare change and change fees a economy ticket would cost the same as a Business class upgrade from Bangkok to Delhi.
After finally getting my ticket modified, I had to go to their office to pay the fare difference because they don't take payments over the phone and you cannot pay online. The Thai office has no parking space paid or otherwise for its customers.
Check-in
My flight was at 07:00. I reached the airport at around 04:40. First thing is that the business class counters are located on one end of the terminal which isn't marked clearly. The economy line at the Thai check in desks was massive since there seemed to be only a handful of agents on duty. After finding my way to the business class counters, I found an another line since there was only one agent on duty for business class check-in, in the entire hall. Such massive under-staffing is completely unacceptable in general, but even more so at the airline's hub.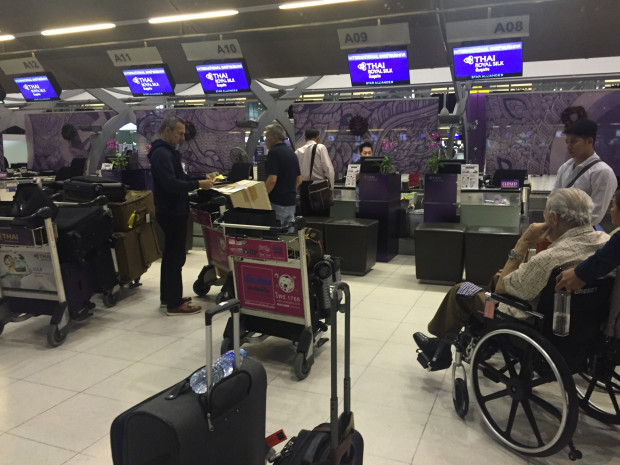 After waiting in line for 15 minutes, I finally reached the check in desk. The counter agent was a little brusque and seemed to have been irritated by the family who checked in before me with multiple wheel chair passengers.
I got my boarding pass and proceeded to fast track security and immigration at the end of the row of business class check in desks. There was no other passengers in security or immigration and I was through both in five minutes.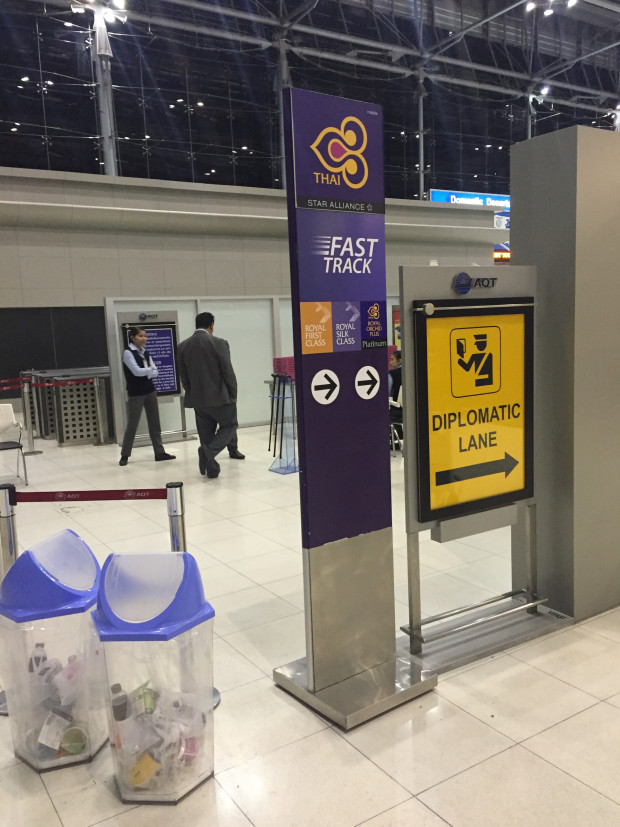 Royal Silk Lounge – Bangkok
The entrance to the main Thai airways lounge is right after the fast track immigration. The escalator at the lounge entrance takes you a floor down to the lounge reception. Despite the lounge having just opened for the day, the staff at the desk gave off a cheerful vibe. After quickly scanning my boarding pass, they told me to keep in mind that my gate was a 20 minute walk away, I thought they were exaggerating, though I found out later on, they weren't.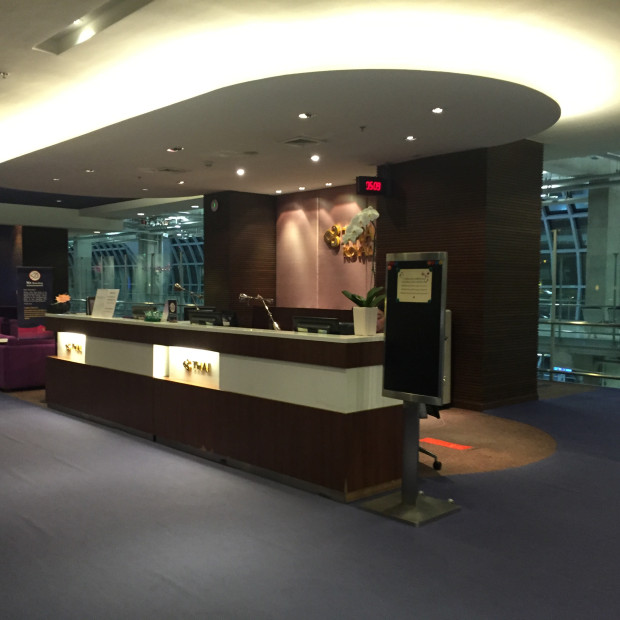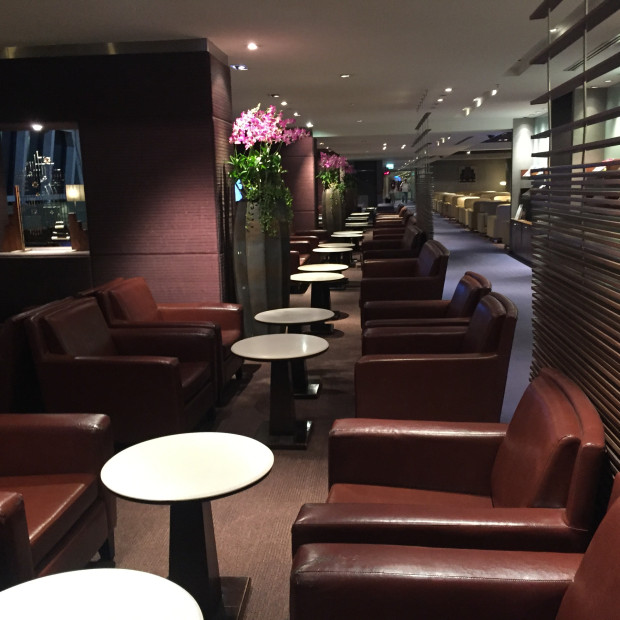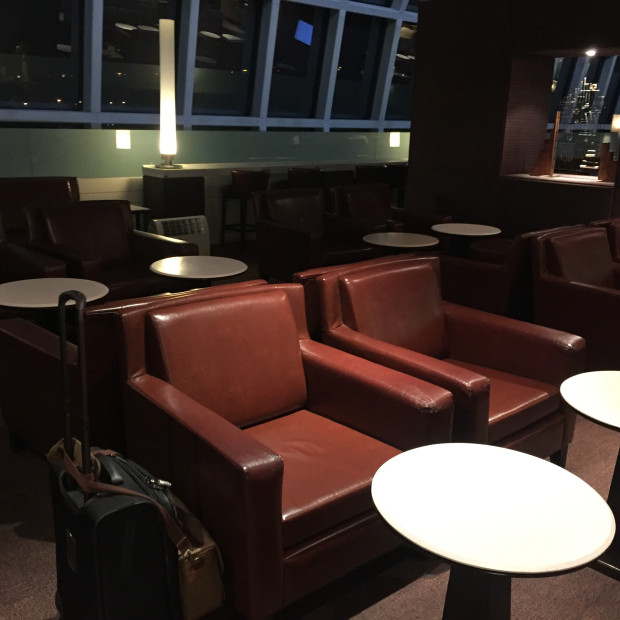 The lounge is a long narrow rectangle shape which has a huge number of leather sofas with food counters placed in equal intervals across it's length. The buffet has a basic continental breakfast with some sausages, boiled eggs, toast and cereal. There are also some pre-made sandwiches and a few assorted breads and pastries. The food is acceptable, but not exceptional or memorable.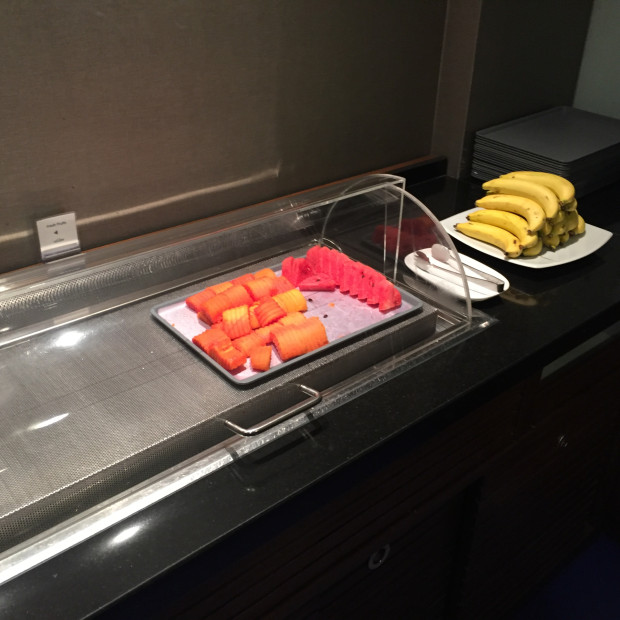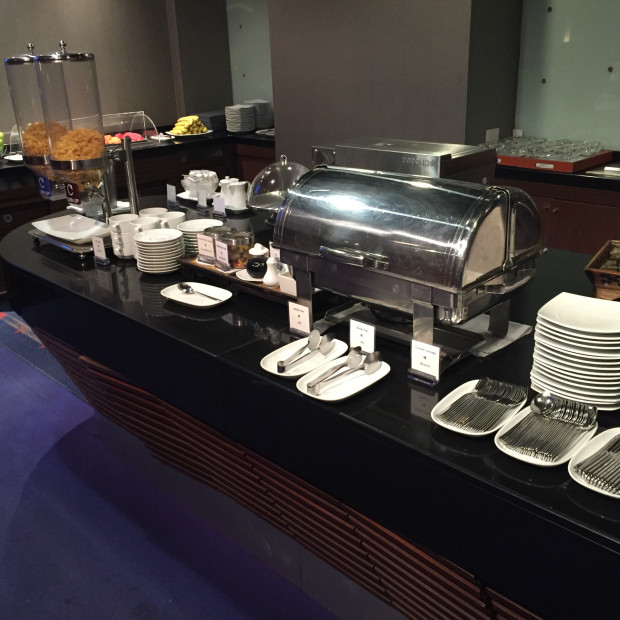 The lounge also has a rear exit which leads directly to the Thai Royal Orchid Spa, where business and first class passengers can get a range of complimentary massages. Unfortunately those on early morning flights like mine cannot avail this facility since the spa is not open early in the morning.
Suvarnabhumi (BKK) to Indira Gandhi International (DEL).
TG 323. STD 07.00 STA 09.55. All times local. 12-January-2016.
Airbus A330-300. Seat 14K.
I left the lounge just about 20 minutes before the boarding time. About 10 minutes into my walk across the terminal I began to realize the lounge staff weren't kidding when they said it was a 20 minute walk. Gate F6 from which my flight was boarding is the last gate in the terminal.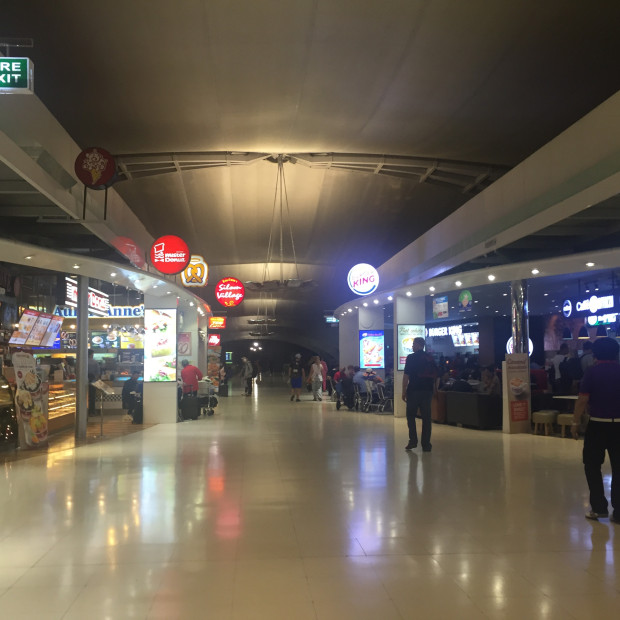 The gate also has a very strange system, the gate agent scans your boarding pass before you enter the holding area for the gate and not the jetway door as at other airports. A little after I reached the gate, the agents announced boarding for business class and everyone lined up. The gate agents were then continuing to announce all the other rows of boarding oblivious to the fact that their colleagues at the jetway had not started boarding anyone. This was creating chaos as all the passengers started lining up at the door.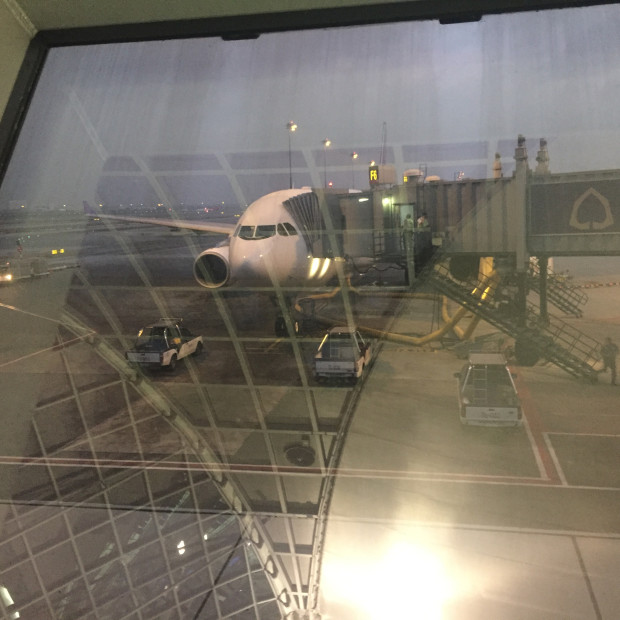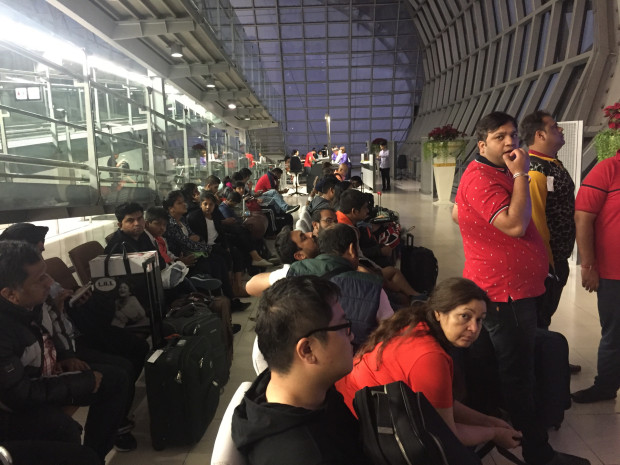 Once boarding began, the agent at the jetway checked the boarding pass and passport for each passenger again which begs the question – what was the point of the first gate agent checking the same documents? The boarding pass is again as always checked by a member of the crew, who then showed me to my seat and asked if I would like anything right away.
Only business class passengers are boarded through door 1L, all the economy passengers are boarded only through 2L, which allows passengers in business class easy access to the aisle if they want to remove and keep anything in their overhead bags before push-back.
Seat and cabin
Thai uses a 2-2-2 seating arrangement for it's A330 business class. The seat is reasonably wide and has massive leg space when it is upright. Unfortunately there aren't really any cubby holes or really any space to put anything. Even the drink table by the armrest is kind of small for two people, but luckily the seat next to me was empty.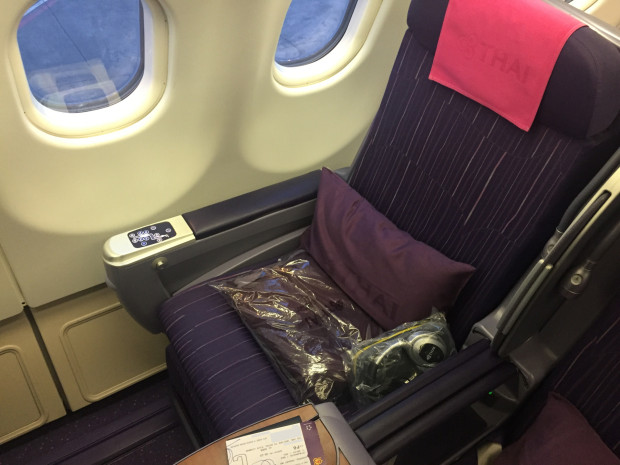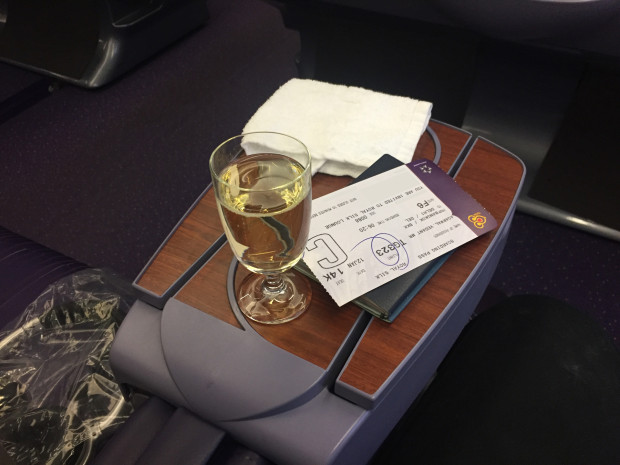 A few minutes before push-back the crew came about with a round of drinks. The aircraft pushed back at 07.05 and take-off was about 10 minutes later.
In the meantime I had tried to use the IFE. Thai's IFE system is slow and annoying to use. It seems to go out of it's way to take the most difficult route to anything you want to do. After the safety video, I tried to start a movie, before each movie or TV show is some annoying 5 minute ad in Thai which can't be skipped.
Soon after the seat belt signs were put off, the crew came around and took my meal order. Service began just 10 minutes after take off. The first round was fruit and a choice of bread. I really was not interested in the bread, but the lead cabin attendant insisted I try two particular types of bread – a garlic bun and some type of Ciabatta which were very good. Proceeding to the main meal, the food was quite 'bleh' – reasonably flavourless with a rubbery feel.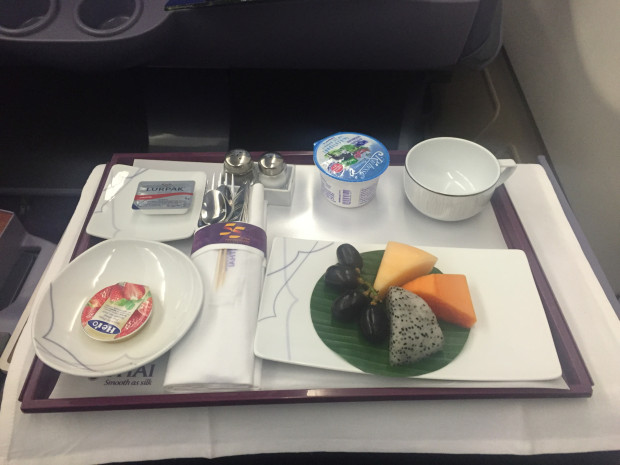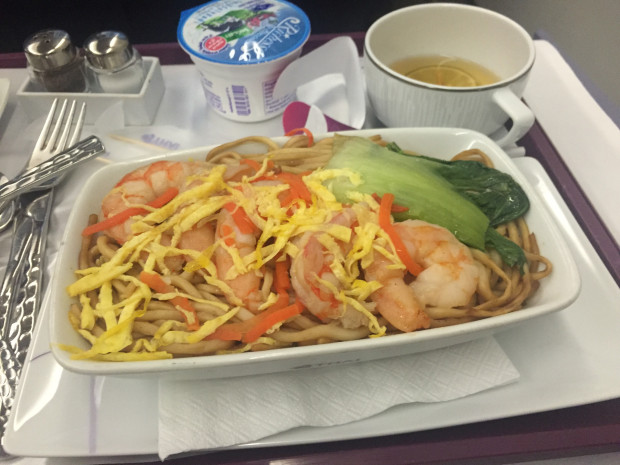 After the meal, I wanted to get some sleep since I had an insane schedule at Delhi. Thai calls this seat an "angled lie-flat", "The most uncomfortable bed" would be a more accurate description. I don't know in what world Thai thinks this seat can be labelled flat, the seat flattens in three very uncomfortable points to make a very uncomfortable recliner. After about two hours of disturbed sleep, I happily straightened out the seat and resumed a movie. About 45 minutes before landing, the crew began to serve a round of coffee and tea.
Just as the aircraft began descending, 25 minutes before landing the IFE begins to start playing ads again cutting off whatever you were watching. I had just finished my movie, but a couple of fellow passengers around me were visibly irritated. Descent was normal and the flight landed on schedule on runway 10 and taxied to the gate.
There is a separate fast track immigration for premium passengers and I was out in 10 minutes.
Overall
The fight by itself was good, everything was right on schedule, service was good and the crew were very attentive but not intrusive.
The hard cabin product desperately needs updating. The angled lie flat is in my opinion the most uncomfortable business class seat today.
Where the airline really needs to improve is it's ground service at Bangkok airport. The hub of the airline is horribly understaffed, things like it's spas are not open for late night and early morning travelers and many of ground crew are either badly trained or just uninterested – either way the airline needs to address this on a priority.
Disclosure. All flights were paid for by me. Thai Airways or its affiliates did not review, or revise this article prior to publication. Our views are independent and our own.
Pictures are copyright of Vedant Agarwal and are used with permission, all rights reserved. Please do not reproduce in any form.