As Singapore Airlines took delivery of its first Airbus A350-900 XWB, it announced it was the first airline to introduce an app which enables passenger to pre-select their choices on its KrisWorld In-Flight Entertainment (IFE) system ahead of boarding the aircraft.
Receives first A350 XWB
The airline's first A350 arrived at Singapore's Changi airport to the traditional water cannon salute by the fire-fighting and rescue squad, after an posh delivery ceremony at Toulouse, France.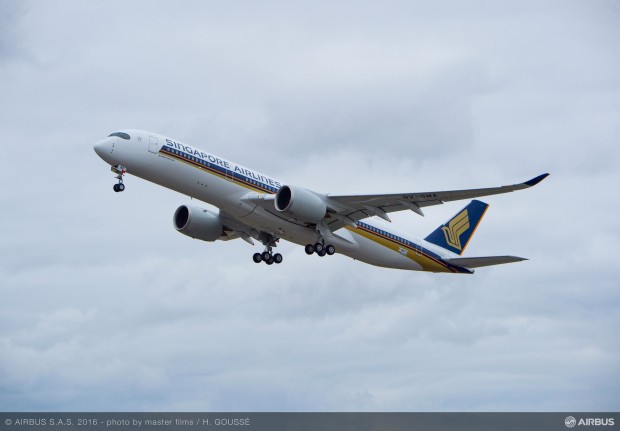 The A350 will form the back-bone of the mid-size long distance fleet of the airline. Singapore Airlines will commence A350 long distance services on the Singapore Amsterdam route and subsequently add Düsseldorf as a new destination.
Delivery ceremony video
IFE 'Companion app'
The companion app enables passengers to review the IFE video and audio content that will be available on their flight, create pre-selected favourites lists, and control their seat-back IFE system, using their personal electronic devices (PED). The app is currently limited to iOS and Android tablets. The mobile phone version will be available in the second quarter of 2016.
Passengers can install the app on their tablets prior to departure. On board they link their device to the IFE system using the in-flight WiFi network and their personal list of content will be launched. The PED can also be used as a remote control, and to multi-task — browse the index of KrisWorld content on their device while watching a movie on the seat monitor. Customers can even access real-time flight information and maps without interrupting their movie viewing.
At present the companion app will be available only on the new Airbus A350 fleet, but Singapore Airlines plans to roll it out on the Boeing 777-300ER fleet as well.
Making of Singapore Airlines A350 video
&nbsp
&nbsp
&nbsp
&nbsp