Emirates takes delivery of its 50th Airbus A380
Dubai-based Emirates airline, the world's largest A380 operator received its 50th superjumbo yesterday at Hamburg, Germany. It was the 136th A380 which has been delivered in total.
Sir Tim Clark, President of Emirates Airline said
"The A380 has been very successful for us, and this is reflected in the strong customer interest and high seat factors wherever we've deployed the aircraft. The A380 has helped us operate more efficiently at slot-constrained airports, and also introduce new concepts on-board that have redefined the flying experience. Moving forward, we will see quite a ramp up in the delivery programme and by late 2017 we will have around 90 A380s in our fleet to support existing and new A380 routes."
Emirates received its first A380 in July 2008 and its 25th in October 2012. All Emirates' A380s are powered by Engine Alliance GP7200 engines. The airline has an additional 140 A380s on order.
Emirates is the largest A380 operator in the world
Emirates currently serves 27 airports on five continents with the A380, the largest A380 route network of any commercial airline. By the end of 2014 the airline will expand its A380 network to 33 stations. Kuwait on 16th July, Mumbai on 21st July, Frankfurt from 1st September, Dallas from 1st October, San Francisco from 1st December and Houston Intercontinental from 3rd December.
The gulf major also operates the world's longest A380 flight between Dubai and Los Angeles. The carrier has been pressing airframer Airbus to offer an A380neo (new engine option) which will extend the range and performance of the aircraft.
At present, Emirates has over 10,000 cabin crew and 900 flight crew for its A380 fleet.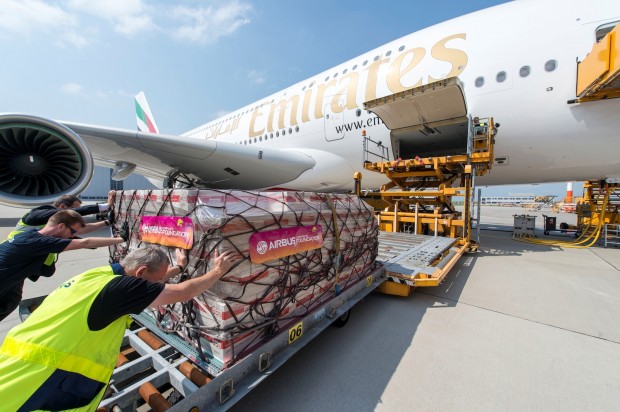 Humanitarian cargo on delivery flight
On the delivery flight from Hamburg to Dubai, the new aircraft was loaded with 41 tonnes of humanitarian relief goods. The goods will be deployed in cooperation with ACF (Action Contre la Faim) to a UN humanitarian response depot in Dubai for feeding under-nourished children in the region primarily in Yemen. Thanks to Emirates and the Airbus Corporate Foundation.