Vijayawada based Air Costa has agreed with Brazil's Embraer S.A. a firm order for 50 E-Jets E2s with an additional 50 purchase rights options. The order is a mix of 25 E190-E2s and 25 E195-E2s and has an estimated value of USD 2.94 billion based on list prices, though it is standard practice for manufacturers to extend hefty discounts on large orders such as this. Air Costa also has purchase rights for an additional 25 E190-E2s and 25 E195-E2s, potentially doubling the value of the order.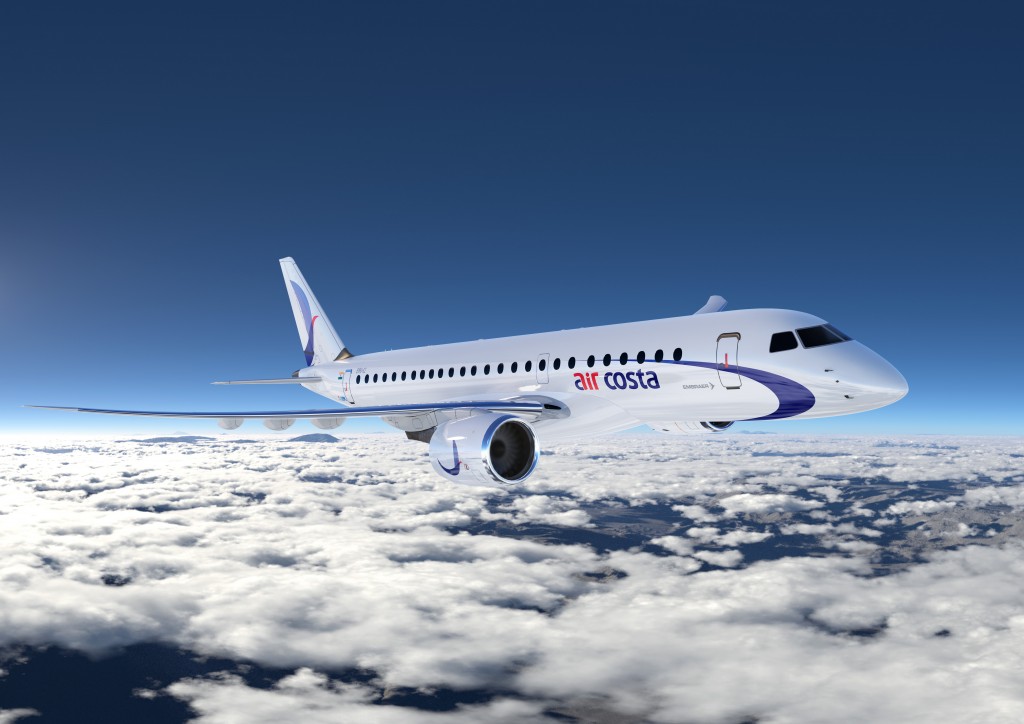 Air Costa thus becomes the first customer of E-Jet E2s in the Indian market and will take delivery of the E190-E2 in 2018. The E195-E2 is scheduled to enter service in 2019. Air Costa's E2s will feature new-design cabins with an even higher standard of comfort and more personal space. The E190-E2 will be configured with 98 seats in dual class layout, with six seats in first class, and the E195-E2 with 118 seats, with 12 seats in the first class. The E2s have the Pratt&Whitney geared turbofan (GTF) engines, new aerodynamically advanced wings, full fly-by-wire flight controls, and advancements in other systems for significant improvements in fuel burn, maintenance costs, emissions, and external noise compared to current-generation E-Jets.
Today, the airline flies four E-Jets: two E170s and two E190s to various destinations such as Ahmedabad, Bangalore, Chennai, Hyderabad, Jaipur and Vijayawada. The airline plans to add Goa, Pune, Madurai and Vizag.
Air Costa, which commenced operations in October 2013, is part of the privately held LEPL Group, a diversified entity with interests in property development and infrastructure development in the commercial, residential, education, power and health sectors.
Ramesh Lingamaneni, Executive Director of LEPL Group and Chairman of Air Costa, said
"regional air services have enormous potential in India, especially the ones connecting tier one, two and three cities. Our initial experience with our current E-Jets has been very positive. Our passengers have complimented the aircraft on its comfort and point-to-point convenience. The E2s will give us right-sized seat capacity for us to cater to the future target markets and unit costs that are competitive with larger re-engined single aisle aircraft."