Last week, I reviewed Iberia's domestic Business Lounge in Barcelona.
Today, I focus on my first flight with Iberia from Barcelona to Lisbon, via Madrid. This was also my first flight in business class.
Barcelona El Prat – Madrid Barajas
Flight IB2713. Airbus A320. Seat 5F. Business Class
Departure – 18:50, on-time
For intra-Europe and many north African flight, most European airlines don't have a separate cabin for business class passengers. Instead, they use a mobile curtain that is moved after each flight in order to separate both according to the number of passengers flying business class in each flight. This allows airlines to be more flexible, since an Economy class seat can be converted into a business class seat just by moving the curtain.
My Iberia business class seat was essentially an upgraded economy seat with increased seat pitch (34 inches, instead of 31 in economy) and an empty middle seat for increased comfort.
As I settled into my seat I was offered water and something to munch on, while the cabin was getting ready for departure to Madrid. Our departure was smooth, and looking down at Barcelona I saw the beauty of the city once more albeit with an aerial view, bathed in sunshine.
Soon after reaching cruising height, a purser came over and asked for my choice of drink. As this was a short one hour flight, and it was early evening, there was no specific meal service. I must have waited for fifteen minutes for my apple juice to arrive before drifting off for a short nap.
I woke up while we were on our landing approach to Madrid Barajas and I never got my drink, and considering we were on approach, I did not bother reminding the crew of their slip-up. Humans tend to forget things and considering it was my first ever outing in semi business class, I was in good enough humour to forgive as well, but Iberia should take note of such slip-ups, which while minor, have large impact on passenger impression when they occur in the premium cabin.
Looking through the magazine I chanced upon Iberia giving out Pizza at 36000 feet to its passengers, which I thought was pretty unique.
We landed in Madrid on time, disembarkation was quick and I went to explore the airport's famous wavy-roof terminal and the flagship Iberia lounge.
Madrid Barajas – Lisbon Portela International
Flight IB3118. Airbus A320. Seat 1A. Business Class
Departure 2245, on-time
Seat 1A
I was excited about sitting in seat 1A, that magical number in airline seating wanted by enthusiasts, which was automatically allotted to me by Iberia. Business class was the same upgraded economy class with increased leg room, but this time there was just two rows of business class seats, and two out of the eight available seats remained unoccupied, including the aisle seat in my row i.e. 1C, giving me a full three-seater to myself.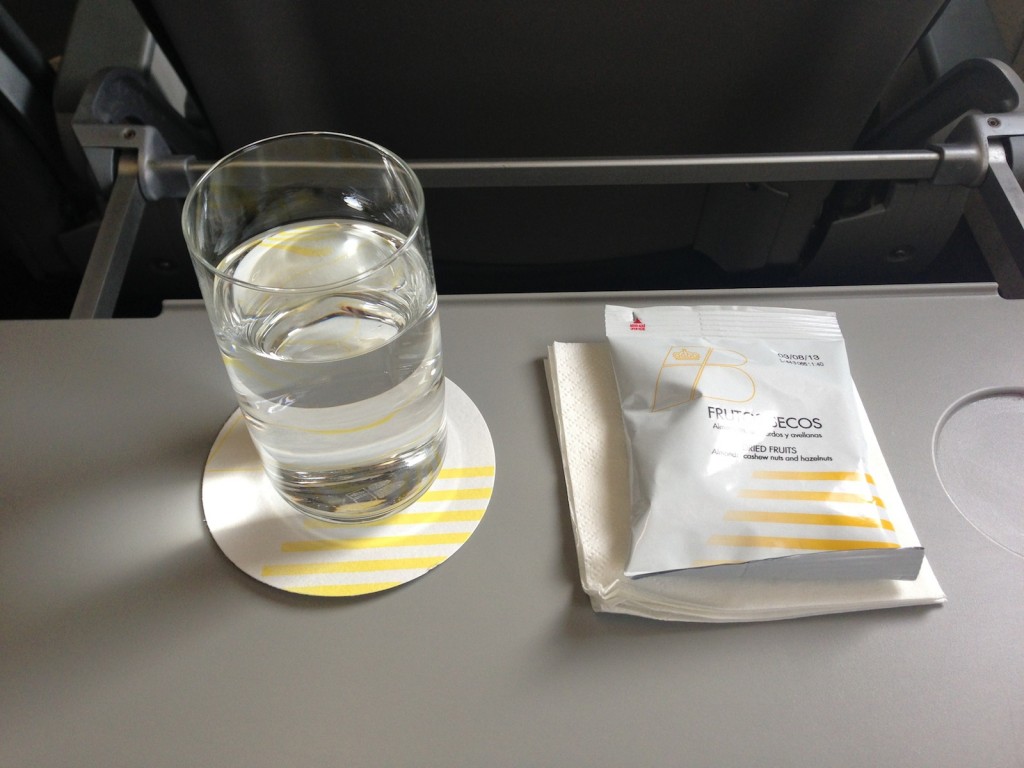 Flipping through Iberia's magazine, I came across this print ad featuring the Taj Mahal and promoting Incredible India. Bought a big smile to my face.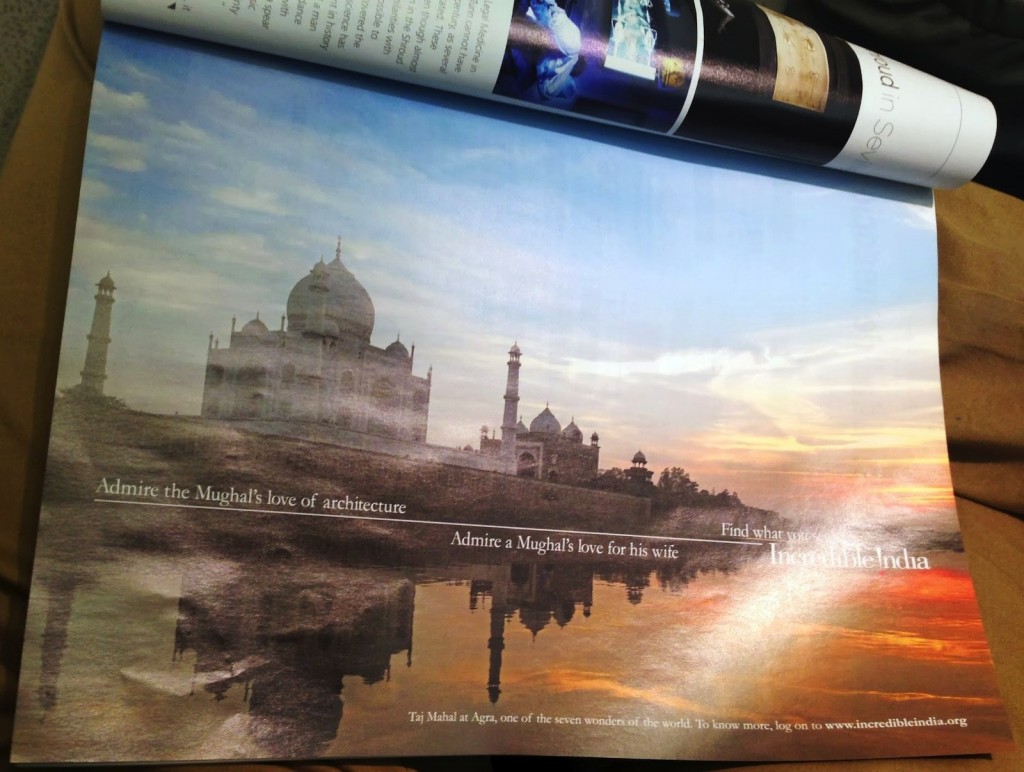 The pre-departure service consisted of a drink and nuts. I chose to go for a tried and tested cerveza, or beer (in English). Service on this flight was better, may be because it was a Schengen flight and I was surprised to find a full-blown dinner served during this short one hour hop to Lisbon. The fish and salad did not appeal to my taste buds, and I moved quickly to dessert.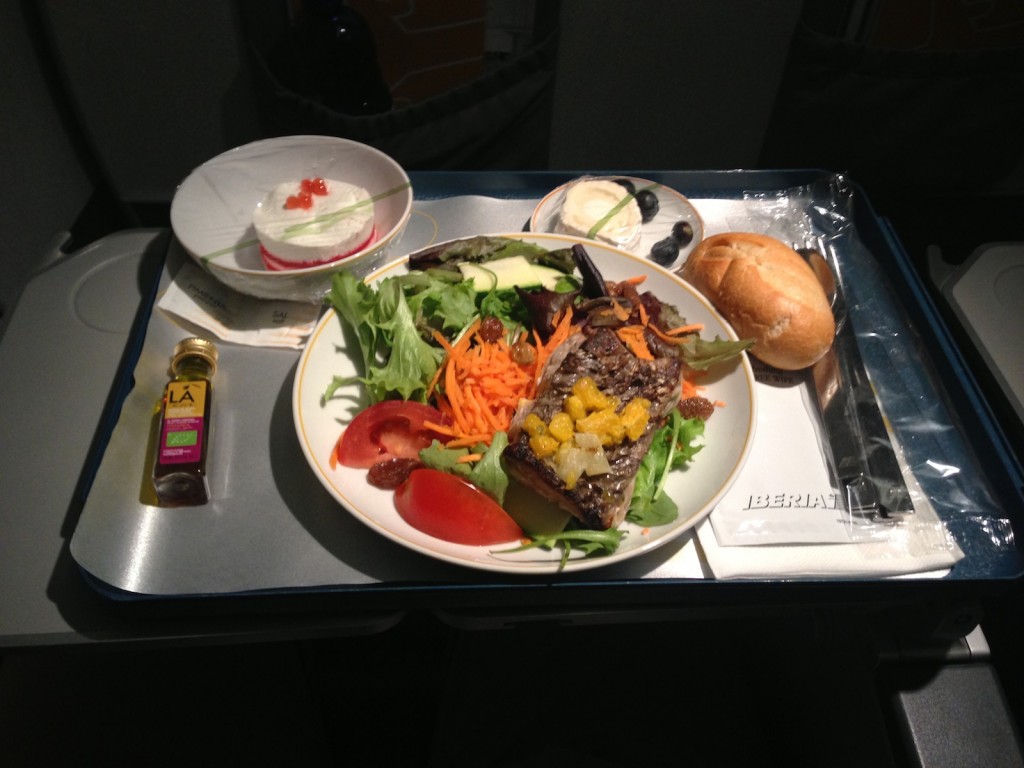 As soon as I finished dinner we were descending to Lisbon and the beautiful city came in the view with bright lights and hills around it. The landing again was a smooth affair and within five minutes we were at the disembarkation point.
The only negative aspect of this flight was the exit through stairs and buses ferrying passengers to the main terminal. May be it was a short-coming of the airport, considering it was past 11pm at night, but then a full service airline like Iberia should work closely with airport authorities to ensure no dilution in their service offerings.
Disclosure: This trip was paid for by Vishal Mehra. Iberia did not review prior to publication or revise this report. The views expressed are independent.