With domestic flights set to resume from tomorrow, the Karnataka government had outlined rules for passengers arriving into the state. Now Bangalore airport has outlined the process that will have to be followed by passengers to fly through the airport.
As part of its precautions against COVID-19, the airport has launched a "Parking-to-Boarding contactless journey". Which includes:
Pre-Entry
All passengers must carry an e-pass or printed-boarding pass. At the departure entry gate, passengers will undergo a thermal scan and must show the 'you are safe' message on the Aarogya Setu app. CISF will verify the passenger ID with the passenger holding the ID up for them to view.
The entry door mats will be soaked with bleach (Sodium Hypochlorite Solution) to disinfect shoes. Staff attending to passengers with special needs like wheelchairs, as well as unaccompanied minors, will wear protective gear. Wheelchairs and baby strollers will be sanitised after every use. Trolleys will be sanitised after every use.
Check-in

After entering the terminal, passengers will have to scan their boarding card at a contactless self-service kiosk, collect a baggage tag and self tag their bags, before proceeding to the airline counter to drop-off their bags. There will also be an option of using the assisted baggage drop counter to print and tag their baggage.
A maximum of one piece of hand baggage and one checked-in bag will be allowed, as mandated by the Director-General of Civil Aviation (DGCA).
As with the entry checkpoint, passengers will have to hold up their ID to airline staff for them to verify it.
Security Check
At security, passengers will scan their boarding pass at a kiosk and put all belongings in a tray before going through the body scanner. Trays will be sanitised after every use.
Under the new contactless process, body scanning will be done using Door Frame Metal Detectors (DFMD). Stamping of the boarding pass has been suspended. Hand sanitisers will be available before and after security check.
Retail and Dining

The airport has stated that "Passengers can experience contactless dining and retail, with almost total elimination of human contact at outlets. They may reduce queueing time by pre-ordering F&B through their smartphones using the QR code displayed at the FSTR by BLR kiosks. The food can be delivered at the passenger's place of choice within the Terminal. The payment would be made digitally at the time of ordering."
Lounges

The airport suggests that passengers book their lounge slots in advance to avoid manual processing at the airports. However it has not yet specified how these slots are to be booked.
Boarding Process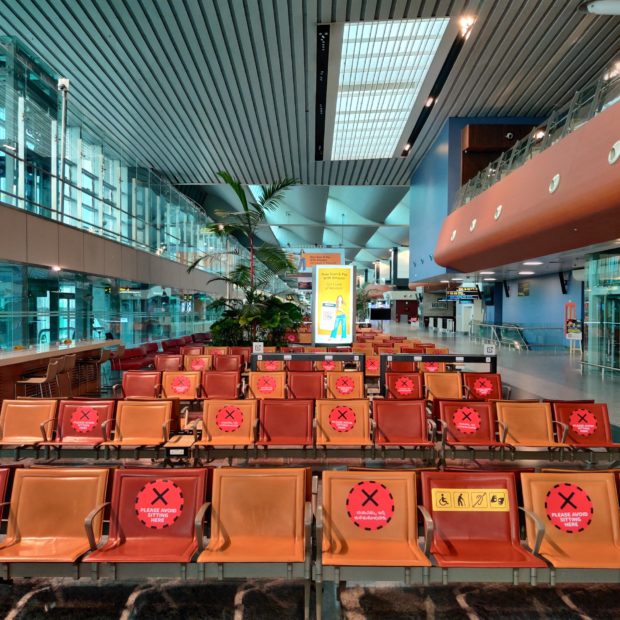 At the boarding gate, the airline staff will hand over a kit containing a face mask, face shield, and sanitiser to passengers. The passenger must put on the new mask and sanitise their hands before boarding.
Passengers will self-scan their boarding pass and airline staff will do a temperature scan before permitting them to board.
Parking
Contactless scanners and digital payment options have been introduced in the parking facilities in addition to the cash and card options which were available earlier.
Arrival
Passengers must follow the safe distance markers at the baggage collection area. Transit passengers will not be allowed out of the transit area.
Transport
Taxis will be sanitised and drivers screened before every trip. Masks will be mandatory for drivers, as well as passengers. Passengers without a mask will not be allowed to board a taxi.
Taxis will be allowed to carry a maximum of two passengers in addition to the driver. BMTC buses will operate from the airport at 50 per cent capacity.
This slideshow requires JavaScript.
Summary
The new contactless system at the airport is designed to allow passengers to fly through Bangalore Airport without ever having to come into contact with another person. With air travel slowly resuming, individual passenger behaviour is going to make a large difference in how safe it will be.
All passengers must wear masks at the airport and the use of the Aarogya Setu app has also been made mandatory.