Earlier this month, the government of India began allowing repatriation flights back to India for Indian's stranded overseas. While all these flights were initially operated exclusively by Air India and Air India Express, they were recently expanded to be operated by private carriers as well.
Read: How the government could spin repatriation flights to oil India's stagnant aviation sector
Since the regularly scheduled private carriers of India exclusively operate narrow-body fleets, their repatriation flights have been limited to the Gulf routes.
Jet Airways offers to fly repatriation flights on Boeing 777s
A little over a year ago, India's last private wide-body operator, Jet Airways halted scheduled operations. Before halting operations, the airline had a fleet of over a 100 aircraft comprising of Airbus A330s, Boeing 777s and primarily Boeing 737s (including the 737 MAX).
While most of the airline's fleet has been repossessed by its lessors. The airline is still left with 12 aircraft that it owns – comprised of one Airbus A330-200 and 11 Boeing 777-300ERs.
The resolution team of Jet Airways under Grant Thorton has written to the Ministry of Corporate Affairs proposing the ability to use the airline's 777s to operate repatriation flights under the Vande Bharat mission.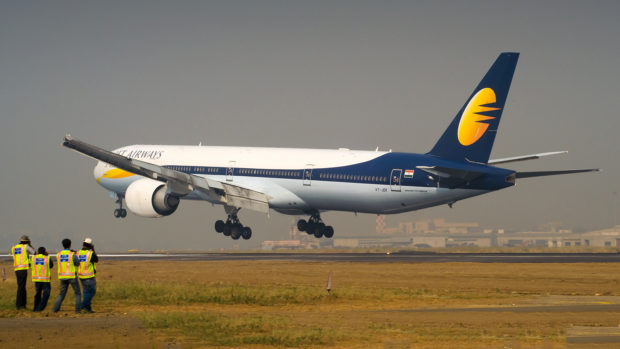 The team has stated that it can start operating with two aircraft VT-JEU and VT-JEM and expand with another two aircraft within a 'reasonable period of time'. It says that the aircraft can carry 346 passengers per flight and operate up to Europe, Africa and Japan.
Further, the resolution team states that it has adequate personnel in the form of pilots, crew, engineering and maintenance staff, etc to operate these flights.
What Jet Airways needs to start operating?
The airline has outlined what it requires from the Ministry of Civil Aviation to begin operations:
"For Jet Airways to be able to expeditiously operationalize/utilize the Aircraft, I broadly envisage the following areas where your (and the MoCA and DGCA's) intervention and assistance will be key:
i. Jet Airways' AOC be activated and amended to reflect the current fleet-as mentioned above, it is currently in a dormant state;
ii. Jet Airways be immediately given permission to carry and complete the maintenance work by the MoCA and DGCA;
iii. Jet Airways being designated (under the relevant bilateral air services' agreement(s)) to carry out the repatriation flights;
iv. As the Aircraft are currently under a US Ex-Im financing/guarantee, intercession with the US government and other international governments not to impound the Aircraft when they are in foreign territory, in light of the Airline's current corporate insolvency resolution process. Please note that I have been in correspondence with the US Ex-Im, when we offered two Aircraft for the proposed cargo operations, and their initial reaction was favourable;
v. Slots- As the Aircraft are proposed to be deployed on long haul international routes, assistance will be needed to secure slots at the airports where operations are planned;
vi. Cockpit and cabin crew and other staff's certification and clearances, including airport entry permits/passes;
vii. Restoration of Jet Airways' CAR 145 (aircraft maintenance organization) and CAMO approvals, which are currently valid but under suspension.
viii. Renewal of the Aircraft's Certificates of Registration and issuance of their Certificates of Airworthiness;
ix Station approvals for Mumbai and Delhi, to carry out all scheduled and unscheduled maintenance; and
x. Speedy grant of all (other) requisite regulatory and other approvals and clearances (including those for the Nominated Post Holders and engineering and maintenance staff), for Jet Airways to be able to operate the Aircraft."
Apart from the above the airline will also need to mobilize funds to begin operations and will need time to bring the aircraft up to operational spec.
The resolution team is also proposing an alternate that other airlines may wet-lease the aircraft to operate repatriation flights.
@manishasinghal @ari_maj @shukla_tarun @PRINCE0879
A major step by the @jetairways resolution team @GrantThorntonIN, the response from @DGCAIndia @MoCA_GoI @PMOIndia will be a telling sign about intentions of those sitting at the highest echelon.#VandeBharat pic.twitter.com/zagENd0GWt

— CaptPuneet (@puneet737) May 22, 2020
Bottom Line
While it would be great to see Jet Airways rise up out of the ashes and operate these repatriation flights, the question is, can it?
Technically yes. But will it, probably not – it is very unlikely the airline will be able to get all of its permits and its aircraft up to operational standard in a time frame that would make this feasible. And besides that, for the airline to raise funding to even start its comeback would likely be impossible in the current scenario.
What do you think of Jet Airways' proposal? Let us know in the comments below.