India largest and most profitable airline, IndiGo's CEO Ronojoy Dutta has gone on record recently about the low-cost airline "actively studying" long haul flights to London on widebody aircraft. This statement coming from an airline which for the longest time stuck to a single fleet strategy, until it added ATR aircraft for regional flights, has left some perplexed. Dutta also went to onto add the widebody aircraft which the airline is considering for flights to London will feature a Business Class cabin as well.
Dutta says "these flights aren't imminent but the proposition is on the drawing board".
Dutta was initially appointed as principal consultant by IndiGo in December 2018. He was charged with chalking out a five-year business plan for the airline. Shortly after, Dutta was appointed CEO with effect from 24th January 2019 once CEO-in-waiting Greg Taylor quit the airline abruptly.
Dutta is an industry veteran. He was President at Air Sahara from 2004 to 2006 and quit just before its takeover by Jet Airways, which ultimately fell through. Dutta was with United Airlines for seventeen years and remained its President between 1999 and 2002.
Read: Analysis: Why did IndiGo decide to introduce ATR72's in to its fleet?
Namaste London
IndiGo is actively looking beyond India for growth. It is aggressively growing its regional presence with an expanded schedule to the Far East, China, the Gulf and faraway places like Turkey. The current expansion is done using narrow-body Airbus A320 family aircraft.
Read our article on the recent partnership of Indigo and Qatar Airways.
The United Kingdom (UK) is the largest aviation market in Europe and the third-largest in the world. The UK has direct connections to over 370 destinations in more than 100 countries. Passenger numbers have been increasing for seven consecutive years, and it's estimated that UK passenger traffic could soar from 284 million in 2018 to 435 million by 2050.
London is a mega financial hub and a cultural melting pot. The city attracts airlines from the world over. The UK's capital is served by six airports with London Heathrow being the largest and most prestigious.
Air India was the first Indian airline to operate services between India and city of London. The first flight between India and the UK, on a Lockheed Super Constellation, took off from Mumbai on 8th June and landed in London via Cairo and Geneva on 10th June 1948.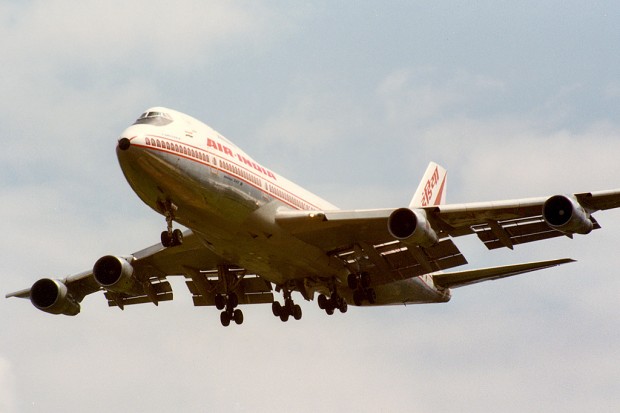 It is noteworthy, Air Sahara launched flights between Delhi and London Heathrow in January 2006, on a leased Boeing 767 aircraft, while Dutta was at the airline. Air Sahara's started international flights after the government of India lifted a restriction that had barred it and fellow private airline, Jet Airways from flying overseas.
London Heathrow is extremely well connected to the city of London and every major airline in the world flies to and from this mega airport. 26% of all passengers travelling through Heathrow were doing so for business. This is the highest among all UK airports. This makes Heathrow the ideal choice for any airline wanting a piece of the lucrative London market.
Heathrow however, operates to capacity and has little room for expansion. Slots to operate a brand-new service to London Heathrow, especially in the AM hours are difficult if not almost impossible to find. Due to the demand and supply mismatch of slots, these are often traded for millions of dollars.
London's second largest and the one of the world's busiest single runway airport, Gatwick, is further away from the city centre. This distance ensures business passengers and airlines focused on premium (Origin and Destination) O & D traffic largely avoid Gatwick. Gatwick is also cheaper to operate out of in comparison to Heathrow and is the biggest beneficiary of Heathrow's slot constraints. Virgin Atlantic and British Airways use Gatwick for their leisure flights (read package holidays) due to lack of slots at Heathrow.
Vistara, a joint venture between Tata Sons and Singapore Airlines had filed for slots at London Heathrow for the Summer 2020. The airline also filed for slots at London Gatwick as a backup for the same period. Unless things change between now and early next year, Vistara will fly from Delhi to London Gatwick as no slots have been allocated at Heathrow to the airline. Heathrow's loss is Gatwick's gain.
Stansted and Southend Airports are primarily used for low costs flights between the UK and Europe too. Air India recently launched flights between Amritsar and Stansted after they failed to acquire slots at London Heathrow. UAE largest airline, Emirates also operate double daily flights from their hub in Dubai to Stansted.
Luton Airport is roughly the same distance from the city centre as Gatwick. The airport is rather small and is used primarily for EasyJet.
London City airport is located in the heart of the docklands area. It's a hop, skip and jump away from the city's financial district. The airport is primarily focused on business travellers to European destinations, with the airport only able to service aircraft upto the size of large regional jets (like the E190 and A220). The largest aircraft operating to the airport are a pair of specially configured British Airways A318's which exclusively fly from London to New York.
Flying to London was part of IndiGo's ambitious plan to grow beyond Asia/Gulf region. Initial reports suggested IndiGo would fly to London via a stop in Eastern Europe using the current fleet of Airbus A320 family aircraft. Baku (Azerbaijan) and Tbilisi (Georgia) were names that were doing the rounds as they offer fifth freedom rights ensuring IndiGo could pick up traffic from these intermediate stopover airports.
In the meanwhile, IndiGo continued to apply for slots at Gatwick, Stansted and more recently to Manchester airport.
The initial slot coordination report for Summer 2020 confirms IndiGo has been allocated 14 slots each at London Gatwick and Stansted airports. IndiGo has also been allocated 28 weekly slots at Manchester.
For now, IndiGo does not have widebody aircraft on order and has not confirmed plans to acquire these.
Airports the world over, are known to offer concessions in the form of discounts on airport/landing charges to airlines in order to win their business. Remember, a long-haul route to India is equally prestigious for an airport in the UK, just like it is for IndiGo. Airports and local governments need new international routes as air connectivity is a must for business to thrive.
Evidence commissioned by the Greater Manchester Combined Authority estimates that the introduction of the Manchester to Beijing service in 2016 has increased export values from Manchester Airport to China to £1.29 billion, with 115 jobs also created through 11 inward investment projects from China, and a 38% increase in inbound tourism.
IndiGo's strategy to negotiate with multiple airports in London / UK by filing slots with them will eventually pay off and the airport offering the best deal will in all likelihood win their business.
The Business Model: Work in progress
The low cost, long haul model is yet to be proven consistently commercially viable for any airline the world over. There are a whole bunch of airlines operating low cost, long haul flights today. Norwegian, AirAsia X, Jetstar Airways, WestJet, Eurowings, Scoot, Air Canada rouge, LEVEL, Cebu Pacific and French Bee are some of the notable ones.
However, all of the above-mentioned airlines with the exception of French Bee, rely on feed from either their own networks or from partners. French Bee, the world's first A350 only airline, is the only one which operates an O&D service from Paris Orly airport.
IndiGo is India's largest airline with a humongous domestic network. Yet it is extremely difficult for the airline to establish a feeder operation around long-haul flights as airports in India are not geared for such domestic to international low-cost feeder operations.
IndiGo now operates domestic flights from all three terminal i.e. Terminal 3, 2 and 1 at the Delhi International Airport. Domestic flights at Mumbai operate primarily out of Terminal 1. However, there are a bunch of flights which are now operated from the brand-new Terminal 2.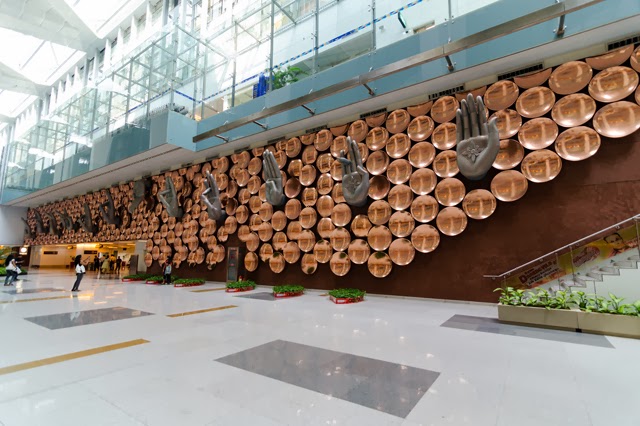 International operations for IndiGo are based exclusively at Terminal 3 and Terminal 2 in Delhi and Mumbai respectively. With domestic operations spread across terminals, it is extremely difficult to align schedules to feed international flights.
Air Asia's medium/long-haul low-cost arm, Air Asia X has the ideal hub operation at Kuala Lumpur Airport 2. The airport was built to cater to the low-cost airline. All Air Asia affiliates operate out of the same airport ensuring seamless connections for passengers across all group airlines.
Despite the feed, Air Asia X Malaysia with a fleet of 24 A330-300 aircraft, has struggled to turn a profit for most of its existence. The fact that an airline in the region despite the advantage of multiple regional and international affiliates feeding into its hub at KLIA2 has been unable to make its wide-body operation successful does cast aspersions onto IndiGo's plan.
The similarities don't just end there. Air Asia X flew to both London and Paris from Kuala Lumpur. The airline had to cancel the services operated on an A340-300 aircraft due to high fuel costs in 2012. The airline has since inducted fuel-efficient A330-300neo's in its Thai affiliates fleet but continues to remain non-committal on its return to Europe.
Elsewhere in the world, Norwegian Air Shuttle's rapid expansion of low-cost long-haul flights has taken a toll on the airline's finances. The airline embarked on a critical turnaround which involved slashing multiple routes from cities in Europe and the US ensuring the business' survival. The airline has had to reach out to investors twice this year alone for fresh capital.
Norwegian's long-haul fleet includes 36 Boeing 787 aircraft. The airline operates both the -8 and -9 variant of the aircraft.
Lufthansa the owners of Eurowings have slashed multiple routes at the low-cost long-haul affiliate to reduce losses. The low-cost long-haul model has suffered considerable setbacks with multiple low-cost transatlantic carriers including Primera Air, Iceland's WOW Air, France's XL Airways and the U.K-based Thomas Cook Airlines, all going under.
Irish low-cost airline, Ryanair's CEO Peter Bellew's comments on low-cost long-haul operations pretty much sum up this section of our analysis. He said "[It] seems almost impossible without business class or the deep pockets of a legacy carrier."
The Devil is in the detail
High aircraft utilisation, low costs and high ancillary revenue are critical for the success of any low-cost airline. More so for a low-cost long-haul airline.
Assuming IndiGo does launch flights from Delhi and Mumbai to London, aircraft utilisation shouldn't be an issue. Both routes can be operated with an aircraft each ensuring optimum utilisation due to the block hours for flights.
The same cannot be said for Air Asia X for example. It closed 2018 with an average daily fleet utilisation of 15.7 hours. This is due to the lower stage length of routes operated by the airline.
India is known the world over for its high cost of aviation infrastructure. Flying a low-cost long-haul service out of Delhi and Mumbai is far from ideal. Add to this the added costs of a commissioning whole new fleet type and you have the exact opposite of what a low-cost operation should look like.
Vistara will take delivery of their B787-9 aircraft in the first quarter of 2020 and plan to fly them to London from Delhi too. However, Vistara is a full-service airline with premium cabins which command higher fares. IndiGo is at a marked disadvantage here as it is a low-cost airline which is in the business of selling seats cheap.
The Air Asia X A333-300 aircraft feature a Business Class cabin with 12 lie-flat sleeper seats and 365 seats in Economy in a 3-3-3 layout. The industry standard for Economy class seating on an A330 in 2-3-2.
IndiGo will in all like hood choose Airbus over Boeing for its widebody fleet. IndiGo won't be able to get hold of the A350 / A330neo as these are in short supply and near-term delivery slots aren't available for a Summer 2020 launch. There are quite a few A330 aircraft available in the market for lease and IndiGo, because of its impeccable track record may be offered these on very attractive terms. IndiGo will wet-lease the A330 aircraft for their long-haul low-cost debut. They may order widebody aircraft from Airbus in future, depending on how the airline fares on these routes.
Analysis: Why is Indigo choosing the A330neo?
The Business Class cabin on the Air Asia X A330 is not pitted against conventional business class products on the full-service airlines. The low-cost carrier targets Premium economy passengers on full-service airlines. The value proposition of a sleeper seat for a premium economy fare is extremely enticing for some.
Things are not as straightforward for IndiGo though. Premium passengers are usually locked into airline loyalty programmes. Air Asia runs a loyalty programme which helps switch business passengers to the low-cost airline. IndiGo does not have a loyalty programme. Hence, passengers flying their Business class cabin to London, for instance, will choose IndiGo for the cheap fare and no other reason.
There are other aspects of IndiGo's service offering which will need to be revisited before the launch of long-haul flights. IndiGo do not have ovens, hot food, wi-fi, in-flight entertainment and power sockets on their A320 family fleet.
Check-in Baggage allowance is another issue the airline would have to revisit. Low-cost airlines, in general, do not offer free check-in baggage. Check-in baggage singlehandedly accounts for a big chunk of the ancillary revenue for a low-cost airline. Essentially, unbundling fares enables low-cost airlines to sell cheap seats.
In India, the regulator has left the low-cost airlines no choice but to offer a 15kg check-in baggage allowance to all domestic passengers irrespective of the fare type they purchase. For its flights overseas, Indigo offers a free check-in baggage allowance of up to 30 kgs per passenger to some destinations.
For now, an IndiGo domestic passenger connecting onto an international flight with the airline is entitled to the free baggage allowance for the international flight. How does a low-cost airline that offers a generous free check-in baggage allowance on all flights start to charge for it? And if it doesn't, the cost of ferrying the bags must be added to the actual airfare.
IndiGo will face stiff competition on these widebody flights to London. There are some amazingly cheap fares available on flights to and from London throughout the year. Full-service airlines often sell seats at throwaway prices to and from India. Case in point the below fare to London from Delhi on LOT Polish Airlines.
This return fare of 35,000 INR ($ 500 approx.) includes complimentary hot meals & alcohol, 23 kg check-in baggage allowance, free advanced seat assignment, inflight entertainment, frequent flier miles which can be redeemed on the larger Star alliance network and above average legroom. And this is one such airline offering a deal on flights to London. Apart from the airlines that operate these routes non-stop i.e. Virgin Atlantic, Air India and British Airways, IndiGo will be competing with every airline which has a hub in Central Asia, Africa, Middle East and Europe for traffic to London.
Conclusion
IndiGo is betting that low fares will be a key decision driver and thus the segment being targeted is clearly the leisure segment. It is faced with a mighty challenge in the form of low-cost long-haul travel. IndiGo will get flak irrespective if they finally take the plunge and get on the low-cost long-haul bandwagon and equally if they don't.
Ultimately, it will come down to getting the maths right and so far, IndiGo has been rather good at it till now.