News reports indicate India's largest domestic airline, Indigo, is in talks with European airframer Airbus, to procure upto 50 A330neo (new engine option) long-haul wide-body aircraft.
These aircraft is for Indigo's much awaited foray into international flying where they are hoping to introduce the low-cost long-haul model. This represents another step in the airline's strategy towards expanding the airline and comes after commencing its regional expansion using ATR72 aircraft.
Read our analysis on Indigo's ATR's and In-flight review.
We present an analysis why Indigo is looking at the Airbus A330neo in particular.
Its all about the cost
"That is the main problem, they [aircraft] are still not cheap" – CMO Ryanair on their plans to shelve transatlantic flying
They key success factors of Indigo's model is keeping its cost base low. For any airline, one of the largest costs is the capital cost of aircraft; this followed by fuel and engineering.
The A330neo is an upgrade to one of the most popular twin-jets of our era, the A330-300 and A330-200. Airbus has applied the wing, engine, cabin and cockpit technology of their newest aircraft, the A350 XWB to the A330 to deliver operational savings of over 14%. The hybrid approach enables Airbus to keep development costs in check and offer their customers, in this case IndiGo, a cost-effective option on the initial CapEx and the on-going fuel and engineering expenses. New aircraft will keep engineering costs in check and issues mostly covered by warranties and performance packages like paying for engines by the hour.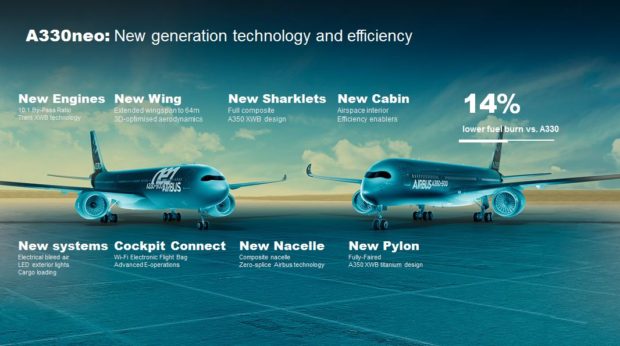 IndiGo is a major customer of Airbus, and the volume of this order should ensure, Indigo will get a very attractive price.
Indigo leverages market dynamics to their favour, again
Starting from its first order of 100 aircraft, Indigo has consistently leveraged market dynamics to its favour. As the India market is on track to be one of the largest aviation markets by 2020, all manufacturers are keen to enter this market. For this reason, in 2005, Indigo had been able to secure extremely attractive terms for its aircraft and its engines (read about it here).
Were it not for this order, India would have continued to be dominated by Boeing aircraft.  This strategy continues with the A330neo's where the 50 aircraft order is a sizeable order for a fleet type that till now has now seen a limited uptake, globally. Airbus is under pressure to get traction on the A330neo as production of its cash-cow A330ceo slows down. AirAsia X which has an MoU with Airbus for 66 A330neos is rumoured to be considering swapping for the larger A350. Hawaiian Airlines just swapped their A330neo order for the Boeing 787. The next largest order is by Delta Airlines for 25 aircraft (likely a replacement for the A330s they took over as a result of the merger with Northwest Airlines). Airbus wants a volume order on the A330neo and for sure, IndiGo will maximise economic dynamics to get a great price upfront and on-going.
Helps secure an Indian foothold in the international low-cost long-haul arena
For India, the long-haul fleet is Boeing dominated – the 777, 787, and 747 flown by Air India and Jet Airways. While Airbus has established a strong presence in the Indian narrow-body and regional market, it lags by a sizeable margin in the Indian wide-body segment. An A330neo order will help Airbus catch-up and given the strength of IndiGo, retain market share. Down the line, regular and profitable services of IndiGo might convince other customers across the world..
Leveraging on the relationship with Airbus
IndiGo and Airbus have a strong relationship. Starting from the 100 A320 aircraft order in 2005, followed by 180 A320neo in 2011 and 250 A320neo in 2014, and then the 50 ATR72 order in 2017, the relationship is going from strength to strength.
The A330neo will further cement this relationship, and benefits will accrue, not only in terms of attractive pricing, but also better negotiation, institutional knowledge transfer and a continued legacy in jointly addressing issues (such as the A320neo issues that surfaced but have not seemed to impact Indigo operationally as much as they have other carriers).
Crew commonality a big selling point
Pilot costs and retention is rapidly becoming a challenge for all Indian carriers, and IndiGo is not immune.
Airbus has stressed on crew commonality for many years now. A pilot can be certified for a range of aircraft in one family. For example the A318, A319, A320, and A321. Transition of pilots from a narrow body A320 family to the A330 family is fast and at far lower cost when compared to transition to a Boeing wide-body.
Indigo already has a pilot pool of 1800 pilots including 900+ captains, many of whom would like to transition to the wide-body A330neo. It is no wonder that the A330neo makes for a perfect fit for the airline.
So why not the A330ceos given the fuel prices
Many have been asking why IndiGo has not opted for the A330ceo's (current engine option) which are readily available in the market at very attractive lease rents and prices.
The answer to this lies in the numbers. Specifically, while the aircraft pricing (CapEx) may be right, the entire cost structure has to be addressed for low-cost long-haul to work.
An A330ceo does not deliver the advantages of the A330neo on the fuel burn and engineering costs. Given the higher costs of setting up international operations, especially a maiden venture, IndiGo has to look to financial viability over a much longer window, are this requires significantly reduced operational expenses over the long term. Furthermore, fuel prices are already showing an upward bias and this plays to the strengths of the A330neo.
Why not the A350 XWB
In short the newest aircraft in the skies does not fit in the capital costs challenges IndiGo will impose on any airframer. Further, the order backlog of the A350 will not fit IndiGo's time-table.
Conclusion
Based on our analysis, we can all but confirm the A330neo order for IndiGo. Indigo has already applied for rights to fly into secondary airports in Europe (namely London Gatwick and Paris Orly) and is also ramping up its management team to deliver on this expansion strategy. This topic was surely discussed at last week's board meeting of Indigo board. It is only a matter of time before we see this fleet type in India, flying for Indigo and delivering lower costs for international flights.
Your thoughts and comments
Bangalore Aviation has a pool of knowledgeable readers. As usual we welcome you to please share your thoughts via the comments system.