Iceland based low cost carrier WOW air, will commence five weekly flights between New Delhi and Keflavik airport from December 7, 2018. The date is subject to regulatory approvals.
WOW will use Airbus A330neos on the route. This is the same aircraft IndiGo is considering for its long haul operations. WOW offers onward connections to Canada, London and the United States. Its US destinations include New York, Los Angeles, San Francisco, Chicago, and Baltimore.
The airline is offering promotional fares starting at Rs 13,499 to all its destinations, from New Delhi. The four fare options are WOW basic, WOW plus, WOW comfy & WOW premium.
WOW basic is essentially just a seat on the plane with one personal item up to a maximum of 42x32x25cm (10kg). We assume it means a lap-top bag or a small back-pack.
Wow plus includes one personal item, one carry-on bag, one checked in bag, and standard seat pre-selection.
WOW comfy offers more features, and WOW premium will offer a slightly wider seat, similar to premium economy seat i.e. seven abreast seating instead of the standard eight abreast 18 inch wide Airbus seat, on the wide-body A330s. If your flight is on the narrow body A32x family, you are out of luck.
Details of the benefits on each of the fares is available here. Details of additional charges are available here. Please be aware the airline only accepts VISA and MasterCard as payment. No cash, no Diners Club, no American Express. Seat maps are at the end of this linked page.
Our analysis
Bangalore Aviation conducted an analysis of the promotional fares. Our advice to readers is to not assume anything is included. Everything is an additional charge and this can quickly add-up.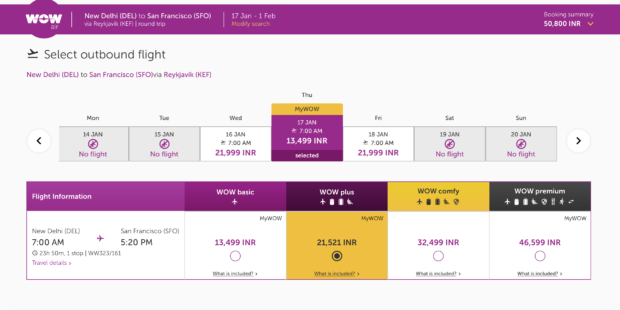 We found the promotional airfare mostly available. However, while the promotional fares are incredibly low, they are stripped-down fares. Nothing, but one personal carry-on item is included.
We expect WOW to target the value conscious leisure traveller who will check-in at least one bag and purchase at least one meal per leg of the flight.
To make a fair comparison with existing carriers, we priced a WOW plus fare from New Delhi to San Francisco. The fare includes a check-in bag and seat selection. We included just one pizza as a meal for each leg of the trip. Some full-fare carriers allow seat selection, though many charge for it. As a balance, many do offer two meals during each leg of the flight.

The price of the round-trip was Rs 50,800. In comparison fares from full fare carriers ranged from about Rs 55,000 on Singapore Airlines to Rs 65,000 on Air France.
Share your thoughts. Is the saving of less than ten per cent flying WOW when compared to a full service carrier justifiable?.