Oneworld member, Qatar Airways is upgrading its on-board dining for its business and first class passengers, initially on its European routes.
The new concepts include newly-designed tableware, in-flight dining menus, cutlery and china. I am impressed that Qatar will place mini condiment grinders for fresh ground black pepper and Himalayan pink salt on the passengers' tables.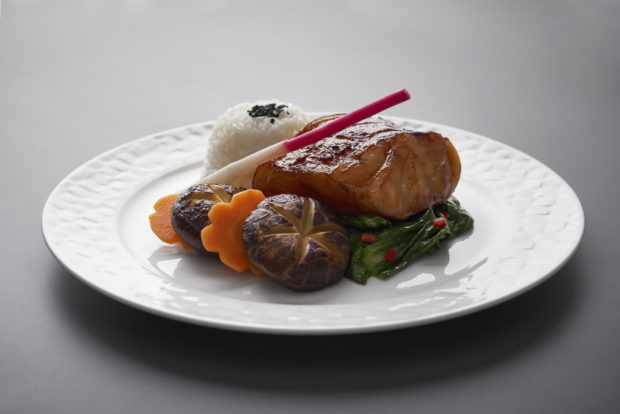 The airline has increased focus on route-based regional specialities. An example is porcini and truffle risotto on Italian sectors. Across most routes Qatar will offer traditional Arabic main dishes like kabsa, biryani and flame-grilled meats. New signature warm desserts and an afternoon tea service is offered on selected routes.
Qatar Airways is collaborating with local producers and promoting a 'farm-to-table' approach and aligning its menus with the "four-seasons" availability of local produce and foods. The airline is also offering lighter options like fresh crisp salads, woodland berries, warm breakfast oatmeal and "cold pressed" juices.
Photo gallery
Following Singapore Airlines
The middle-east carrier is taking a leaf from Singapore Airlines, the leader in in-flight dining, by using linen-lined baskets housing freshly baked breads. Qatar already follows Singapore's lead an offers a pre-select dining option allowing first and business class passengers to choose one main course from the à la carte on-board menu as far as 14 days in advance and up to 24 hours before departure. Singapore Airlines allows you to "Book The Cook" even at the time of booking till 24 hours before departure, and even in premium economy class which Qatar does not offer.
QR Dine-on-demand
With due credit to Qatar Airways I find their "Dine-on-Demand" dining superior to Singapore Airlines. You can choose any item from the on-board à la carte menu menu at any time during the flight. On a particular flight between Dallas-Fort Worth and Doha, I loved a particular soup so much that I enjoyed three bowls of it at various times during the flight. You can have a breakfast option at night, or a dinner option during the day. You can have one course or two or three as you wish or have two appetisers instead of a main course, or just have dessert. Like in a restaurant, it is your choice, as long as the item is available.
First class caviar service
In first class, Qatar offers an enhanced caviar service accompanied with a Balik-style salmon showcased on a bespoke crystal plate. The Imperial (or Balik) cut was traditionally reserved exclusively for the Russian Tsar and his court. I am not sure whether the caviar is Beluga or Sevruga.
Share your thoughts
How important is on-board dining in choosing which airline you fly? What do you think about the upgraded on-board dining on Qatar Airways? Which airline offered you the best meal? On which sector? In which class?
Share your thoughts via a comment.