German flag carrier Lufthansa has revealed the concept for its new business class which will feature on its 777-9 which is scheduled to be delivered in 2020.
The cabin will feature lie flat seats with direct aisle access. The airline has gone for a particularly interesting staggered 1-2-1 and 1-1-1 configuration. That will make every alternate center seat a throne seat with a lot of privacy and space. The airline also says that the seat will be 220cm or 7.2 feet long – which is a lot.
The seat will also feature wireless charging and digital interfaces which will allow passengers to control the seat and IFE using their smart devices.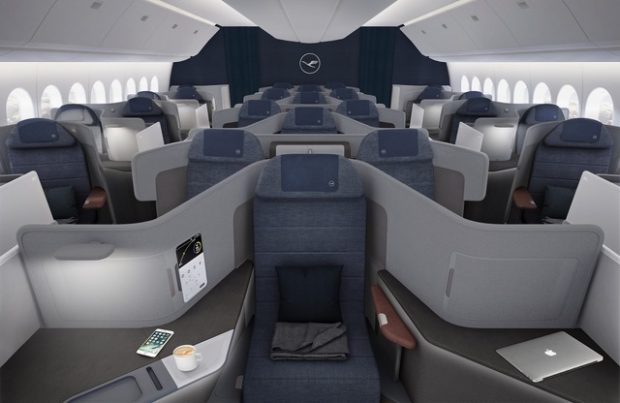 Harry Hohmeister, Member of the Executive Board, Deutsche Lufthansa AG
"The new, ultra-modern Lufthansa Business Class creates a new global benchmark. It offers our passengers a unique travel experience, We have consistently and continuously refined our range of premium products for our guests and modernized Lufthansa. Our focus is and has always been on the wishes of our customers and their specific needs. We want to provide them with the perfect travel experience. The new Business Class showcases the full innovative capacity of Lufthansa."
The airline will also introduce some upgraded features to it's existing business class in early 2018 including mattress pads, sleeping sweaters which are currently available in first class and lined blankets.