Australian flag carrier Qantas has given its aircraft livery a subtle modernisation. This includes the iconic Kangaroo logo on the tails of its aircraft. It is only the fifth time the iconic red-and-white 'roo' has been updated since its introduction in 1944.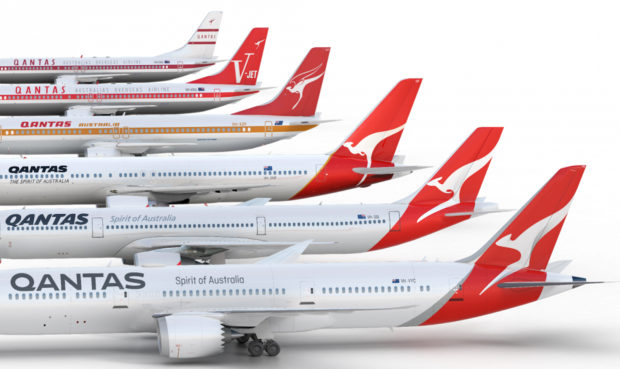 Continuing a tradition
The livery change continues a tradition at Qantas, of changing its livery whenever a new game-changing aircraft is inducted. It was done for the Lockheed Constellation in 1947, the Boeing 747-300 Jumbo Jet in 1984, the Airbus A380 Superjumbo in 2007, and now as the airline prepares to induct the Boeing 787-9 Dreamliner into its fleet next year.
New Qantas livery explained
Qantas consultant designer, Marc Newson, who oversaw the design of the new livery in partnership with Australian design agency Houston Group explained the new livery
"Aircraft tails are fantastic canvas to work on and the Qantas logo is one of the most recognisable in the world. This re-design aims to retain the fundamental essence of the flying kangaroo but also move the brand forward.
"This new brand is more streamlined and the shading behind the kangaroo gives a better sense of movement and depth. A silver band now extends from the tail to the rear of the fuselage, to give a more premium feel.

"The typography for the word Qantas, which measures almost two metres high on the 787, has been carefully streamlined. And Qantas will appear on the aircraft's belly, so you can tell when it's the national carrier flying overhead,"
The winged kangaroo that appeared on tails 30 years back, will now be placed under the cockpit window and incorporate the individual name of each aircraft.
The new branding will gradually appear across the Qantas network from today, starting with digital assets, signage and advertising. The new livery will be applied on the existing fleet progressively as per their scheduled re-paints and will be completed in time for the centenary of Qantas in 2020.
Time-lapse video of VH-QPJ re-paint in the new livery
Qantas has painted one of its A330s in the new livery. Here is a time-lapse video
Qantas livery through the ages
You can download a PDF fact sheet from here to know about the various liveries of Qantas aircraft through the ages.
All images courtesy the airline.