The newest aircraft to join the Qantas fleet, a Boeing 737-800, registration VH-XZP, recently touched-down at Sydney. This aircraft is wearing a special "retro-livery" which was worn by Boeing 747s of the Australian airline in the 1970s. The livery is an homage to the seven decades of the Flying Kangaroo logo, which falls this month.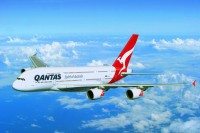 Qantas A380. Qantas image.[/caption]Many leaders and celebrities including Qantas CEO Alan Joyce, brand ambassador John Travolta and Boeing's Asia-Pacific sales head Dinesh Keskar, were present to welcome the "Retro Roo" as the aircraft is called.
The aircraft bears the name of former CEO James Strong. James Strong was Qantas CEO from 1993 to 2001 and later served on the Qantas Board until his death in March 2013. It is a departure from the airline's practice of naming its aircraft after places in Australia, and its A380s after Australian aviation pioneers. The new jet will be used on the Qantas domestic network.
The Queensland and Northern Territory Aerial Services Limited (QANTAS) was registered as a business on 16 November 1920, 94 years ago.
Video of the Qantas "Retro Roo" 737 arrival
Photos of the Qantas "Retro Roo" 737
[bsu_custom_gallery source="media: 10754,10755,10756,10757,10758,10760,10759″ link="lightbox" target="blank" width="190″ height="140″]