The recent announcement by Qantas regarding the 21 hour test flight has generated a lot of buzz. For the aviation industry the age of ultra-long haul flying (ULH) is here. Several flights are already operational, the most noteworthy being Perth – Heathrow, Singapore-Newark, Doha-Auckland and the very ambitious "Project Sunrise" of Qantas. The project is Qantas' ambition to operate nonstop routes to the United States and Europe. And different segments of travel will be impacted in very different ways.
Why ultra-long haul?
Ultra-long haul builds on the tyranny of distance and most notably felt in the Australian continent. Australian cities are simply too far from the rest of the world and connecting via a one-stop is a time-consuming proposition. This is what Qantas hopes to change.

| | | | |
| --- | --- | --- | --- |
| Current flights | Duration (via one-stop) | Proposed flight | Duration (non-stop) |
| MEL-LHR | 22 hrs 10 mins | MEL-LHR (non stop) | 20 hours |
| SYD-LHR | 22 hrs 40 mins | SYD-LHR (non stop) | 19 hrs |
| SYD-JFK | 20 hrs 40 mins | SYD-JFK (non stop) | 18 hrs |
Note: the times are estimated and may vary depending on a combination of route, cost index, etc.
The Qantas flights build upon an increasingly scarce commodity for travelers: time. And while there are skeptics, the success of the airline's Perth-London routes seems to have them convinced of the commercial viability of ULH flights.
Aircraft and configuration
Different airlines are using different configurations for their ULH flights. While Singapore airlines seems to have acknowledged that these ULH flights will be tough for economy passengers and have configured their A350-900ULR aircraft with premium economy and business, the same cannot be said of Qantas. They have explicitly stated that they would like their aircraft flying these in a 4 class configuration.
The current ULH flights are being flown on a 787 aircraft powered by GEnX engines. On the product, Qantas has rolled out a product including premium economy that is specifically suited for ULH. This is a very different product to United's Economy Plus which is only extra-leg room rows. This may be a point of difference that the customers slowly but surely start to notice.
Airline
Route
Distance (NM)
Aircraft type
Configuration
Qantas
LHR-PER
9010
787-9
§  Business class: 42
§  Premium Economy: 28
§  Economy: 166
United
SFO-SIN
8446
787-9
§  Business class: 48
§  Economy Plus: 88
§  Economy: 116
United
IAH-SYD
8596
787-9
§  Business class: 48
§  Economy Plus: 88
§  Economy: 116
As the media has reported, research is underway. This is directed at understanding the operational viability of these flights. For Qantas, using the Perth-London flight as a proxy it seems to have confirmed that commercially the flights are viable and there is a demand for the ULH flying.
Commercial implications
The configuration for Qantas has forty two business class seats, twenty eight premium economy seats and a whopping one hundred and sixty-six economy passengers. This is a bit perplexing. After all one assumes that the demand pattern boils down to – how important is convenience to you, and how much more are you willing to pay for it?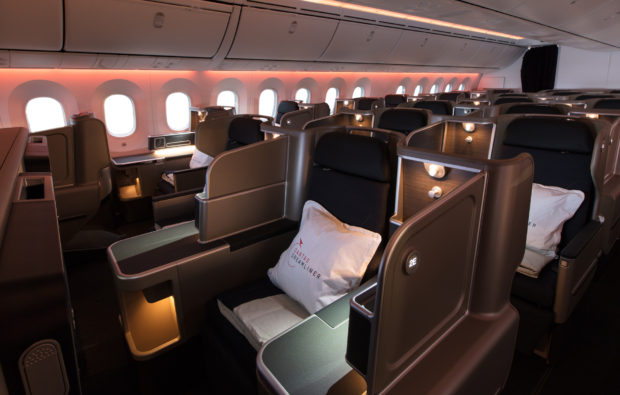 The pricing trends indicate that on business class the ULH flights are pricing on similar levels as the one-stop on the competitor Qatar on the Perth to London route. At most the spread between the pricing levels is 5%. On premium economy the comparison is a tough to make as Qatar does not fly a premium economy on this route. Perhaps the most interesting is the pricing in economy where Qantas is significantly undercutting Qatar with a spread of 15% – 25%. This pattern shows consistency on a seven day, thirty day and sixty day booking period.
Overall the commercial strategy seems to be focused on capturing the business and premium-economy traveler. The route economics seem to work because of these premiums coupled with a lower cost of operation.
Operational challenges
Ultra long-haul flights bring with them a unique set of operational challenges. To begin with there is the aircraft range, performance and economics. To this end both Boeing and Airbus are focusing on increasing the range of their respective aircraft. The range also impacts payload (and consequently revenue). Thus the aircraft not only have to be more efficient, they have to carry more fuel to fly the range.
On fuel, the Qantas flight from Perth to London uses ninety two tons of fuel. Using this as a proxy one can assume that the routes to the United States will require fuel that is north of a hundred tonnes. To alleviate this number, the aircraft can either take an eastward route or a westward one. Each has its own cost-benefit metrics. For instance while the Eastward routing may make for a more direct manner of flying, the westward routing has numerous high quality diversion airports available. These include Singapore and Dubai. Coincidentally these are the hubs of Singapore Airlines and Emirates, with both of whom Qantas has a close relationship.
With the aircraft selected, there is the issue of crew scheduling. On ULH, the requirement for pilots and cabin crew double (or nearly double). And they have to be scheduled in such a way that there is enough rest at any given point in time while also factoring costs of crew displacement and productivity.
Timings are also a consideration. Slot challenges notwithstanding, since this will be in incredibly long flight, the timings will have to be in such a way that the passengers can hit the bed once they reach their destination. Hence a late evening arrival would be preferable.
Finally there is the cost of disruption. In case the flight is delayed or cancelled, rebooking passengers onto one stop service or other partner airlines would be the way to go. But how does one answer the fact that passengers pay a premium for the direct flight. So while re-booking does one refund a part of the fare?
Dispatch reliability targets will hover around 99.8% and above, with delays and hold ups being unacceptable in this case. Even a small delay could cause a knock on effect, delaying the subsequent flights as well, and in case of ULH, it could adversely affect crew scheduling, passengers, catering, slot availability (certainly for airports such as Heathrow).
What does the future hold?
For the business traveler these flights offer a non-stop services saving time and adding convenience. For the premium economy traveler – perhaps the same. But for the pure-economy traveler, these are a tough proposition.
To start with – these are long flights. In many cases up-to twenty one hours! You may build a gym, spa, cafe or a golf simulator on board, but nothing will take away from the fact that an economy class traveler will not be able to avail of any of these. Simply put, you're stuck in a metal tube hurtling through the sky for close to an entire day without the ability to stretch fully (although airlines would like to term walking up and down the aisles as just that). Too much is too bad, and with that long a flight one has to contend with the world of deep vein thrombosis, dehydration and airborne microbes.
The question remains whether ULH will have effects where passengers start to embrace the layover or will it pull away premium demand with the ability to fly them direct and profitably.
Qantas is out to prove the latter and in doing so convince the industry that that the era of ULH flying has arrived.