In a major restructuring of its European and North American operations India's largest private airline, Jet Airways has announced a code-share agreement with Delta Air Lines of the United States and with KLM Royal Dutch Airlines, the flag carrier of The Netherlands and part of the Air France-KLM airline group.
To operationalise these code-share agreements, Jet Airways will shift its European scissor hub from Brussels, Belgium to Amsterdam Schipol airport on which is the main hub for KLM and the European hub for Delta.
The flights and code-shares
Jet Airways will operate daily flights between Amsterdam and Mumbai and between Amsterdam and New Delhi. The airline will also operate a daily flight between Amsterdam and Toronto. Jet will also put its flight numbers on flights operated by KLM and Delta between India and to 11 destinations in the United States and Canada, including New York JFK, Newark, Washington DC, Chicago, San Francisco, Los Angeles, Vancouver and Montreal. Jet Airways will put its flight codes on flights operated by KLM to 30 destinations in Europe.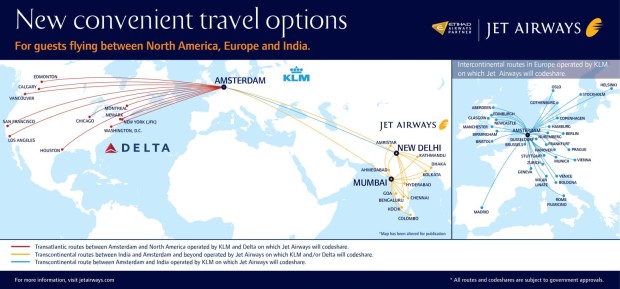 In return, Delta, which had pulled out of India completely, and KLM, which operates a single daily flight between Amsterdam and New Delhi, will put their flight numbers on the internation alservices of Jet Airways between Amsterdam and its India gateways of Mumbai and New Delhi and on to the India, SAARC and ASEAN flights of Jet for onward connectivity within the region.
The code-share partnership will give passengers of each of the airlines a single ticket, through check-in of bags to their final destinations and co-ordinated customer service at airports. Frequent flier programme members of each airline will be eligible to earn and redeem miles on the code-share flights operated by the three members of this agreement.
All these moves will occur starting March 27, 2016, subject to government approvals.
Jet Airways' revised Amsterdam schedules
Effective March 27, 2016 Jet Airways will operate its scissor hub flights as per the schedules below. All the flights will be operated by Airbus A330-300 aircraft in a two class configuration with 34 flat seats in business class and 259 seats in economy class.
| | | | | |
| --- | --- | --- | --- | --- |
| Flight No. | Origin | Destination | Departs | Arrives |
| 9W 232 | Mumbai | Amsterdam | 02:25 | 08:15 |
| 9W 231 | Amsterdam | Mumbai | 11:20 | 23:55 |
| 9W 234 | New Delhi | Amsterdam | 02:35 | 08:00 |
| 9W 233 | Amsterdam | New Delhi | 11:40 | 23:20 |
| 9W 234 | Amsterdam | Toronto | 11:20 | 13:40 |
| 9W 233 | Toronto | Amsterdam | 19:50 | 09:15+1 |
All times are local.
Analysis
This was a long expected and welcome move which was held up by the FAA downgrade of Indian aviation which prohibited US carriers from putting their flight numbers on those operated by Indian carriers.
Amsterdam is one of the largest hubs in Europe, and both Delta and Air France-KLM are founding members of the SkyTeam alliance. Jet's strategic investor, Etihad Airways, has been inching closer to Air France-KLM with a number of strategic agreements from code-shares to maintenance.
With Star accepting Air India and Vistara which is jointly promoted by Singapore Airlines, another Star Alliance heavyweight, waiting in the wings, Jet's Star dreams have evaporated. The status of its existing agreements with Air Canada and United Airlines, both Star Alliance members, is not clear.
Similarly, with Qatar Airways as a oneworld member in the Gulf, the possibility of Etihad and by extension Jet Airways aligning with oneworld are remote.
Don't be surprised if Jet and possibly Etihad join the SkyTeam alliance before the end of this decade.