The Tata-Singapore Airline joint venture airline, Vistara commenced operations at Bangalore today, a little over five months after it first commenced operations.
As reported earlier, from today the airline commenced daily flights from the tech capital of the country to the the national capital New Delhi and the financial capital Mumbai.
Bangalore Aviation was at hand to capture the arrival of VT-TTC at Bengaluru airport as it performed the inaugural flight UK889 from New Delhi.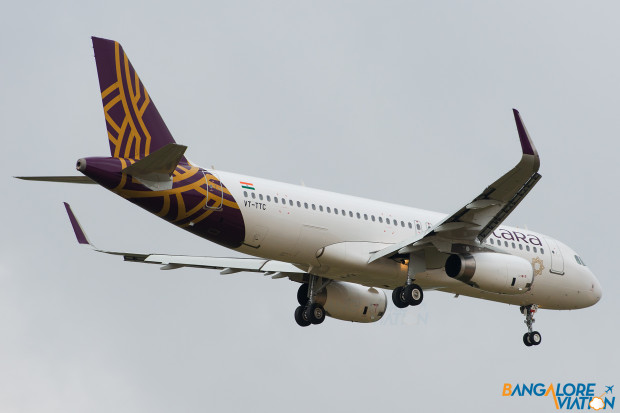 Bangalore is the tenth destination for the airline and the second in south India after arch rival Hyderabad, much to the chagrin of the citizens of the third largest airport in India. In fairness to the airline, it has been limited by route dispersal guidelines and a lack of aircraft. The airline is already utilising its aircraft an average of 11 hours 40 minutes per day which is high for a domestic only full service carrier, and impressive considering its 96%+ on time performance.
The airline is expected to increase capacity to the city only after it receives its seventh, eighth and ninth Airbus A320s once a month starting September 2015.
You can read our review of Vistara's premium economy class and review of Vistara's business class.