Vistara the brand of Tata Singapore Airlines joint-venture company Tata-SIA Airlines Ltd., had a successful inaugural flight earlier this morning. Flight UK890 took off from Terminal 3 Indira Gandhi airport in New Delhi and became the first domestic airline to commence operations at Terminal 2 of Chhatrapati Shivaji airport after it landed on runway 14.
Prasad Menon, Chairman, Vistara lit the ceremonial lamp at the check-in counter in the presence of Dr Mukund Rajan, Mak Swee Wah, board members of Tata-SIA Airlines, Phee Teik Yeoh, CEO Vistara, Madhu Kannan and NS Rajan, from Tata Sons, Goh Choon Phong, CEO, Singapore Airlines, TK Lim, Singapore's High Commissioner to India, GM Rao, Chairman of GMR and Mr I Prabhakara Rao, CEO, Delhi International Airport (P) Ltd. (DIAL).
The minister of state for civil aviation Dr. Mahesh Sharma cut the ribbon at boarding gate 37 in the presence of the senior dignitaries, including a host of senior executives from the parent companies.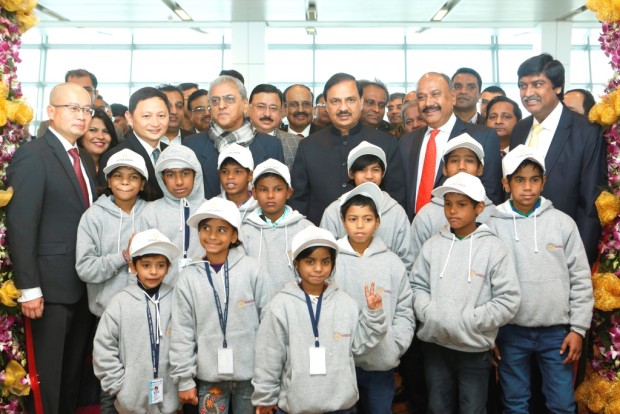 Mr. Prasad Menon was handed over the first boarding pass.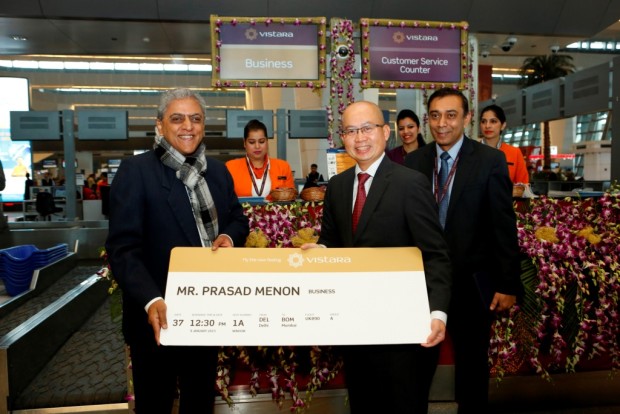 In a noble gesture Vistara took a group of very excited children from the Salaam Baalak Trust aged between 7-12 years, who were boarded on the aircraft first to enjoy their first flying experience ever. The airline used the Twitter hashtag 'Fly the New Feeling'.
For more on Vistara including high resolution photos,
click here