Today, Vistara (Tata-SIA) operated it's first flight from Hyderabad to New Delhi. The airline started its operations on 9th January 2015 from Delhi to Mumbai. (Read our trip report from the inaugural flight). The airline now serves five cities, with Goa being its recent addition on 20th February. Vistara will operate double daily return flights between Delhi and Hyderabad.
Phee Teik Yeoh, CEO, Vistara
"We are very pleased to extend our services on the Delhi-Hyderabad route which is immensely promising in terms of the passenger traffic it caters to. Hyderabad is also a favourable destination for its low and pro- business ATF sales tax which was one of the key considerations for us to add this into our network. We would like to thank GMR for their support and also commend their exemplary work due to which the Hyderabad airport has been ranked as one of the top three airports in the world for the sixth consecutive year. Hyderabad, being one of the most preferred business destinations in India, is a natural fit in our endeavour to contribute to the growing corporate travel in India. We believe that our customers will enjoy our enhanced connectivity and the world class travel experience we seek to provide to them."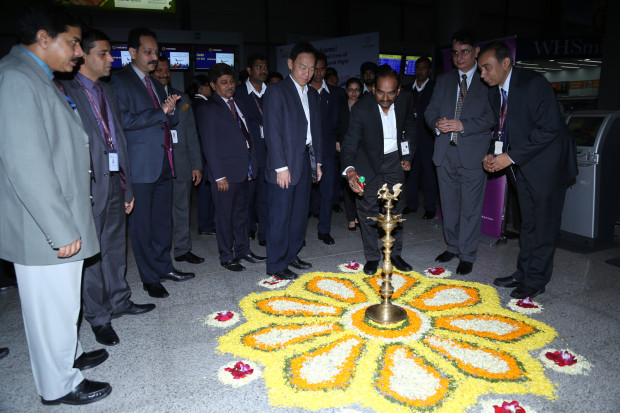 SGK Kishore, CEO, GMR Hyderabad International Airport Ltd (GHIAL)
"On behalf of GHIAL, I welcome Vistara to Rajiv Gandhi International Airport, Hyderabad. I am extremely happy about the new air service to Delhi and I am sure that this new full-service airline will give additional options to business and leisure travelers between Hyderabad and Delhi. RGIA offers unmatched competitive advantages to airlines in terms of efficient and quick turnarounds and world-class airside infrastructure. Further, underscoring RGIA's proven track record of high service standards and passenger facilities, Vistara has chosen RGI Airport, Hyderabad as one of their preferred destinations. The airport's high service quality levels are also evident from the fact that RGIA has been voted amongst the Top 3 airports in the world (5 to 15 Million Passenger Per Annum category) for six consecutive years by Airport Council International for Airport Service Quality. I congratulate Vistara on the launch of their maiden service to RGIA. We are committed to work closely with our new partner, Vistara to ensure that we provide the best possible experience to our passengers and add many new services in the near future".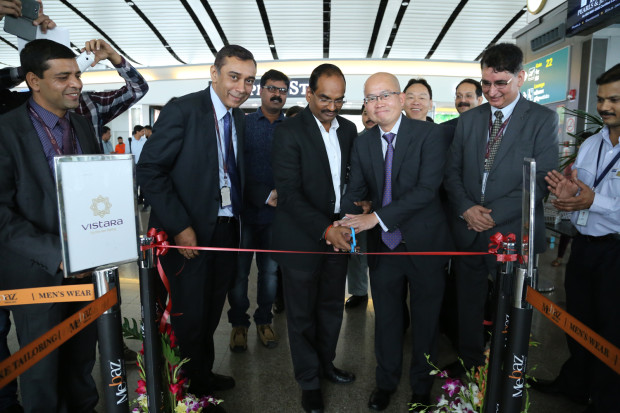 The airline currently has a fleet of five Airbus A320s operating out of it's hub in Delhi and is expecting it's sixth aircraft in April, the airline is also expected to announce more routes around this time.
Flight schedule as on February 1st March, 2015
Route

Weekly

Frequency

Flight No.

Departure

Arrival

Days of Ops

Delhi to Hyderabad

14

UK829

0640

0850

Daily x67

UK819

0845

1055

67

UK879

1715

1920

Daily

Hyderabad to Delhi

14

UK830

0930

1140

Daily x67

UK824

1135

1345

67

UK870

2000

2215

Daily

Delhi to Goa

7

UK847

1120

1350

Daily

Goa to Delhi

7

UK862

1430

1710

Daily

Delhi to Mumbai

34

UK929

0610

0820

Daily x7

UK943

0725

0940

Daily

UK959

1230

1445

Daily

UK979

1815

2025

Daily

UK981

2010

2215

Daily

Mumbai to Delhi

34

UK930

0720

0940

Daily x7

UK954

0920

1130

Daily

UK944

1420

1630

Daily

UK980

1930

2140

Daily

UK988

2110

2325

Daily

Delhi to Ahmedabad

13

UK970

1025

1155

Daily x7

UK953

1520

1645

Daily

Ahmedabad to Delhi

13

UK956

1235

1405

Daily x7

UK968

1710

1840

Daily

Mumbai to Ahmedabad

13

UK939

1020

1130

Daily x7

UK968

1525

1630

Daily

Ahmedabad to Mumbai

13

UK940

1210

1325

Daily x7

UK953

1725

1830

Daily