Last time I was airside at Bangalore airport, I tried to shoot some video along with the pictures you usually see on BangaloreAviation.
I tried a time-lapse of the turn-around of Lufthansa's Boeing 747-8i D-ABYI service between Frankfurt and Bengaluru Kempegowda airport.
On a time-lapse certain movements which are very slow in real life get magnified. Enjoy watching how the wings of the aircraft lower as it's refueled (see the wing-tips near the airfield lights.)
Fanhansa and Siegerfliger livery
Lufthansa is the largest operator of the Boeing 747-8i and flag carrier of Germany where soccer reigns supreme.
In 2014, the airline painted a special 'Fanhansa' livery on some of its aircraft to celebrate the FIFA world cup being held in Brazil. When Germany won the world cup, the German team flew on D-ABYI back to Germany. This aircraft was honoured by applying another title to its fuselage; 'Siegerfliger' the 'winner's airplane'.
Before the win. Only Fanhansa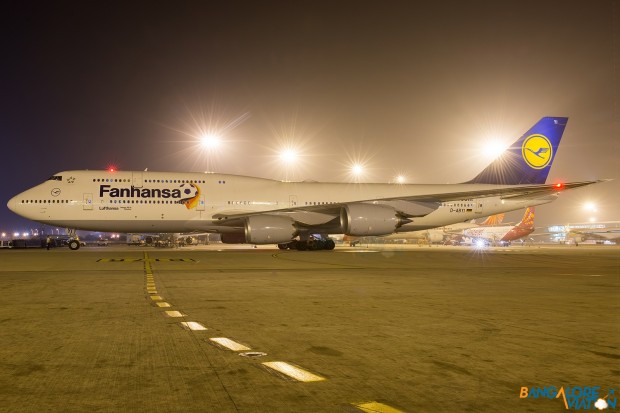 Share your thoughts
Let us know how you liked the video in the comments below.