At this year's Farnborough Airshow, I was invited by Qatar Airways to tour the Airbus A320 and Boeing 787-8 DreamLiner that they had brought to the show. This week we will be covering the Airbus A320 and the DreamLiner will be up next week.
The aircraft that Qatar brought to the show was A7-AHW which is a two year old Airbus A320-232(WL). The aircraft is powered by two IAE V2527-A5 engines.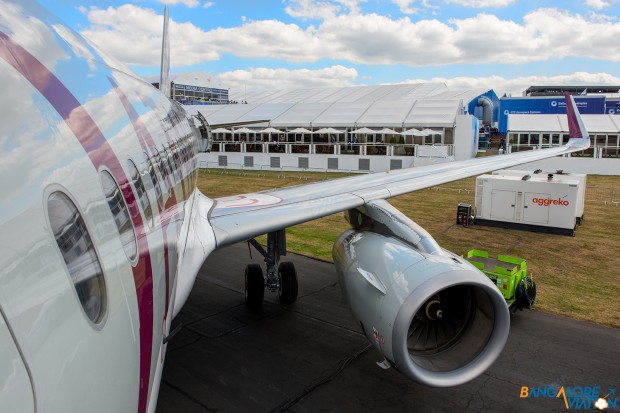 An interesting feature on this aircraft is that it is equipped with retrofitted Sharklets. The aircraft was delivered to the airline with the original A320 wing-tip fence but was retro-fitted in November 2013 with the new Sharklets devices.
The airplane is configured in a two class cabin with 12 passengers in business and a 120 in economy. The economy section of the aircraft is equipped with the new slim line seats which save weight and give the passenger extra legroom. Each seat is equipped with an individual AVOD system. The seats are the Airbus standard 18 inches in width.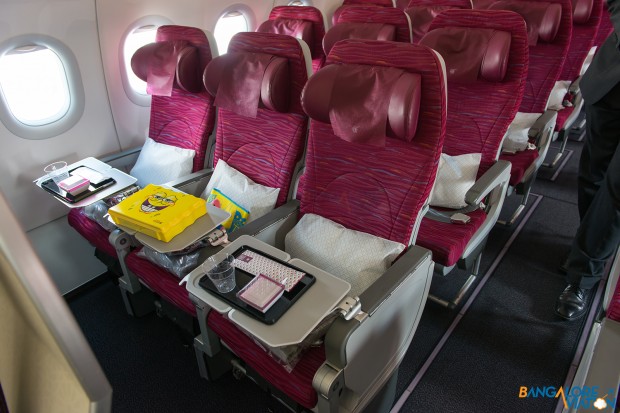 This aircraft is also features Qatar Airway's new business class which has seats which recline in full flat beds and amenity kits by Salvatore Ferragamo. The seats are 21 inches wide and are angled towards the windows which allow passengers to look out without any effort. The seat itself is very comfortable, the only problem I had was with the legroom when the seat was converted to full flat, I was definitely at the extreme edge of fitting in the seat, passengers above 6 feet in height will definitely have a problem using this seat as a flat bed. Each seat is also equipped with a large AVOD screen which had a rich display.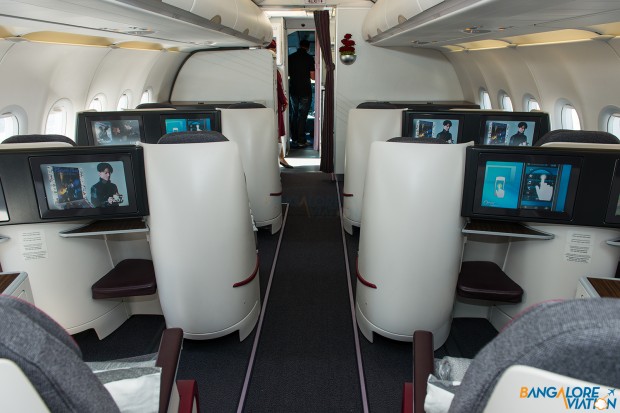 The Airbus A320 was the first aircraft to feature a fully digital fly by wire flight deck, instead of a hybrid digital flight deck like the rest of it's competition at the time of it's launch.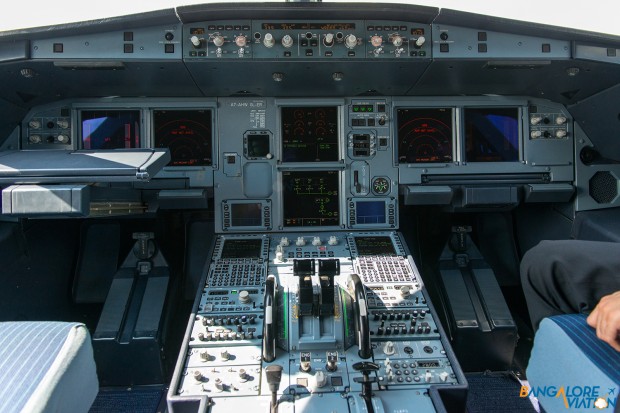 Next week, we will continue our tour with Qatar Airways at Farnborough with their Boeing 787-8 Dreamliner.
All pictures are copyright of Vedant Agarwal and are used with permission, all rights reserved. Please do not reproduce in any form.