'Tis the season for change. Last week value carrier JetLite announced a change in cabin crew uniform. This week it is Gurgaon based value carrier IndiGo making the change.
However, unlike JetLite which veered towards a fusion Indian look, IndiGo has decidedly gone hot and chic with a single piece western tunic outfit complete with hats and scarves. In the airline's own words
All-in-all, the new uniform, the hats and look oozes oomph and yet is classy, elegant and uber-cool! India's coolest airline now has India's hottest looking crew!
Indigo has partnered with fashion designer Rajesh Pratap Singh for the uniform and stylist Ambika Pillai for the make-up, hair, and "model looks" for the crew.
Somewhere between a tennis and a shirt dress, the new uniform is single-piece navy-blue tunic with a highlight of indigo on the belt. Functional and timeless elegance, the new uniform is "No nonsense" in line with the spirit of the airline. IndiGo will also be the first airline in India to feature a hat on its cabin crew.
Celebrity hair and makeup artist Ambika Pillai was brought in to give the crew a new global look. Along the lines of Singapore Airlines and its famous "Singapore Girl" Pillai came up with a standard and unique IndiGo look for all the girls with a set short hair style. The makeup is a beautiful pink and brick red color on the lips and nails makes a remarkable statement and the eyes are nude with a pull out liner, thus creating an entirely new look for the IndiGo cabin crew.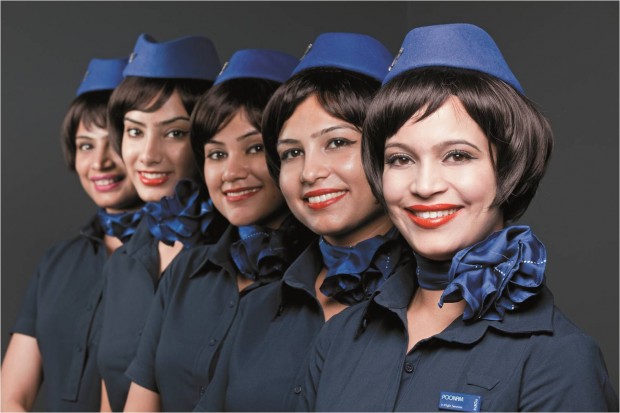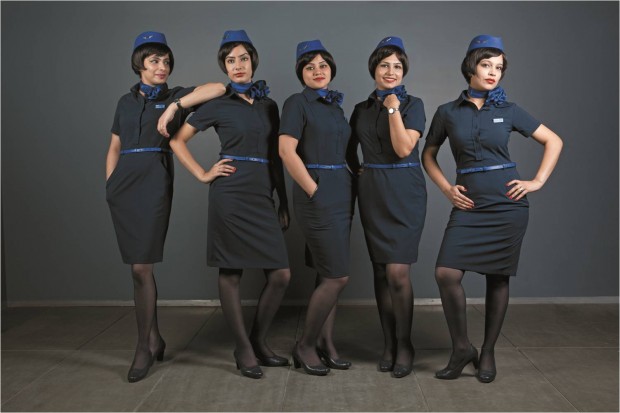 IndiGo is commencing an image revamp ahead of its planned international operations which are due to commence in late 2011.
What are your views on the new uniform? Post a comment.
I like the concept of the standardised make-up and look, but I am not impressed with the new outfit. Surely the designer could do a lot better. Just look at the picture above. Even with models, the tunics are singularly unflattering to the ladies' bodies. Quite clearly the airline is missing its "hot and chic" look. Added to this, hats?!?!?! Is it not an absolute nuisance for the cabin crew to wear and maintain?
The most important piece of the outfit, is something all airlines in India miss out on — the shoes. Well heeled but with no protection for the toes. Painful for the crew who regularly hit their toes on the carts and painful for the passengers as the heels ensure good vibrations in the cabin floor when the crew move about.
How I wish IndiGo would have led the way, learning from Singapore Airlines, who first give their crews flat, full-soled, steel-tipped shoes for on-board use, and then specially train them to walk without disturbing passengers.